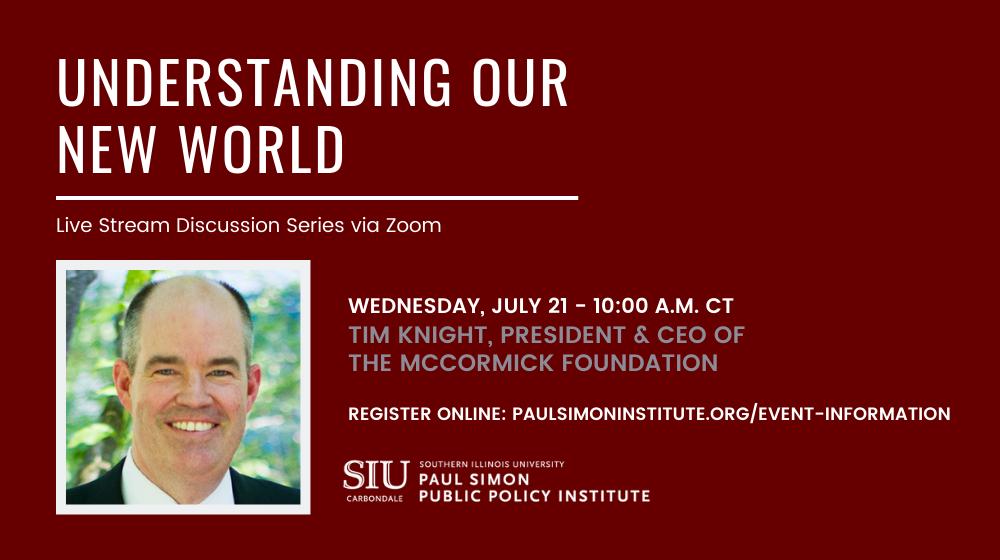 July 16, 2021
McCormick Foundation CEO to speak in Paul Simon Institute event
CARBONDALE, Ill. — Tim Knight, president and CEO of the Robert R. McCormick Foundation, will join Southern Illinois University Carbondale's Paul Simon Public Policy Institute for a virtual conversation at 10 a.m. Wednesday, July 21.
Knight and institute director John Shaw will discuss philanthropy and civic engagement.
Knight took on the top leadership role at the Chicago-based McCormick Foundation in March of 2020. The foundation, according to its mission statement, "works with communities in Chicagoland and across Illinois to develop educated, informed, and engaged citizens."
Knight also is a member of the DePaul University Board of Trustees and the Board of Regents of the Mercy Home for Boys and Girls, both in Chicago. Before he became chief executive of the McCormick Foundation, he was president and CEO of Tribune Publishing Co., in addition to serving on the company's board. He previously was president and CEO of Newsday Media Group and publisher of Newsday, and he co-founded Classified Ventures LLC, the parent company of cars.com and apartments.com.
"Tim Knight has had a remarkably interesting, consequential and wide-ranging career and is now the leader of one of the most important institutions in Illinois," Shaw said. "We are very eager to learn about his views on the challenges and opportunities facing philanthropy in Illinois and the strategic role he envisions for the McCormick Foundation."    
The event, which is part of the institute's "Understanding Our New World" virtual conversation series, is free and open to the public. Registration is required at paulsimoninstitute.org/event-information. Attendees are encouraged to send a question for Knight when they register for the event or email questions to paulsimoninstitute@siu.edu.
The Paul Simon Public Policy Institute is a nonprofit, nonpartisan think tank at Southern Illinois University Carbondale promoting better politics and smarter government and preparing young people for careers in public service.