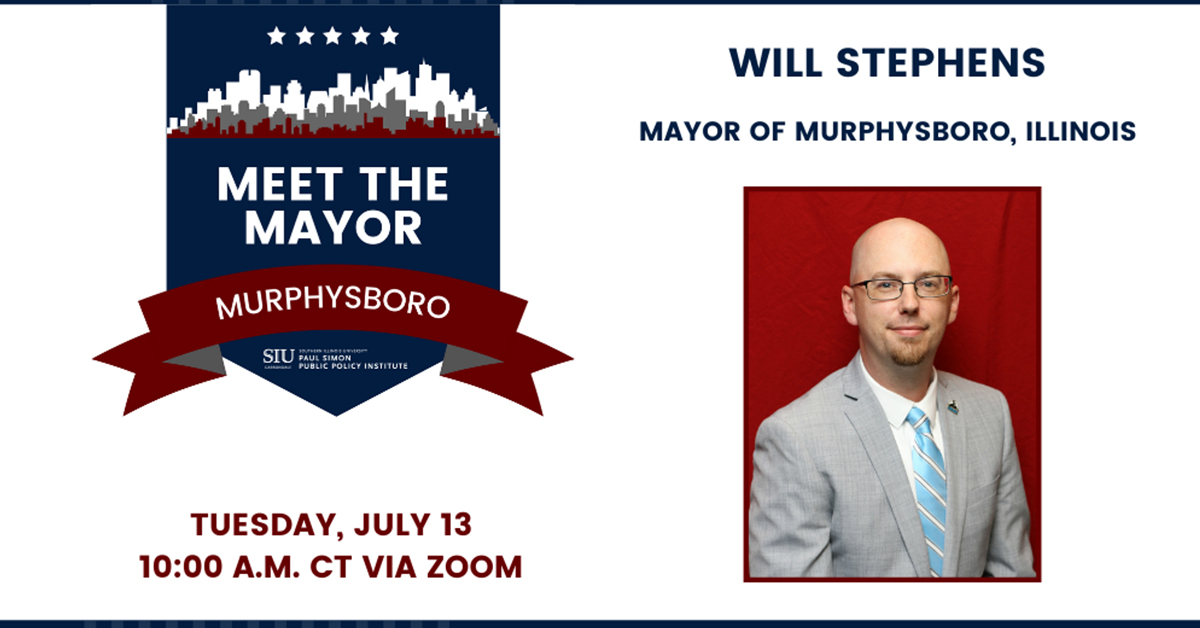 July 08, 2021
Simon Institute to host Murphysboro mayor in virtual event
CARBONDALE, Ill. — Southern Illinois University Carbondale's Paul Simon Public Policy Institute will host a virtual discussion with Murphysboro Mayor Will Stephens at 10 a.m. Tuesday, July 13.
The conversation is part of the institute's bimonthly Meet the Mayor series, in which Illinois mayors talk with John Shaw, institute director, about their towns' challenges and achievements, especially during the COVID-19 pandemic.
Stephens became the youngest mayor in Murphysboro's history when he first won the office in 2013 when he was 31 years old. Before becoming mayor, Stephens served on the Jackson County Board from 2010 to 2012.
Stephens is also the general manager of WXAN 103.9 FM in Ava and hosts a daily talk show, "The Will Stephens Show," in which he interviews elected officials, gospel artists, authors and business leaders. He also hosts the weekly "Electric Blues Hours" on WDBX 91.1 FM in Carbondale. Stephens is an SIU Carbondale alumnus.
"Mayor Stephens is one of the most interesting and compelling young mayors in Illinois," Shaw said. "He calmly and skillfully guided Murphysboro through the pandemic and has nicely positioned his community for future challenges. We are eager to learn more about his approach to governance."
The event is free and open to the public. Registration is required to receive a link to the Zoom webinar. Visit paulsimoninstitute.org/event-information to register. Attendees are invited to submit a question for Stephens through the registration form or by email to paulsimoninstitute@siu.edu.
The Paul Simon Public Policy Institute is a nonprofit, nonpartisan think tank at Southern Illinois University Carbondale promoting better politics and smarter government and preparing young people for careers in public service.