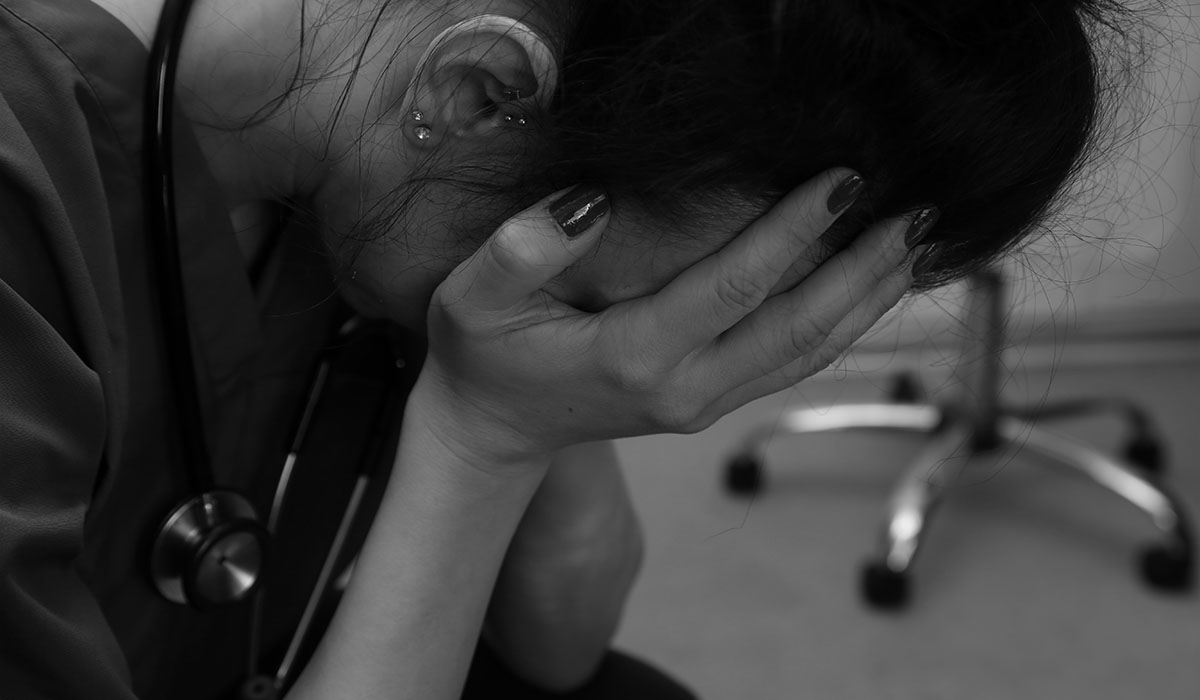 June 24, 2021
SIU researchers study ways to prevent nurses' burnout
CARBONDALE, Ill. — A cross-disciplinary group of researchers from Southern Illinois University Carbondale set out to examine what takes the joy out of the workplace for nurses and how to keep that from happening.
About the time the research survey for "Emotional Exhaustion as a Predictor for Burnout among Nurses" hit the inboxes of registered nurses across the nation, the COVID-19 pandemic struck, adding another layer of challenges for health care workers and another element to the research as well.
As the SIU team analyzed the survey results, they determined implementing a few relatively simple techniques can reduce or eliminate burnout, according to Sandra Collins, professor and program director of health care management.
"Building health care culture surrounding employee wellness is an important facet in retention," said Kelli Whittington, director of SIU's nursing program and lead of the research team. "Assisting nurse managers in identifying the signs of emotional exhaustion and understanding their role in minimizing these effects can constructively impact the development of that positive, nurturing culture in a way that benefits the nurse employee, and by extension, the patient for whom they provide care."
In recent years, the American Nurses Association and the National Academy of Medicine have begun to promote workplace wellness for health care providers because studies have shown that when employees are happy the benefits are numerous: employee retention, shortened patient stays in the hospital, improved facility financial stability and more.
Multiple tools used for evaluation
Richard McKinnies, interim director of the School of Health Sciences and associate professor of radiologic sciences, Thomas Shaw, associate professor of health care management, Whittington and Collins collaborated on the project.
They used two widely accepted tools. The first is the Maslach Burnout Inventory (MBI) for Medical Personnel, which addresses three predominant factors:
Emotional exhaustion, which can result in people feeling very tired, calling in absent from work and other problems.
Depersonalization, which can lead to apathy, callousness, uncaring thoughts or feelings, or in extreme cases, hostility.
Diminished sense of personal accomplishment, which can cause lack of motivation, poor performance and other workplace problems.
The team also used the Areas of Worklife Survey (AWS), which evaluates professional aspects of life:
 Workload.
 Control.
 Reward.
 Community.
 Fairness.
 Values.
Emotional exhaustion prevalent
Respondents reported experiencing emotional exhaustion once to several times a month, on average.
"Based on MBI scoring, burnout is indicated when the exhaustion score is equal to or exceeds 27. Almost half, 47.3% of the participants, demonstrated a total score of 27 or higher," the researchers said.
Whittington, McKinnies, Shaw and Collins went on to analyze the related factors as well, and noted that an increase in workload is associated with an increase in emotional exhaustion. Likewise, as people perceive a loss of control in a situation or as they sense a loss of community affiliation, emotional exhaustion climbs.
What can be done to help
The researchers said they learned that while the workload may not always be flexible, employers should take steps to foster their employees' perception of their workload to mitigate the stressfulness of it. Assuring employees get breaks, distributing the workload as equitably as possible and keeping work from becoming all-encompassing or encroaching too much into personal lives all help, they said.
Employers can enhance employees' perception of control by, within reason, allowing nurses to prioritize their assignments and provide input on the workflow.
The nurses participating in the survey also said it is important that they get along with their colleagues, work cooperatively, engage in open dialogue and that they are able to trust fellow employees to fulfill their obligations. This is vital to helping cultivate a sense of pride and belonging not only to the organization but to their community within the organization.
"It was interesting to note the relationship between community and emotional exhaustion," Shaw said. "Having an understanding that employees who perceive a greater sense of community within the workplace might deter or slow emotional exhaustion reinforces the need for health care organizations to foster or promote a cooperative, open and trusting work environment."
The researchers said that understanding the impact of having this community culture in place before a crisis such as the current pandemic is especially vital to mitigating its impact.
Happy employees help assure organizational viability
The researchers suggest the key takeaways from their study are:
Determining ways to enhance and promote personal accomplishments can minimize burnout.
The perception of reward, a sense of control, fairness and community development can increase personal accomplishment.
Development of nurses as life-long learners can positively impact patient satisfaction and outcomes.
The health and wellness of employees is worth the effort when examining the positive impact employee health has on employee retention and patient satisfaction.
Nursing Management journal published the research earlier this year.
Students benefit from research
Collins said exposing current students to recent, valuable research is also important.
"The information we learn from studies like this provides our current health care students with a unique perspective on the issues they will be helping to find solutions for in their future professional roles within the health care industry," Collins said.