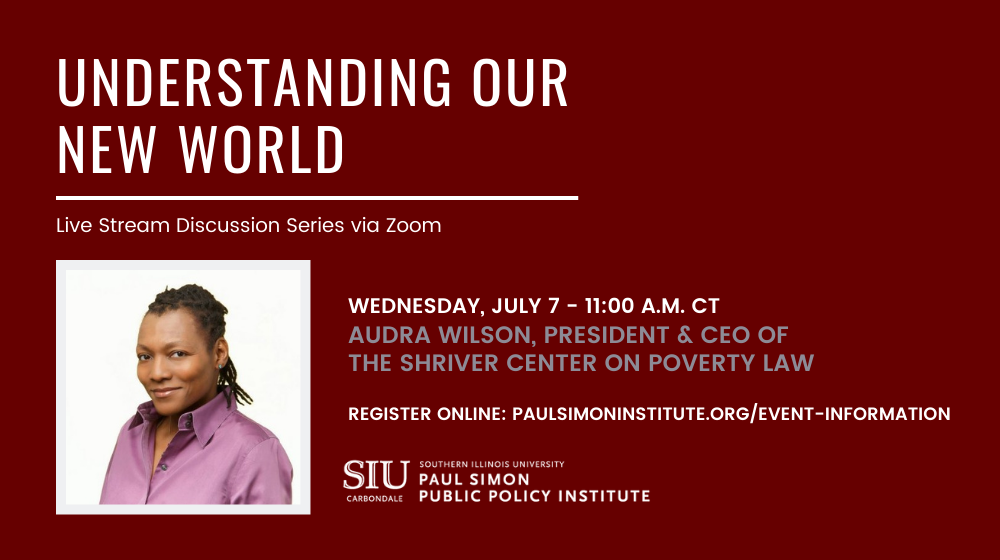 June 29, 2021
Racial, economic justice are topics of talk with Shriver Center CEO
CARBONDALE, Ill. — Southern Illinois University Carbondale's Paul Simon Public Policy Institute will host a virtual conversation with Audra Wilson, president and CEO of the Shriver Center on Poverty Law, at 11 a.m. Wednesday, July 7.
Wilson and John Shaw, institute director, will discuss Wilson's and the Shriver Center's advocacy for economic and racial justice.
Wilson was named top executive of the Chicago-based Shriver Center on Poverty Law on June 1, 2020. The 54-year-old center, according to its mission statement, seeks to build "a future free from poverty and racism, where everyone has equal power under the law."
Before leading the Shriver Center, Wilson served as executive director of the League of Women Voters of Illinois. She also chairs the Cook County Commission on Women's Issues, and previously served as deputy chief of staff for U.S. Rep. Robin Kelly, D-Matteson. She has served as a policy adviser for several federal and state candidates for elected office, including former President Barack Obama's U.S. Senate campaign.
"Audra Wilson's powerful and persuasive advocacy for economic and racial justice is rooted in more than two decades of high-level policy and political experience in Illinois and across the country," Shaw said. "She works tirelessly every day to amplify the voices and tell the stories of people and communities that are seeking hope and justice."
The event is part of the Paul Simon Public Policy Institute's "Understanding Our New World" virtual conversation series with policy experts, political analysts, government and private sector leaders, reporters and authors. Attendance is free and open to the public. Registration is required at paulsimoninstitute.org/event-information. At registration, guests may submit a question for Wilson.
The Paul Simon Public Policy Institute is a nonprofit, nonpartisan think tank at SIU Carbondale promoting better politics and smarter government and preparing students for careers in public service.