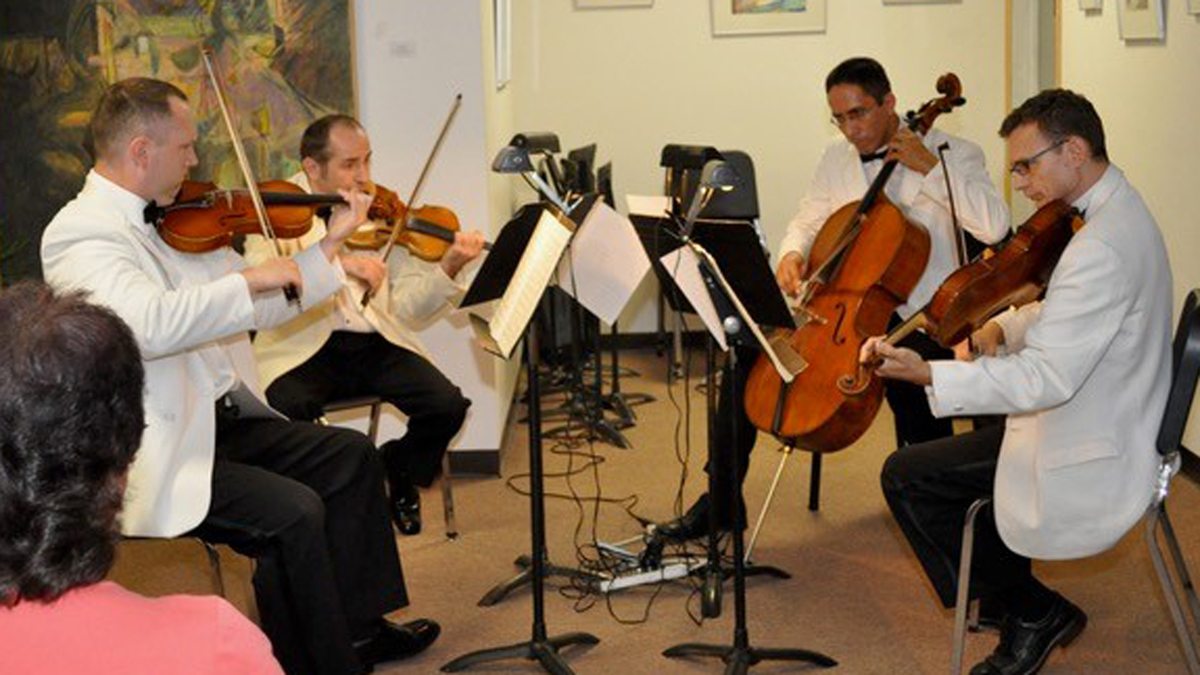 String quartet performances are among the highlights of the annual Southern Illinois Music Festival. (Photo provided)
June 09, 2021
Southern Illinois Music Festival returns to the region, July 6-18
CARBONDALE, Ill. — The 17th annual and nationally recognized Southern Illinois Music Festival returns to the region next month featuring a strong lineup of concert and opera performances that will attract both young and older audiences.
The festival runs July 6-18 and features the works of well-known composers, including Felix Mendelssohn, Dmitri Shostakovich, Antonio Vivaldi, Reinhold Gliere, Guiseppe Verdi, Giacomo Puccini and Wolfgang Amadeus Mozart.
Festival artists include members of the Chicago Symphony, Lyric Opera of Chicago, Los Angeles Opera, and Washington National Opera, and they come from North and South America, Europe and Asia. Performances will be held at sites throughout the region and range from intimate concerts to a fully produced opera.
The centerpiece for the 2021 Festival is Mozart's hilarious and appropriately revised opera, "COVID fan tutte," sung in English with English supertitles.
Each of the festival events will comply with current Restore Illinois guidelines, and each of the performers will be vaccinated.
"The Southern Illinois Music Festival (SIFest) has enjoyed 16 seasons of annual artistic, educational and financial success," said Edward Benyas, SIFest artistic director and conductor. "SIFest benefits the entire region, enhances the university's reputation, provides unique creative activity opportunities for SIU faculty and students, and is a professional cultural event which no other public university in the state offers." 
Artist biographies and the full schedule of concerts are available on the festival website.
COVID fan tutte sure to entertain
Benyas explained that one of opera's "greatest masterpieces" is Mozart's "Cosi fan tutte," the basic premise of which is an older man betting his younger friends that their two lovers are unfaithful.
"Through a series of charades and disguises, set throughout the Mozart's brilliant music, the older man makes his point," Benyas said. "Our 2021 production updates this misogynistic plot to a modern day golf and country club in the midst of the COVID-19 pandemic, combining some of the most sublime music ever composed with uproarious humor."
Nationally recognized
The long-running event didn't let the COVID-19 pandemic slow its course a year ago. The 16th annual festival, while delayed a few months, took place in 2020 with enhanced safety measures. Among the festival's accolades is recognition in Symphony magazine as one of only four professional music festivals in the state.
Tickets available now
Tickets to most festival events are $20 for general admission and $10 for students of any age; $25 and $10 for the July 16 and 18 opera performances at Shryock Auditorium. A season pass is available for $125. The Klassics for Kids and Jive with Jazz events for children of all ages are free and reservations are not needed.
Tickets are available at the door for all performances and advance reservations are not necessary. Advance tickets are available by contacting Benyas at benyas@siu.edu or 312-560-2094. Pre-festival ticket order forms available on the website can be printed out and should be mailed by Tuesday, June 15, along with a check for the total amount payable to "Southern Illinois Music Festival" to Edward Benyas, SIU School of Music, Mailcode 4302, Carbondale, IL, 62901.
Patrons will receive an email confirmation of their order and instructions at the beginning of July, along with concert arrival information and notice of any health restrictions in place at the time.
Operatic performances to be televised
Benyas said WSIL-TV Channel 3 will broadcast the opera performances live on its 3.2 "Heroes and Icons" channel, Mediacom channel 125.