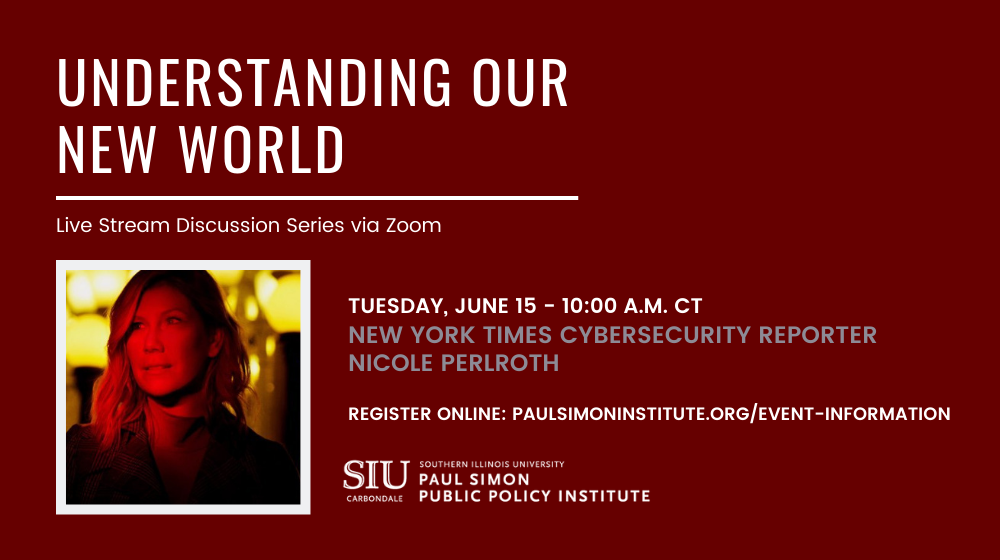 June 09, 2021
New York Times cybersecurity reporter is next Paul Simon Institute guest speaker
CARBONDALE, Ill. — The New York Times reporter and author Nicole Perlroth will join Southern Illinois University Carbondale's Paul Simon Public Policy Institute next week for a virtual discussion about cybersecurity and the cyber weapons arms race.
The conversation is set for 10 a.m. Tuesday, June 15 via Zoom. The event is part of the institute's "Understanding Our New World" series hosted by director John Shaw.
Perlroth covers cybersecurity and digital espionage for the New York Times and has recently written stories about the Colonial Pipeline hack in May, which disrupted fuel supplies on the East Coast, and the hack earlier this month of meat processor JBS, which impacted operations at United States beef, pork and poultry plants.
Her book "This Is How They Tell Me the World Ends: The Cyber Weapons Arms Race," was released in February to critical acclaim. Perlroth is also a guest lecturer at the Stanford Graduate School of Business.
"With every passing day, it's increasingly clear that cybersecurity relates not only to the safety and prosperity of the United States, but also to the day-to-day security and safety of individual Americans," Shaw said. "Nicole Perloth's book about the cyber arms race is both terrific and terrifying.  She is one of our country's most respected cybersecurity writers and is remarkably skilled at making the world of cybersecurity understandable and relevant to all of our lives."
The virtual event is free and open to the public. Registration is required at paulsimoninstitute.org/event-information.
The Paul Simon Public Policy Institute is a nonprofit, nonpartisan think tank promoting better politics and smarter government and preparing young people for careers in public service.