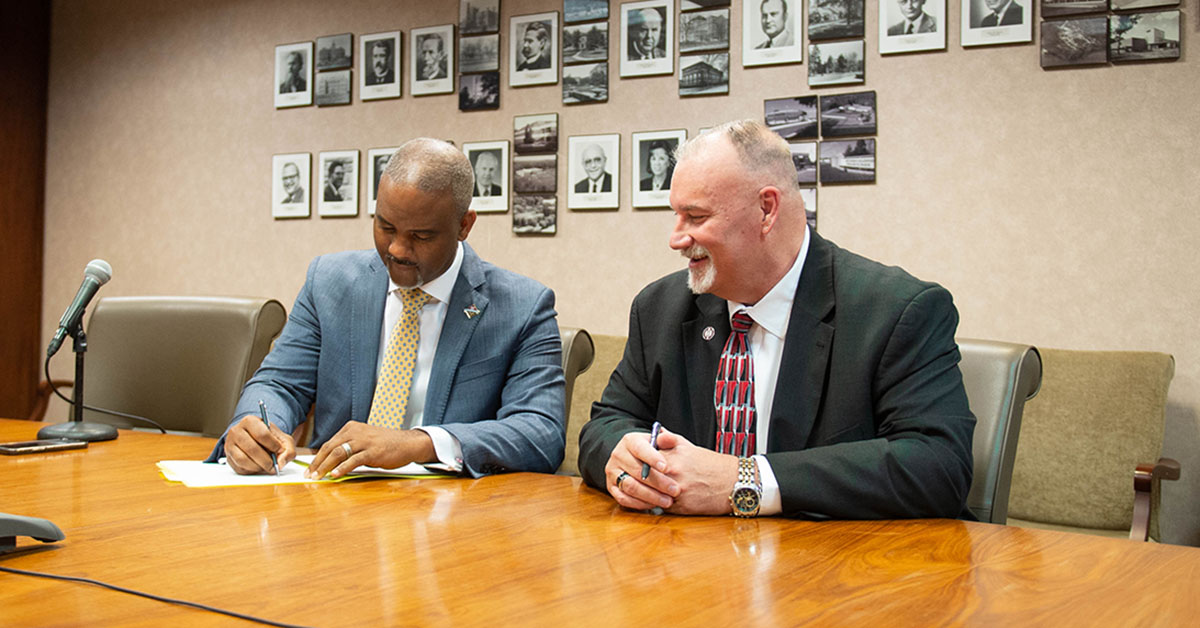 SIU Chancellor Austin Lane, left, and Shawnee Community College President Tim Taylor formalize a reverse transfer agreement today, May 27, that will allow eligible students to earn their associate degrees from Shawnee while they earn their bachelor's degrees from SIU. (Photo by Yenitza Melgoza)
May 27, 2021
SIU, Shawnee Community College sign agreement for students to earn two degrees
CARBONDALE, Ill. — Southern Illinois University Carbondale and Shawnee Community College today, May 27, formalized a reverse transfer agreement that will allow eligible students to earn their associate degrees from Shawnee while they earn their bachelor's degrees from SIU.
Under the agreement, SCC students who transfer before earning an associate degree are eligible for the program if they have completed a minimum of 15 transferable credit hours and at least one semester at SCC. Students must maintain a cumulative 2.0 GPA and remain in good academic standing. SCC will confirm the associate degree completion once the student meets academic requirements.
SIU Chancellor Austin A. Lane and Shawnee Community College President Tim Taylor said the agreement offers more options to students in the area.
"This exciting agreement with SCC provides a smoother pathway for students who start at the community college to complete their bachelor's degrees," Lane said. "This pathway helps students transfer with confidence, knowing that their credit hours from Shawnee will be accepted at SIU and their college education will be affordable.
"Today's agreement is one of several steps SIU has taken to remove barriers between students and their education. SCC students who transfer to SIU will receive hands-on learning and personal attention and might be able to conduct research often reserved for graduate students. At SIU, we're proud of the distinctive opportunities we offer and believe it's our responsibility to provide access to those opportunities. I am grateful to President Taylor and look forward to our two institutions' further collaboration."
The new pact follows SIU's announcement last year of the Saluki Transfer Commitment, the university's pledge to remove financial barriers to a first-rate education for qualifying transfer students.
"As an Illinois community college graduate and as a Saluki, it is particularly satisfying that SCC's first major academic partnership in my tenure as president builds a stronger connection with SIU," said Taylor. "Having transferred from an Illinois community college to SIU, I have firsthand experience in how strong academic partnerships can foster student success.
"For students, this reverse transfer agreement will help streamline the transfer process, potentially reduce college debt and provide an opportunity to obtain additional academic credentials, which might lead to higher-paying jobs in the future. With SIU's focus on serving the regional community, coupled with Shawnee's focus on creating flexible, accessible and relevant learning opportunities for our local residents, I anticipate this is the first of many creative alliances we will work on together in the near future."
Nearly 60 students enrolled at SIU transferred from SCC and are eligible for reverse transfer, said Josi Rawls, SIU's assistant director for transfer relations. SIU also has reverse transfer agreements with John A. Logan College and Kaskaskia College, and is working on agreements with four more community colleges in the state, she said.
"The reverse transfer initiative is beneficial to both the community college and the university, and even more so, the student," Rawls said. "Even while a student pursues a baccalaureate, earning an associate degree is a huge accomplishment and something to be recognized. SIU and Shawnee Community College are proud to publicly share that our two institutions are working hard to ensure student success."
Joining Lane and Taylor for the reverse transfer agreement signing ceremony were Meera Komarraju, SIU provost and vice chancellor for academic affairs; Amanda Sutton, interim admissions director, and Rawls, along with Jean Ellen Boyd, SCC interim vice president of academic affairs and student learning, and Lisa Price, SCC vice president of student success and services. The signing took place in SIU Carbondale's Anthony Hall.
More information about the reverse transfer program is available through SIU's undergraduate admissions at 618-536-4405 or transfer@siu.edu.