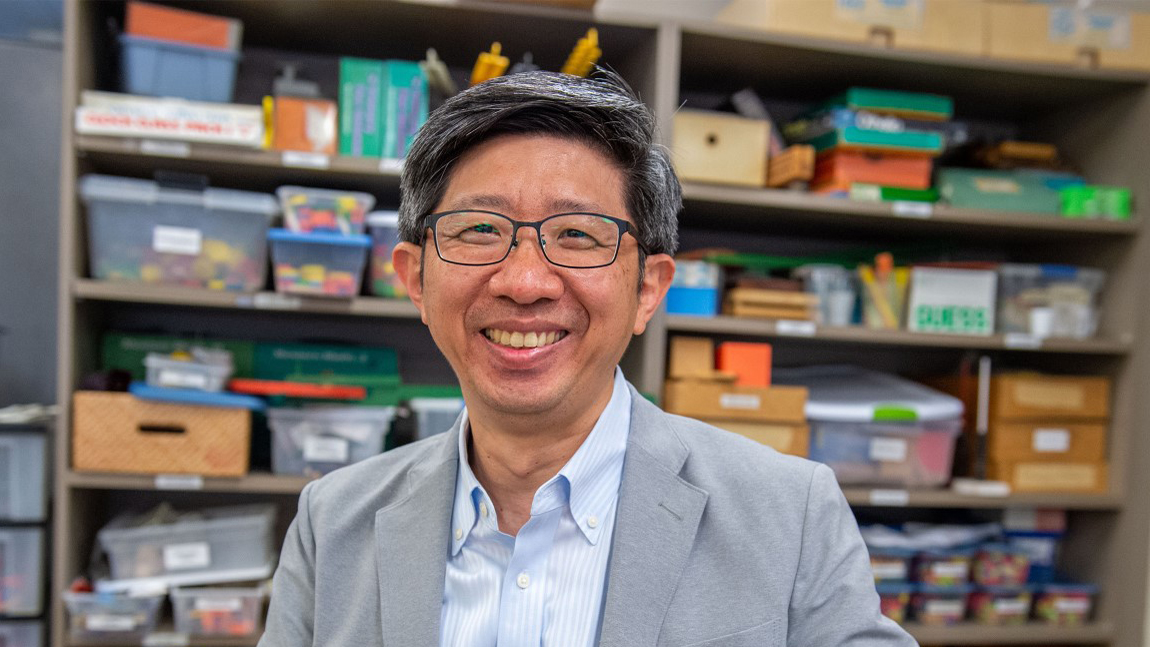 May 21, 2021
SIU professor receives Fulbright Scholar award to compare Taiwanese and U.S. math teaching methods
CARBONDALE, Ill. — Cheng-Yao Lin is passionate about math.
But for the mathematics education professor at Southern Illinois University Carbondale, it's not just about learning and teaching math, it's about helping people really "get" what math is and why it matters.
That's why he's especially excited to receive a Fulbright U.S. Scholar Program Award, for which less than 10% of the applicants are chosen. In spring 2022, he will travel to Taiwan to compare the mathematics education methods of Taiwan and the United States. While overseas, Lin, who is also coordinator for the elementary education program, will teach as well as research.
This recent Fulbright award follow his term as a U.S. Fulbright Specialist from 2014 through 2019, another selective honor, and during that time, he received a U.S. Fulbright Specialist Program award in 2017 to conduct short-term research and teaching projects in Taiwan and Australia. He said this time, he's happy he'll get a more in-depth look at the research he's working on as he spends several months in Taiwan.
Different approaches to math instruction
Lin will examine the differences in the way teachers in the two countries present math concepts to their students. In particular, he will look at whether Taiwanese instructors use the constructive method to teach procedural and conceptual knowledge of fractions, decimals and percentages.
This "philosophy of learning is based on rethinking or experience and building our own understanding of the world we live in," Lin said.
Think of it this way, Lin explains. We know 1+1=2 or that if you want to divide ½ by ¼, you invert and multiply so after the calculations are completed, the answer is 2. The constructive perspective explains why these equations work this way.  
"It's a philosophy about how to help people better understand the math concept in a simple way instead of feeding them a formula and testing them. Teaching math isn't like training a robot. We're teaching human beings," Lin said. "We want them to understand the reasoning behind a solution and how they got an answer so they can apply that reasoning to future problems in life. It's not just about earning a test score."
Perhaps surprisingly, he said, people often get excited about math once they get the hang of it with this philosophy. For instance, he said there "hundreds of ways" to prove the accuracy of the Pythagorean Theorem, the formula for determining the length of a side of a right triangle based on the lengths of the other two sides. But by using a simple hands-on activity, someone can discover a method of proving the theorem themselves, and they likely will never forget it.
As a faculty member who helps educate future teachers, he said it's an important lesson.
"In a constructivism classroom, the students work together to come up with the formula and the answers. They learn problem-solving skills and procedural knowledge," Lin said. "Both are important."
While he and SIU colleagues have come to this conclusion as they teach the teachers of tomorrow, that philosophy is not universally held, Lin said. Many places and countries still teach with the goal of assuring students score well on standardized tests. As he teaches graduate and undergraduate courses at the National Taipei University of Education, he will examine their mathematics teaching methods. He will also design a course that fosters the constructive approach to learning philosophies.
Returning to his roots
The immersive teaching and research visit to Taiwan will be a homecoming of sorts for Lin as well. He earned his bachelor's degree in gifted education at the National Taipei University of Education in 1991, and he is eager to see how teaching methods there have changed or remained the same. He also taught mathematics at the National Jen-Ai School in Chang-Hwa, Taiwan, for several years in the 1990s.
Lin subsequently completed his master's in mathematics education at the University of Northern Colorado in 1998 and his doctorate in mathematics education at the University of Illinois at Urbana-Champaign in 2003. He joined the SIU faculty in 2004.
Expands ongoing research
The study Lin will conduct in spring 2022 at Taipei is an extension of his ongoing research and creative interests. A member of the Mathematics Education Research Group, he was part of an extensive effort to collect and analyze data about math education over a period of many years. He has long researched math, math education and the use of technology in teaching math. 
He previously studied and compared the computational skills and the knowledge of fractions for pre-service teachers in the U.S. and Taiwan. He also established a Mathematics Education Lab in the School of Education to help SIU students better understand mathematical concepts and explore an "outside-the-box, hands-on" approach to learning.
In addition, Lin serves as department editor of the "National Council of Teachers of Mathematics: Mathematics Teacher: Learning and Teaching PK-12".
Lin said he is "thankful and humbled" to now see his dream of securing the Fulbright for his most recent research come true. He is working collaboratively with colleagues at both universities on the project.