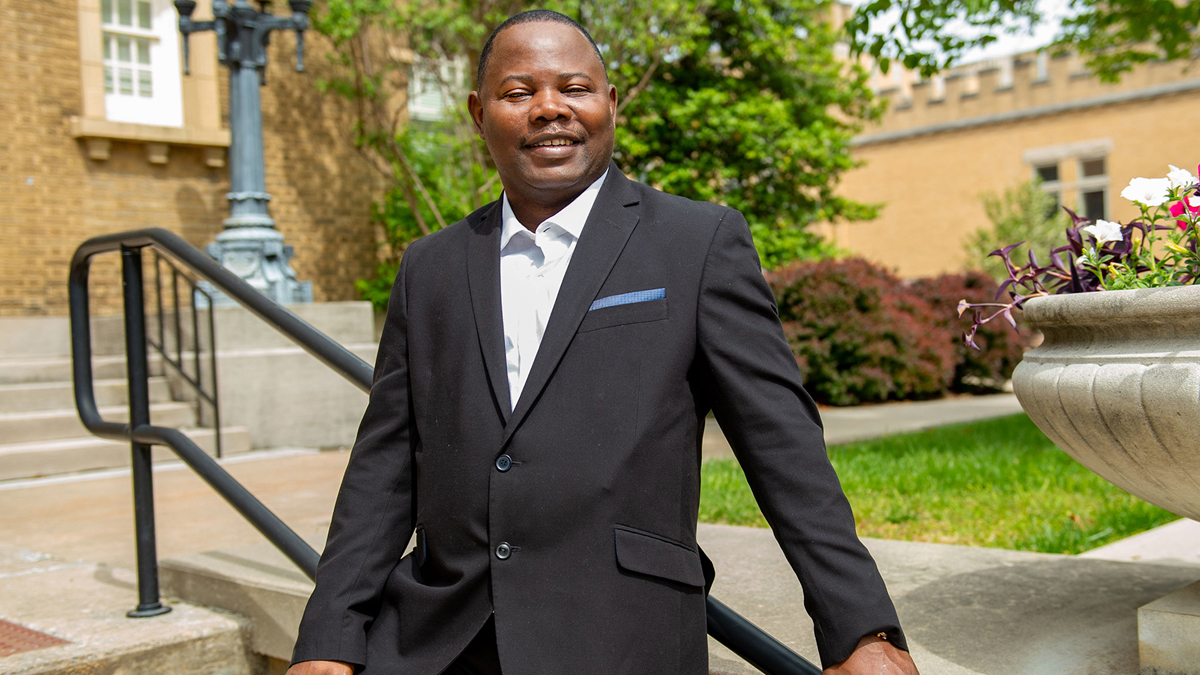 Olusegun A. Ojewuyi will serve as interim dean for the new College of Arts and Media, which will launch July 1. (Photo by Russell Bailey)
May 20, 2021
SIU launches new college combining arts and media
CARBONDALE, Ill. — On July 1, Southern Illinois University Carbondale will launch a new college that delves into how people communicate, from the fine and performing arts to mass media.
The College of Arts and Media consists of six academic units in both undergraduate and graduate levels: the School of Architecture, School of Art and Design, School of Journalism, School of Media Arts, the School of Music, and the Department of Theater. Interdisciplinary graduate programs for the School of Journalism and the School of Media Arts will be administered at the college level. About 760 students will be enrolled within the college, said Meera Komarraju, provost and vice chancellor for academic affairs.
"It is exciting to form a new college that brings together highly visible programs with renowned and talented faculty," she said. "This college provides a chance to imagine offering a variety of hands-on and professional experiences that would attract graduate and undergraduate students. It provides a valuable opportunity for developing innovative and interdisciplinary programs and for generating research and creative synergies."
A model for interdisciplinary education
Komarraju expects the college will bring together "all of the creative fields to become the model for interdisciplinary education and gain regional, national and international recognition." She noted that it is more typical in university settings for the programs to be part of a college of arts and sciences or a college of liberal arts.
"This new college highlights, in a compelling way for students and the community, our innovative programming in media and the visual, fine and performing arts," she said. "It will align closely with industry and position our students for professional success."
Theater professor tabbed to be college's interim dean
Komarraju also announced the appointment of Olusegun A. Ojewuyi, a professor in the Department of Theater, as the new college's interim dean. The appointment is also effective July 1, pending approval by the SIU Board of Trustees later that month.
She noted Ojewuyi's vision for "bringing about an interdisciplinary collaboration between the arts and media," noting the new college will be home to "a range of disciplines that are diverse but also have a common thread."
Ojewuyi has been with SIU Carbondale since 2004. He has been the theater department's interim chair since 2019 and was Faculty Senate president from 2019 to 2020.
"Great opportunity" to lead the college
Leading a new college comes with a mix of excitement and tension, Ojewuyi said, comparing it to guiding a newborn "through the inaugural stages of life."
"It is an honor of immeasurable responsibility," he said.
Ojewuyi said he is motivated by the college's potential – a "unique, forward-looking college of artiste-scholars, conceptualized and birthed by its faculty." The confluence of creative activity, scholarship and teaching will sit squarely at the core of the new college, with students, faculty and staff engaged in collaborative, multidisciplinary creative activities and research with a "much needed dialogue between theory and practice, just as you have in the Schools of Medicine and Law," he said.
"Our students should be active participants in the innovations, and dialogues of the 2020s and beyond, not of yesterdays," he said.
Competitive edge
Ojewuyi said the college presents an opportunity to "really, truly be focused and engaged with the future."
"We must come to pace with the new technologies in our schools and the trends in the creative industry that we belong to," he said. "This will make us competitive in our recruitment of students and faculty. We also want to be nationally and internationally current in our research and creative productions. While these can be seen as the advantages of 'newness,' they are also the challenges of the years of infancy."
Several goals already set
Noting that the new college stands at the intersection of creativity, scholarship and critical instructional strategies, Ojewuyi said his first objective is to build bridges between the six schools that are coming from vastly different colleges to "very quickly become a unified creative and scholarly force." He will also seek to engender a strong culture of inclusion and diversity to foster and strengthen the college's scholarship and creative activities.
"I believe we must generate, where necessary, new courses and curricula that probe beyond the usual Euro-Western tropes and provide our graduates with the fundamental creative and critical skills for productive and rewarding careers in the 21st century and beyond," he said. "We must pitch these innovative strategies for students and faculty who come with diverse local and global experiential representations."
Ojewuyi said he also plans to be involved in another critical aspect for the college by leading a "strong fundraising campaign to provide the resources – human and material that the college needs to be competitive."
"I want to be smart, judicious and fair in the distribution of opportunities for students, faculty and staff of the college," he said.
Editor's note: Olusegun Ojewuyi is pronounced Sh-ae-ghun Aw-jeh-woo-yee.