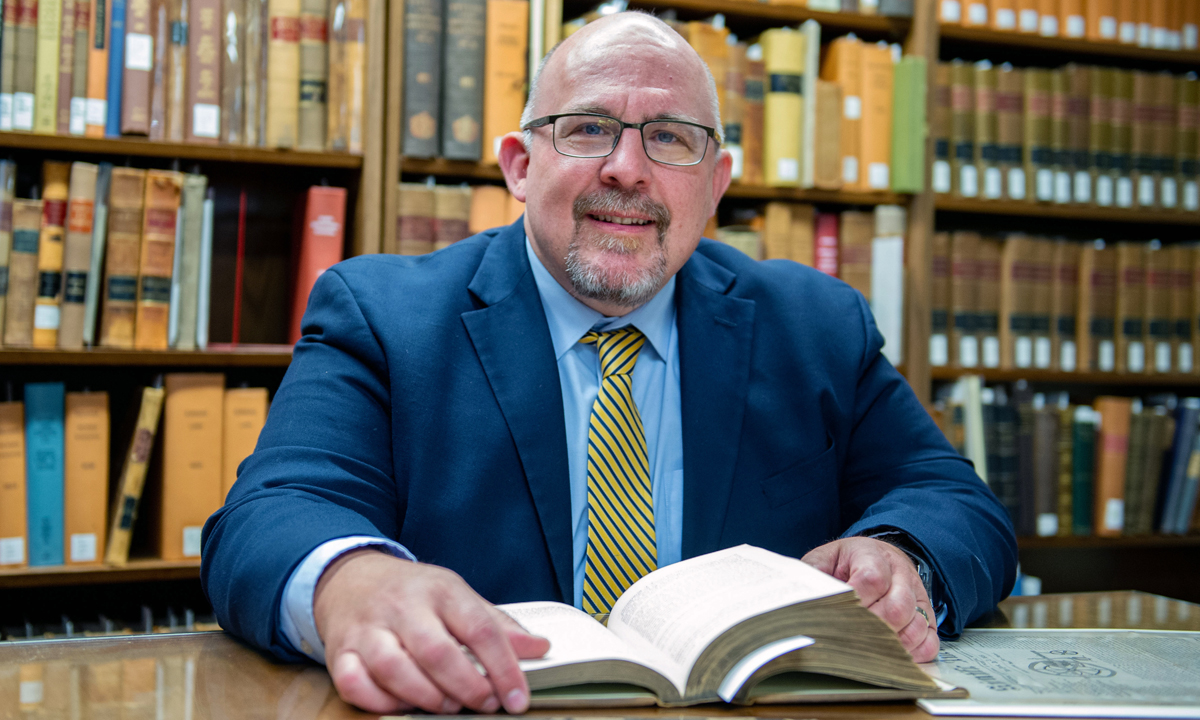 Christopher Behan, a professor at the SIU School of Law, was selected recently for the Fulbright Specialist Program. (Photo by Russell Bailey)
April 26, 2021
SIU law school professor named Fulbright Specialist
CARBONDALE, Ill. — Southern Illinois University Carbondale has been long known for its global reach, including welcoming its first international student in 1947. Christopher Behan, a professor with the SIU School of Law, is continuing the relationship with his recent selection as a Fulbright Specialist.
Behan learned in February that he was selected for the specialist program, which "pairs highly qualified U.S. academics and professionals with host institutions abroad to share their expertise, strengthen institutional linkages, hone their skills, gain international experience and learn about other cultures," according to the organization's website. The program has host institutions in more than 150 countries, and projects generally last two to six weeks, although specialists are encouraged to continue working with their host institutions in the years after the initial exchange.
Behan is honored to be selected. The usual three-year term was extended to four years, until February 2025, due to the pandemic.
"SIU Carbondale truly is a university with a global presence," said Behan, who came to the law school in 2006. "I encourage students to take advantage of international educational travel opportunities. Without SIU, I wouldn't have been competitive for this Fulbright Specialist appointment."
He is awaiting a match with a project, possibly in East Africa. Behan said the project will likely involve legal education and administration "where I can draw on my teaching and administrative experience here at SIU and also from my time as an officer in the United States Army."
Behan noted that in deciding to apply for a Fulbright Specialist slot, he got encouragement and advice from two colleagues, law professors Trish McCubbin and Cynthia Fountaine, both of whom have been involved with the program.
SIU School of Law Dean Camille Davidson noted the law school's history with the specialist program.  "We are excited about this opportunity for Professor Behan," she said. "His acceptance into this program continues a proud history of SIU law faculty membership in the Fulbright Specialist Program, including Professors Fountaine and McCubbin. We look forward to the opportunities our faculty involvement in this program will bring to our students."
Trish McCubbin was a Fulbright Scholar at the Wuhan University School of Law in China in 2007. Law professor Cynthia Fountaine, who is presently also on the Fulbright Specialist roster, has been a Fulbright Higher Education Administrator in France since coming to SIU. Prior to that, she was a Fulbright Senior Scholar in Germany.
Extensive experience abroad
Behan said he has had several notable experiences while studying abroad, both when he was an undergraduate student at the Brigham Young Center for Near Eastern Studies in Jerusalem and as a law school faculty member. These helped establish collaborative relationships that, "in turn, open doors and create opportunities for our students," he said.
Behan and former SIU law professor Mark Schultz were in Botswana with a group of students as part of the law school's Legal Globalization and Comparative Law program to both Botswana and South Africa.
In Botswana, they met a High Court judge from that nation who coincidentally participated in a conference at Touch of Nature Environmental Center several years earlier. The program that Behan and Schultz, now at the University of Akron School of Law, taught together also gave students a chance for individual meetings with attorneys and judges from that nation's highest court, Behan said.
In 2014, Behan taught a trial advocacy course in Gaborone, Botswana, and met former High Court Judge Oagile Bethuel Key Dingake, who came to the law school in January 2019 as the Beatty Jurist-In-Residence. Dingake visited several classes while on campus and a lecture he presented was turned into remarks published in the Southern Illinois University Law Journal.
"As a gesture of respect to the students who helped him finalize the research for his article and get all in the footnotes in order, he gave several of them co-authorship credit on the article," Behan said.
Last fall, Behan gave a virtual lecture via Zoom to an international criminal law class at the University of Nairobi School of Law's Mombasa campus, returning a favor for a professor in that class who lectured in Behan's comparative law seminar a few weeks earlier.
"The Fulbright Specialist program will create some additional opportunities for our students here," Behan said. "That could include new courses with visits to other countries, or guest speakers or even guest students here at this school."