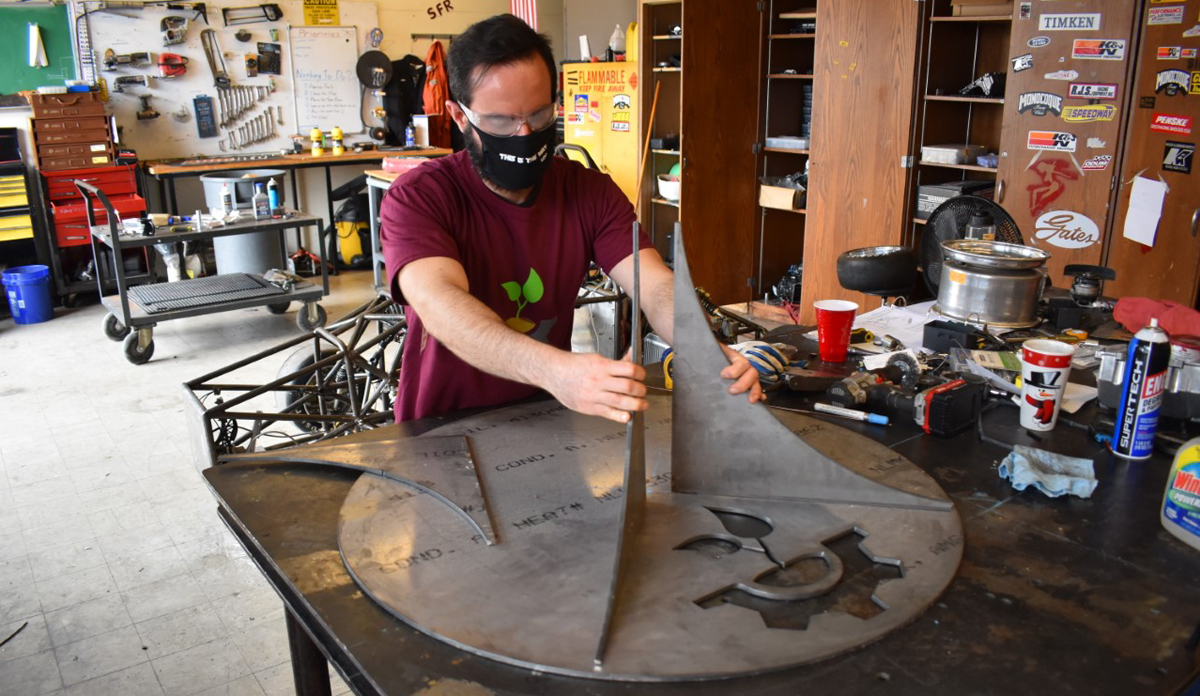 A member of the student-led Green Roof Team works to fabricate a micro-wind turbine for the Agriculture Building's green roof. The team is receiving its second sustainability program grant to continue their work. (Photo provided)
April 22, 2021
SIU celebrates Earth Day by awarding grants to 11 sustainability projects
CARBONDALE, Ill. — Southern Illinois University Carbondale celebrates Earth Day 2021 today, April 22, by awarding thousands of dollars in grants to a wide variety of "green" initiatives that include recycling projects, bike trails and wind turbines.
Sustainability program officials announced the award of $37,428 in Green Fund grants to 11 sustainability projects.
"We are so pleased to see such a variety of proposals coming from across campus. The commitment and creativity behind these projects is evident," said Karen Schauwecker, sustainability program coordinator. "The proposals are truly an example of what it looks like when our community envisions and creates a greener, more sustainable campus."
The winners
The recipients of the 2021 Green Fund grants, along with the amount of funding each was allocated and a brief description of each project, are:
Multi-use Trail Project Surveys – $9,363 toward the second phase of Touch of Nature Environmental Center's bicycle trail building project. The first phase was completed in December and this phase will add 30 miles of trail. The grant will fund archaeological and botanical surveys prior to trail extension construction. Students from the

plant biology

department will assist with the surveys and other volunteer opportunities will also be available.

The Recycling Salukis – $7,989 to a new registered student organization to assist with the group's goal of recycling plastic waste generated on campus into usable products. The hands-on project calls for washing, shredding and melting the plastic using equipment and molds purchased with the funds.

Evergreen Terrace Recycling Program – $4,407 to initiate a recycling program at Evergreen Terrace Apartments similar to those at other residence halls. That will include purchasing recycling bins and educational flyers for apartments.

Green Roof Renewable Energy Initiative/Hybrid Small Wind Turbine – $4,124 to expand the campus small wind turbine activities that began during the 2020-2021 academic year. The student-led Green Roof Team is the result of a cross-disciplinary collaboration and provides unique experiences working on a renewable energy project that incorporates initial feasibility studies, fabricating, installation and research components. The funds will assist in conducting a study and purchasing and installing wind turbine construction equipment.

Paperless for Patients – $2,722 to buy two tablets and a keyboard for the SIU Dental Clinic to transition to electronic patient forms to greatly reduce paper use and waste.  

Athletics Building Recycling – $2,988 to SIU athletics to purchase a milk dispenser for post-workout nutrition and reduce the number of single-use plastic bottles.

Clinical Center Electronic Testing Expansion – $2,660 toward the purchase of iPads and software for the center to use to conduct electronic testing and reduce the use of paper products.

Life After Death Educational Seminar – $1,500 to a student-led initiative to bring awareness to mortuary science students and the general public about "green burials" and sustainability through efforts such as a speaker series.

Touch of Nature pollinator plot – $1,000 to help create a pollinator destination on a 1.22-acre plot at Touch of Nature Environmental Center.

Bee Campus USA – $520 to a student-lead initiative to begin efforts for SIU to become affiliated with Bee Campus USA. A committee will be formed over the next year to move forward with the application.

Sustainable fashion at SIU – $209 for a student-led project to set up a clothing recycling drop-off location on campus and to highlight sustainability in fashion. The project will work in conjunction with SIU's fashion design and merchandising program.
 Millions toward a greener campus
The funding comes from a student-initiated Green Fee established by the SIU Board of Trustees.  Since the student fee began in 2009, nearly $2.3 million has been allocated for 214 sustainability projects, including the 2021 grant awards.
"The projects were equally impressive and inspiring," said Luis Prado, a master's student in earth systems and sustainability from Westmont who serves on the Green Fund Committee and who earned his bachelor's degree in geography and environmental resources at SIU.  "All applicants should be truly proud of their ideas and hard work. The diversity of projects funded this year serves as a wonderful reminder of how interdisciplinary the field of sustainability is. Each project will proudly represent the university's growing prioritization of sustainability on our campus, as well as the unbounded student excellence found at SIU, exemplified by the many student leaders across our campus facilitating this round of Green Fund projects, paving the way for a greener future."
Cross-campus collaboration increases student participation
The Sustainability Council received 18 grant proposals submitted by students, faculty and staff. Student applications were particularly high this year, due in part to faculty from University Honors, human nutrition and dietetics, architecture, environmental studies/geography and environmental resources integrating into their courses grant writing preparation.
Tao Huang, assistant professor and head of undergraduate studies for the School of Art and Design, said the University Honors program  "Seminar in Humanities and Fine Arts: Designing Sustainability" class, is the first sustainability-focused class for many students.
Writing the grant application "helps them think about the opportunities to make a difference for a more sustainable campus and community," he said. "This process helps them realize that though sustainability is a complex concept, there are plenty of things they can do to help advance and promote sustainability."
Students in the Community Nutrition class taught by Brenda Green, nutrition instructor in the School of Human Sciences, got real-life experience in writing a grant rather than doing a traditional fictional assignment, assuring they have a skill that's vital for a registered dietitian, she said.
"The students were able to connect the skills learned from community assessment and apply the information to write their grant. There were some pretty creative grants written and they all worked hard with campus collaborators to make their grants feasible," Green said.
Seth Traiteur, a junior civil engineering major from Christopher, serves on the Green Fund Committee and has been impressed with the great ideas he's seen come about as the result of faculty members incorporating the grant projects process into classwork and believes there's great potential for more.
"Every year the projects are impressive," Traiteur said. "The ability for everyone associated with the university to tap into the Green Fund makes it really exciting, because the possibilities are endless."
The Sustainability Office offers assistance to faculty members interested in incorporating sustainability into their coursework.
Get Involved
The Sustainability Council, which is comprised of students, faculty and staff and helps advise sustainability policy while the council's Green Fund Committee selects grant winners each year.
Connie Kaniewski, who plans to graduate with her master's degree in geography and environmental resources this summer, has served on the Sustainability Council and Green Fund Committee since her senior year and the Gurnee native said she's proud to "have been a part of real change in the SIU community."
"Seeing the 'funded by the Green Fund' sticker all around campus always puts a smile on my face because I know I played a part in making that happen," she said. "Many of these projects will have positive impacts on the SIU campus and community for years to come. The green fund empowers students to make their sustainable ideas a reality."
Sustainability Council positions are open for the coming year giving Salukis the chance to get involved and contribute to SIU sustainability. Applications are available online until April 30.