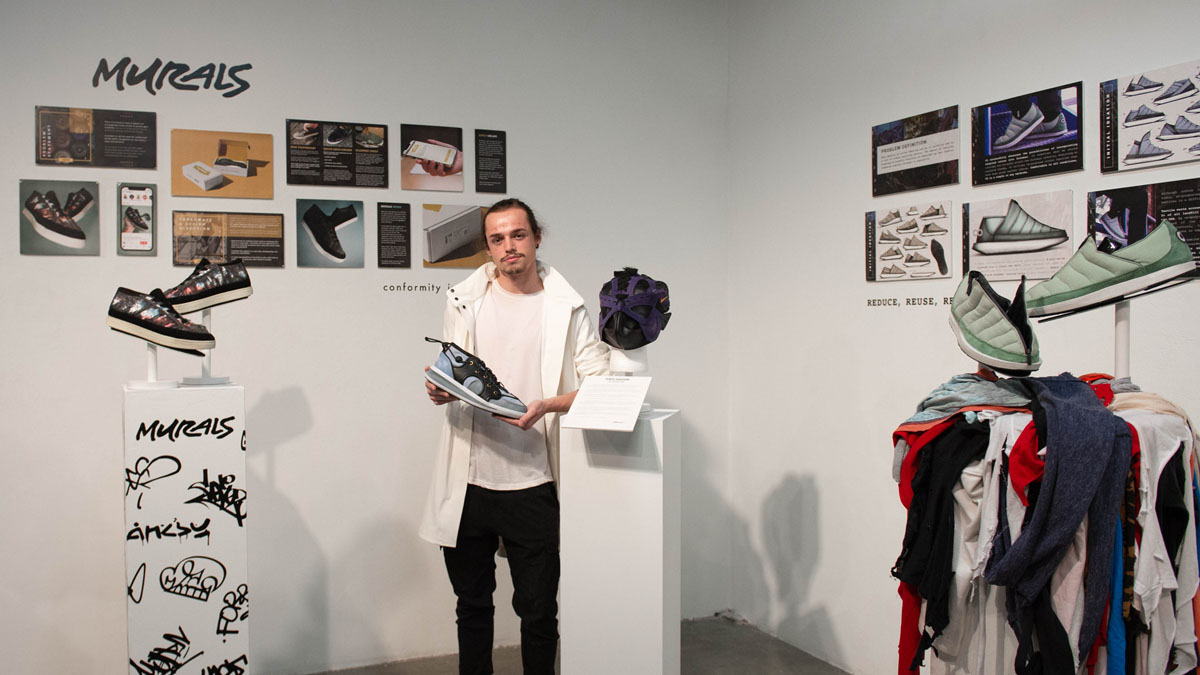 Theo Hassim, a senior industrial design major in Southern Illinois University Carbondale's School of Art and Design, is the 2021 Rickert-Ziebold Trust Award winner. (Photo by Yenitza Melgoza)
April 14, 2021
A step ahead: Shoe designer Theo Hassim earns 2021 Rickert-Ziebold Trust Award
CARBONDALE, Ill. — As with many aspiring athletes, Theo Hassim's interest in footwear and sneakers began in grade school by following what top athletes were wearing. That initial interest sparked a passion, ultimately guiding Hassim, a senior industrial design major from St. Catharines, Ontario, Canada, to the 2021 Rickert-Ziebold Trust Award presented by the Southern Illinois University Carbondale School of Art and Design.
"I'm very shocked and excited. I can't stop shaking," said Hassim, who will graduate next month. "I'm super happy to be able to have people appreciate all the work I have put in during my time at SIU and the work before that."
Winning the award brings a $15,000 prize. The virtual exhibition reception for the seven finalists and award presentation at 5 p.m. Friday, April 16, in the Surplus Gallery at the Glove Factory will be livestreamed on the Surplus Gallery's Facebook page. Photos and possibly video will be available later on the Rickert-Ziebold page.
Hassim said his exhibit includes multiple footwear concepts that showcase concept ideation, market research and prototype construction.
Sun Kim, an associate professor of metalsmithing and jewelry, said she was happy organizers were able to resume this year's show. The exhibition, which serves as a thesis project for graduating seniors, was competitive, but Hassim's work stood out among the faculty judges, she said.
"His exhibit shows four years of his accomplishments while at SIU," she said. "He has a very creative approach to his research about shoe design. It was very refreshing."
Brotherly cooperation
Both Theo Hassim and an older brother, Cain, were one-time distance runners for the Saluki men's track and cross country teams. Cain Hassim earned his industrial design degree in 2020 and was one of nine Rickert-Ziebold finalists who each received $500 after the exhibition was canceled due to the pandemic. His brother encouraged him to attend SIU's program.
"He's been a great help in terms of communication and bouncing ideas off of each other and always trying to build each other up, which is a nice relationship to have in terms of design," Theo Hassim said.
Upon arriving on campus, Theo Hassim started to build upon his own skills, including stepping away from athletics to focus on design and his future career. That included an independent study course as a junior that focused on drawing techniques and portfolios and a course this year on research design.
Already manufactures shoes
Hassim has a footwear manufacturing workshop in his apartment, continuing an effort he began in high school. The award funds will go toward additional manufacturing equipment for a "nice, solid workshop," including extra sewing machines "that are up to the task."
Hassim emphasized that even if he works as a designer for a larger footwear firm he wants to maintain his own work.
"I always want to have that. I don't want to lose the cobbling side of my interest when I enter the industry," he said. "I feel it keeps the passion alive to be able to create something of my own without having brand restrictions or company guidelines. I'm hoping to push that forward and make one-of-a-kind pieces that are wearable and have fun doing it."
Other finalists
Other senior finalists this year, listed by hometown and major specialization, were:
ILLINOIS
Bloomington: Allison Morey, communication design.
Calhoun: Courtney Holland, communication design.
Carbondale: Roshni Choudhary, communication design.
Carbondale: Kate Forer, general studio, art history.
MICHIGAN
Cassopolis: Prescott Doll, communication design.
NORTH CAROLINA
Raleigh: Arelis Reyna, sculpture.
This award is possible through the generosity of the family of the late Joseph Rickert. A prominent lawyer and state senator from Waterloo, Illinois, Rickert enjoyed a personal interest in the arts. This award, established in 1974 in memory of the Rickert family, serves to support and encourage the tradition of excellence.
For more information, contact Sun Kim at sunkim@siu.edu or the Surplus Gallery at 618-453-7548 or sgallery@siu.edu.