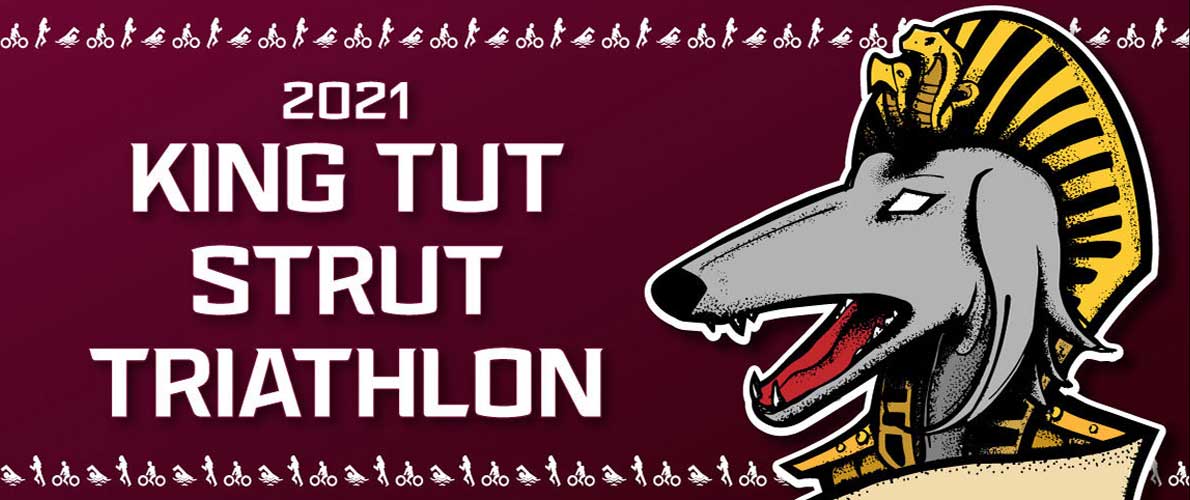 April 13, 2021
Sign up now for SIU's inaugural King Tut Strut Triathlon on June 5
CARBONDALE, Ill. — Registration is underway for the inaugural King Tut Strut Triathlon, a sprint distance triathlon, coming to Southern Illinois University Carbondale on June 5.
Recreational Sports and Services invites anyone age 16 and older to participate in the event, which includes a .2-mile swim in Campus Lake, a 5-mile bicycle ride around the southwest side of campus and a 2-mile run on the trail circling the lake. Three-member teams are also welcome.
Register now
The event is limited to the first 60 people to sign up so early registration is recommended. The shorter sprint distance event is designed to be fun for both novices and seasoned triathletes.
The cost is $35 for individuals or $90 for a team of three. All who register by May 26 are guaranteed a commemorative T-shirt.
Register or find additional details on the King Tut Strut registration page.
Volunteers needed
Organizers are also seeking volunteers to help with safety and directions during the bicycling and running phases of the event. Sign up online for either of the two shifts.  About 40 volunteers are needed.
Special setting
The race begins and ends at the Becker Pavilion on Campus Lake. The Campus Lake Boat Dock was renovated and transformed into Becker Pavilion in 2018 courtesy of a million dollar donation from alumnus Ralph E. Becker, class of 1955, and his wife, Jane. Although public swimming isn't allowed on Campus Lake, a small sand beach area has been developed next to the pavilion to facilitate events such as the Moonlight Canoe sessions, the Special Olympics Polar Plunge, the Cardboard Boat Regatta. For the first time in more than six years, the lake, which was once home to the storied Doc Spackman Triathlon will again host a triathlon.
Campus Lake underwent a major cleanup in 2016 to improve the water quality and since it reopened in 2019, regular testing has revealed no return of the blue-green algae bloom issues.
Organizers say the King Tut Strut Triathlon is the kickoff for planned development of more programs giving SIU students and the community the chance to access and enjoy the "blue gem" in the heart of the SIU campus.
For more information, contact Jared King at jared@siu.edu or 618-453-1376.