March 30, 2021
SIU celebrating April as Asian American/Pacific Islander Heritage Month
CARBONDALE, Ill. — Southern Illinois University Carbondale is celebrating Asian American and Pacific Islander Heritage Month in April with a variety of special events and exhibits, including a guest speaker and a candlelight vigil. All activities are free and open to the community.
"Nationally, Asian American and Pacific Islander Month is celebrated in May," said Todd Bryson, associate chancellor for diversity, "but SIU decided long ago to move the celebration to April because it's very important that we dedicate a full month to celebrate the nation's tremendous Asian American and Pacific Islander heritage."
It begins April 1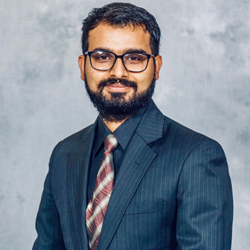 Everyone is welcome to join in the kickoff event, which will take place virtually at 5 p.m. April 1. Ramesh Neupane, associate director of SIU's Study Abroad Programs, will share his fascinating life journey, which began in Nepal. He came to the United States in 2007 to attend college and earned a bachelor's degree in accounting and master's degree in student affairs, both from the University of Nebraska at Kearney, as well as a doctorate in educational administration from SIU. His career has largely focused on working closely with students and student recruiting, including extensive involvement with international students. 
Find the link to the kickoff event at smrc.siu.edu.
Paying respects
The SIU community can offer their respects to the victims of recent violent attacks on the Asian American and Pacific Islander peoples at a special display in the Art Alley of the Student Center. People can stop by the candlelight vigil any time throughout the month to reaffirm their support for the Asian and Asian American communities.
Special activities
The diverse cultures and peoples will be recognized in various other ways in April as well.  A special book display begins April 1 at Morris Library, featuring books authored by Asian American and Pacific Islander writers. The special reading list display will be in place through May 31.
Enjoy the International Festival Cooking Show as international students prepare cuisine from their countries in a special online show. View the entries, which students will submit by April 7, on the International Student Council Facebook page. Prizes will go to the judges' favorite as well as the winner of social media voting.
Coffee hour finale
Wrapping up the celebration is the International Coffee Hour, set for 3-5 p.m. April 30 in the parking lot of the Center for International Education at Woody Hall. This is an informal, come and go social event where people of all nationalities can stop by and grab quick refreshments and exchange pleasant conversations while still complying with current pandemic safety protocols.
For more information about Asian American and Pacific Islander Heritage Month or any of the special cultural celebrations and activities hosted by SIU, visit smrc.siu.edu/.