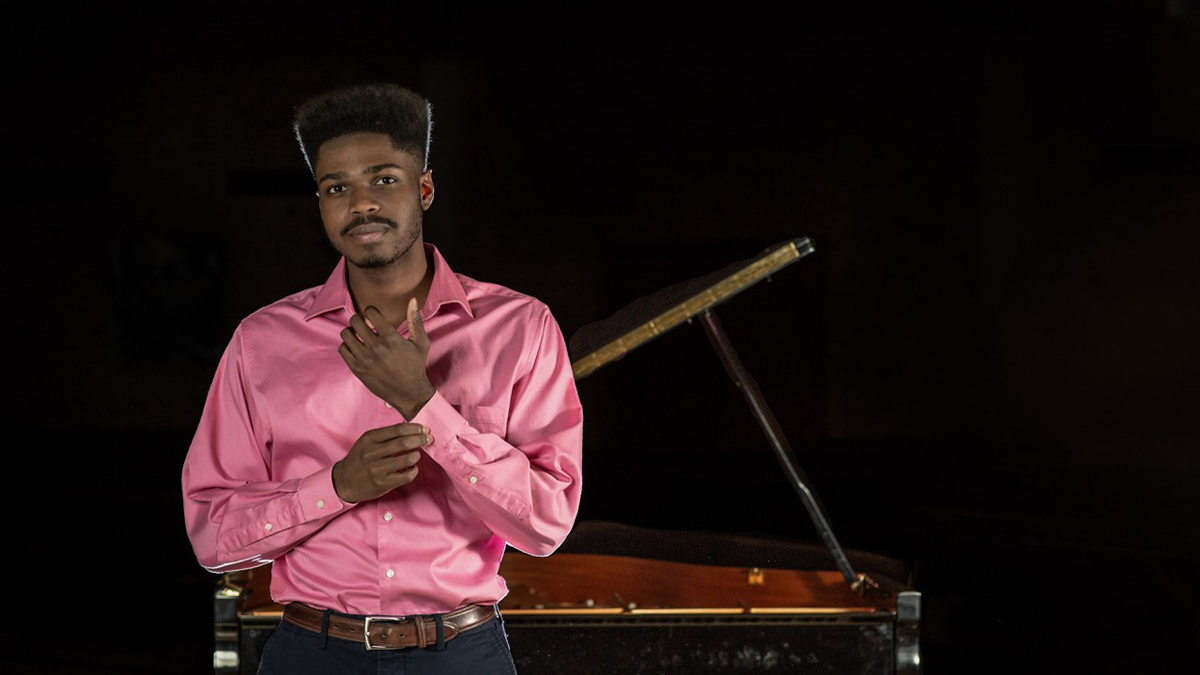 Alfred Jamal Kinchen, an undergraduate double major in aviation and music and a 2019 School of Music Solo Competition winner, will be featured in Southern Illinois Symphony Orchestra performances, March 29-30, at Shryock Auditorium. (Photo provided)
March 15, 2021
Southern Illinois Symphony Orchestra, solo winners to perform Baroque, classical favorites
CARBONDALE, Ill. — The Southern Illinois Symphony Orchestra season continues later this month featuring Baroque and classical-era works by Vivaldi, Vitali, Haydn, Beethoven and Schubert.
The performances are March 29 and 30 at Shryock Auditorium on the SIU campus. Performances begin at 7:30 p.m. both nights.
The concerts will feature several soloists from within the orchestra's ranks, said Edward Benyas, professor of oboe in the SIU School of Music. SISO members include SIU graduate and undergraduate music majors and local professionals.
The concerts open with a "Concerto for Two Cellos" by Antonio Vivaldi with soloists, Eunice Koh and Mark Fretheim, both second-year graduate students of Professor Eric Lenz. Yoonseo Jung, winner of the 2019 pre-college solo competition and a student of Professor Michael Barta, follows by performing Tomaso Vitali's "Chaconne for violin and string orchestra."
The first half concludes with a charming early Symphony by Franz Joseph Haydn, No. 7, subtitled "Le Midi." The Haydn features concertante solos for violin and cello, performed by Gabriela and Maya Benyas, students respectively of professors Barta and Lenz, in their final SISO performances before beginning their college careers on the east and west coasts this fall.
The second half of the concerts feature Franz Schubert's tuneful Symphony No. 5, a chamber orchestra work that is well-suited for a smaller, socially distanced ensemble.
Rounding out the program is the opening movement of Beethoven's "Third Piano Concerto," with Alfred Jamal Kinchen, an undergraduate double major in aviation and music and one of two winners of the 2019 annual School of Music Solo Competition. The solo winner's concert was set for April 2020 and this was the first opportunity to reschedule it due to the COVID-19 pandemic, Benyas said.
Benyas and Jace Kim, a first-year graduate assistant in the university's music program, direct the orchestra.
Performances will follow safety guidelines
Benyas emphasized the performances will comply with the state's Restore Illinois Plan and additional SIU Carbondale safety guidelines.
The Southern Illinois Symphony Orchestra safety protocols include:
Concert attendance will be limited to 40 patrons each night, with advance reservations only.
All staff, artists and audience members must wear masks while in attendance.
Audience members who are not part of the same household will be seated at least 6 feet apart.
All artists will perform at least 6 feet apart.
Patrons will be screened with a temperature check and a series of questions before attending the concerts.
Staggered entry times will be provided to patrons when reservations are confirmed, to ensure social distancing.
Tickets available now
General admission tickets for the performances are $20 and $10 for students of any age. Reservations must be made by email before March 28. For tickets, email Benyas at benyas@siu.edu, indicating the number of tickets needed and for which performance.