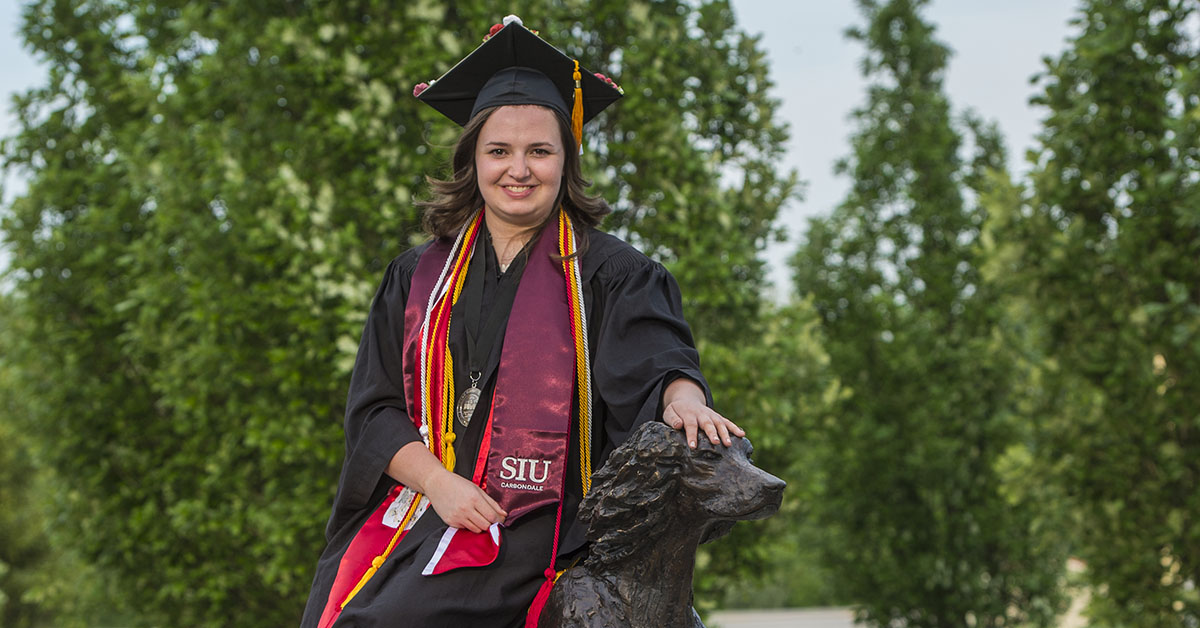 SIU Carbondale plans to hold in-person commencement ceremonies to celebrate graduation in May. Amy Buhman, a 2018 Saluki alumna in zoology, is with one of the Saluki statues near Saluki Stadium and Banterra Center. Buhman is a researcher on campus in the Center for Fisheries, Aquaculture, and Aquatic Sciences. (University Communications and Marketing photo)
March 09, 2021
SIU Carbondale to hold in-person commencement ceremonies in May
CARBONDALE, Ill. — Southern Illinois University Carbondale plans to hold in-person commencement ceremonies at Saluki Stadium to celebrate graduation, May 7-9.
Chancellor Austin A. Lane announced today (March 9) plans to return to a more traditional ceremony over the three-day period designed to safely honor 2020 and 2021 Saluki graduates. Last year, about 3,000 graduates who could not have in-person ceremonies were invited to attend a future in-person celebration. This year, about 2,000 students are earning their degrees in May.
"Overwhelmingly, students and their families tell me they want an in-person commencement ceremony to celebrate graduation," Lane said.
"Even though we provided virtual ceremonies to mark the occasion in 2020 for safety reasons, we understand the desire for a traditional event on a special day for our students and their families. If trends continue in the right direction, we will be able to offer in-person ceremonies, with many familiar traditions, some of them modified to comply with COVID-19 health and safety protocols."
SIU has taken several measures to ensure safety, including enhanced cleaning protocols, social distancing in graduate and guest seating, limited capacity for guests and hand sanitizer stations. To allow for social distancing and limit attendance to a safe level, the university chose a large outdoor venue and will hold more ceremonies than it has in earlier years. Under the current protocols, graduates will go directly to their assigned seats rather than enter in a processional, and guests will be required to have tickets and go to their assigned seats. Guest seating will be ticketed, with each graduate allowed up to four tickets for guests. Graduates may be able to request additional tickets, if space allows. Supporters who cannot attend in person can watch the ceremonies live at commencement.siu.edu/videos.
Lane said the university will continue to monitor the situation, and if conditions become unsafe, it will pivot to a virtual format similar to ceremonies in spring 2020 and fall 2020.
Current plans call for honoring 2021 graduates that Friday and Saturday. The School of Law will honor 2020 and 2021 classes in one ceremony on Friday. All other 2020 graduates are invited to participate in ceremonies on Sunday.
More information, including ceremonies for individual colleges and schools, details about guest ticketing and plans for inclement weather, is available at commencement.siu.edu.