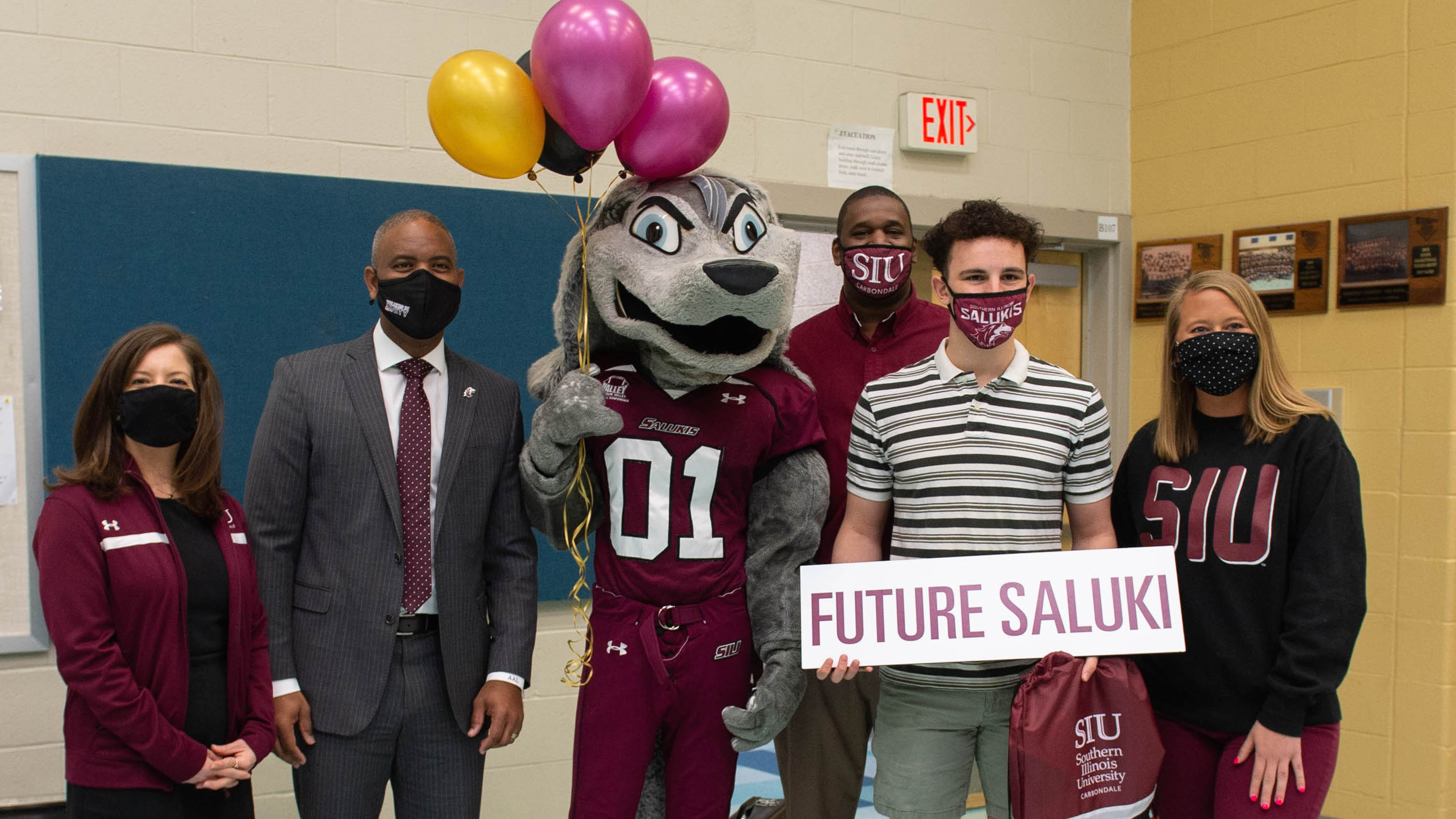 Future Saluki – Nathaniel Pimentel, second from right, a senior at Carbondale Community High School, is joined by Chancellor Austin A. Lane and other members of the SIU community on Feb. 25 to receive his 2021 Chancellor's Scholarship. With Pimentel are, from left, Amber Rivers, financial aid academic scholarships coordinator; Lane; Grey Dawg; John Frost, undergraduate admissions director, and Brittney Gant, undergraduate admissions coordinator. (Photo by Yenitza Melgoza)
March 02, 2021
SIU Carbondale awards Chancellor's Scholarships to high achieving local students
CARBONDALE, Ill. — Fourteen high achieving high school seniors from throughout the region are receiving Southern Illinois University Carbondale 2021 Chancellor's Scholarship, which covers tuition, mandatory fees, room and board for four years.
"I am excited to welcome these future Salukis from our own region to SIU, where they will receive a first-class education close to home," Chancellor Austin A. Lane said. "The Chancellor's Scholarship is SIU's most prestigious award. I congratulate all Chancellor's Scholars on this remarkable achievement and look forward to seeing them in the fall."
Lane presented Nathaniel Pimentel, a senior at Carbondale Community High School, with his scholarship certificate on Feb. 25.  Pimentel indicated he plans to major in the university's economics program. Watch a video of Pimentel's award presentation.
Other recipients received surprise personal visits from university officials and Grey Dawg.
SIU will award 34 Chancellor's Scholarships this year. More than 450 high school students competed this year in a selection process that included a scholarship application and essay, with finalists participating in a personal interview. Selected students demonstrate high academic achievement, a strong record of leadership in their communities and participate in numerous extracurricular activities. As in prior years, scholarship recipients will come from throughout Illinois and the United States.
The award is renewable for three years, contingent upon the students maintaining a 3.0 or higher GPA and completing 20 hours of community service and campus leadership activities per year.
Southern Illinois students who have received Chancellor's Scholarships include, by hometown, name, and high school:
Benton: Reece Johnson, Benton Consolidated High School.
Carbondale: Nathaniel Pimentel, Carbondale Community High School.
Columbia: Alexis Mueller, Valmeyer High School.
Du Quoin: David Gomes, Du Quoin High School.
Energy: Austin Shadowen, Herrin High School.
Equality: Morgan Schmitt, Gallatin County High School.
Galatia: Luke Eisenhauer, home school.
Goreville: Alexis Steinsultz, Goreville High School.
Highland: Autumn Meyer, Highland High School.
Herrin: Kelsey Jurich, Herrin High School.
Johnston City: Caden Cockburn, Johnston City High School.
Marion: Dyson Roye, Marion High School.
McLeansboro: Leslie Grubb, Hamilton County Senior High School.
Raleigh: Gracie Harrawood, Eldorado High School. 
SIU Carbondale offers various scholarships to high achieving high school seniors and transfer students. For more information on the university's academic scholarships and financial aid, contact the financial aid office at scholarships@siu.edu or 618-453-4628.