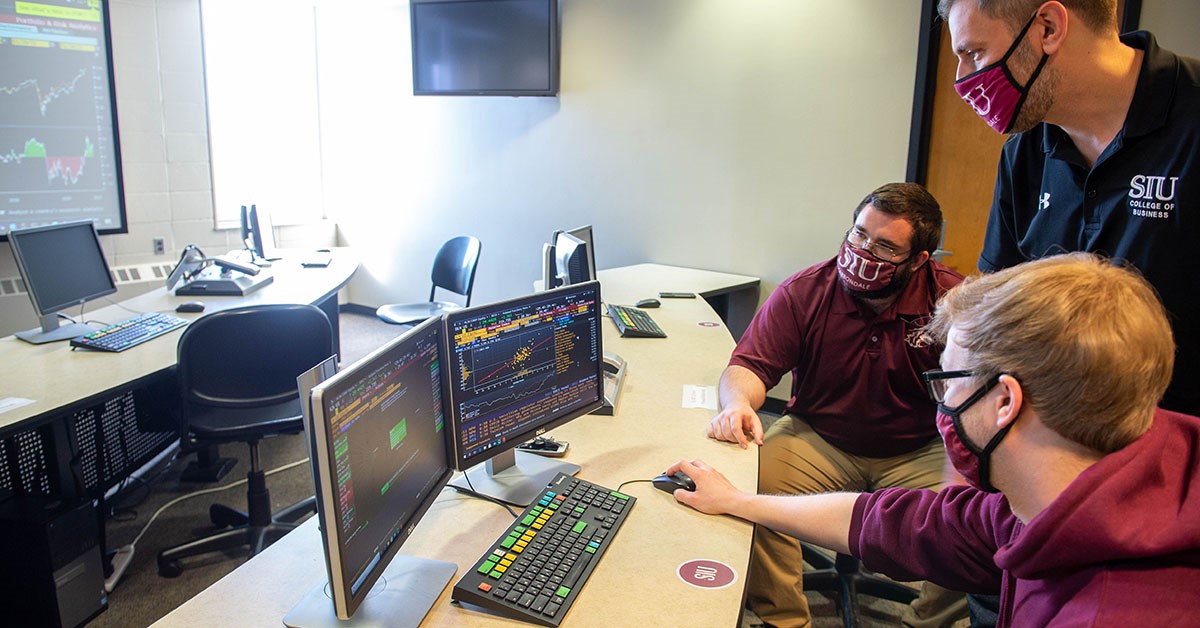 Seated, students Roman Cole and Steven Merdian (left to right), talk with Tim Marlo, finance clinical associate professor and Saluki Student Investment Fund adviser, about research investments and strategies for SSIF.  (Photo by Yenitza Melgoza)
February 23, 2021
SIU's Saluki Student Investment Fund outperforms professionals, even during pandemic
CARBONDALE, Ill. — A group of Southern Illinois University Carbondale students have accomplished an amazing feat over a 15-year period. The Saluki Student Investment Fund (SSIF) has outperformed the majority of professionally managed investment funds as its student members manage real money for a real client. Even in a recession driven by the COVID-19 pandemic, the SSIF's record remains intact.
Perhaps that is one reason the job placement rate for SSIF students within a few months after graduation is approaching 100%.
That's no surprise to Aaron Goeckner, a 2018 SIU finance graduate and former SSIF member who is now a chartered financial analyst with Semper Augustus Investments Group LLC in St. Louis.
"Working in a business that increasingly values real world experience and skillsets, I believe the SSIF provides a great foundation for students from every background to succeed on a myriad of career paths," Goeckner said.
"Among the sea of student investment funds at a multitude of institutions, the SSIF has set itself apart with its emphasis on students making each decision and being responsible for providing intensive due diligence to back it up. My experience with the SSIF was integral in getting me to where I am today in my career."
Making millions grow
The SSIF was established in 2000 with the gift of $25,000 in seed money from SIU alumni Omar and Carol Winter and shortly thereafter the SIU Foundation provided $200,000 in funds for the students to manage. The foundation's directive to the SSIF was that the group fully invest in mid-cap U.S. equities with the S&P 400 MidCap Index as a benchmark and that no more than 5% of the funds be invested in any one company.
The students grew the original investment, and the foundation soon entrusted additional donor funds to their care. 
The student organization is housed in the College of Business and Analytics, but you'll find a wide assortment of majors from throughout the university among the 45 or so members. The students divide into teams and get to work, studying and researching investments within specific sectors such as information technology, financial services and health care. They devote countless hours to their work.
The goal is to invest in companies that have the best chance of outperforming the S&P 400.
"We are on the lookout for the next Apple or Amazon – that company that starts smaller and shoots up to become a rock star," said Tim Marlo, finance clinical associate professor and SSIF adviser.
SSIF's success is clearly visible by its ranking in the top 10% - 20% of mid-cap managers based on long-term performance, according to Marlo.
As the students have increased the revenues in the fund, the SIU Foundation has been able to support even more programs, scholarships, projects and other important functions. SSIF currently manages a portfolio of nearly $3 million in foundation assets.
"The Saluki Student Investment Fund is exactly the kind of initiative that we want to promote," said Matt Kupec, CEO of the SIU Foundation. "It's a perfect example of the hands-on approach to teaching featured at SIU. The investment fund is another way we're enhancing the student experience and showcasing some of the university's best and brightest."
Students make the call
The SSIF gives students experience in financial research, portfolio management and the professionalism required to manage someone else's money. The students make the real life decisions themselves, Marlo said.
"The students are excellent researchers, and the SSIF gives them a chance to put their classroom lessons to work in a professional environment. They learn to collaborate, to analyze and make decisions and find support for their ideas. They also have a unique competitive edge in their ability to seek out and spot opportunities in the market for companies favored by their generation," Marlo said.
"Many paid professionals aren't doing what we do here. It's quite a feat. We are in the top ranks of paid professionals, and it's been like this for several years now. Short-term success can be attributed to luck, but long-term success is an indication of skill. Our Salukis have proven their skill and ability. Our annual average, over the past 10 years, is a little over 12.5%. With compounding, that means that for the last 10 years, we're up over 200%."
Transformative involvement
Participation in SSIF is such a life-changing experience, it's not unusual for the membership to fill quickly, said Roman Cole, a senior accounting and finance major from Springfield, Missouri, who serves as portfolio manager for SSIF.
"Looking back on my life, there are a lot of things that I would change, but SSIF isn't on that list," he said. "It's been a wild ride, full of ups and downs, tears and laughter and frustration and way too many sleepless nights in the trading room, but it's also been one of the most rewarding things I've ever done.
"It may have taken hundreds of hours of work and more stress than I care to remember, but the payoffs have been lifelong friendships, massive personal growth and my dream internship and subsequent job offer at Walmart, the best company on Earth."
Marlo said the SIU Foundation is very careful with donors' money, as is the SSIF, and the students take their responsibility very seriously as they evaluate the performance of midsize companies and collaborate to choose investments in such brands as Five Below and Dunkin'. Because of the SIU Foundation investment mandate to focus on mid-cap companies, the SSIF holds companies that are less researched and yet show promise in their financial statements, he said.
"Being involved with SSIF taught me so many valuable skills I couldn't have learned in the classroom," said Steve Merdian, a senior finance major from Chillicothe, Illinois, who serves as the information technology sector leader for SSIF.
Experience equals jobs
In addition to the unique hands-on experience SSIF provides, the group takes field trips to their holdings' locations. For example, the most recent visit was to one of their industrial sector's stocks, Oshkosh, which recently acquired the defense contract for the replacement of the Humvee, located in Oshkosh, Wisconsin. They along with other professional analysts met with company executives and learned up close and personal how businesses operate. Because of the pandemic, the SSIF teams are adapting a hybrid approach to their research and work, meeting in small groups or virtually, but still logging countless hours to succeed.
Marlo said employers and students alike have repeatedly told him that the experience and expertise acquired through SSIF give SIU students a "huge resume builder and advantage" when it comes to obtaining internships and jobs. For instance, just within the last few years, hundreds of students applied for prestigious internships such as the Walmart one for which Cole was selected, Marlo said. Merdian was able to obtain an internship with NISA Investment Advisors and has already accepted a position with the company's St. Louis office after graduation.
"SSIF has always been a main point of discussion during any interview I had," Merdian said, "and I know I would not have gotten the position I accepted without my experience in SSIF."