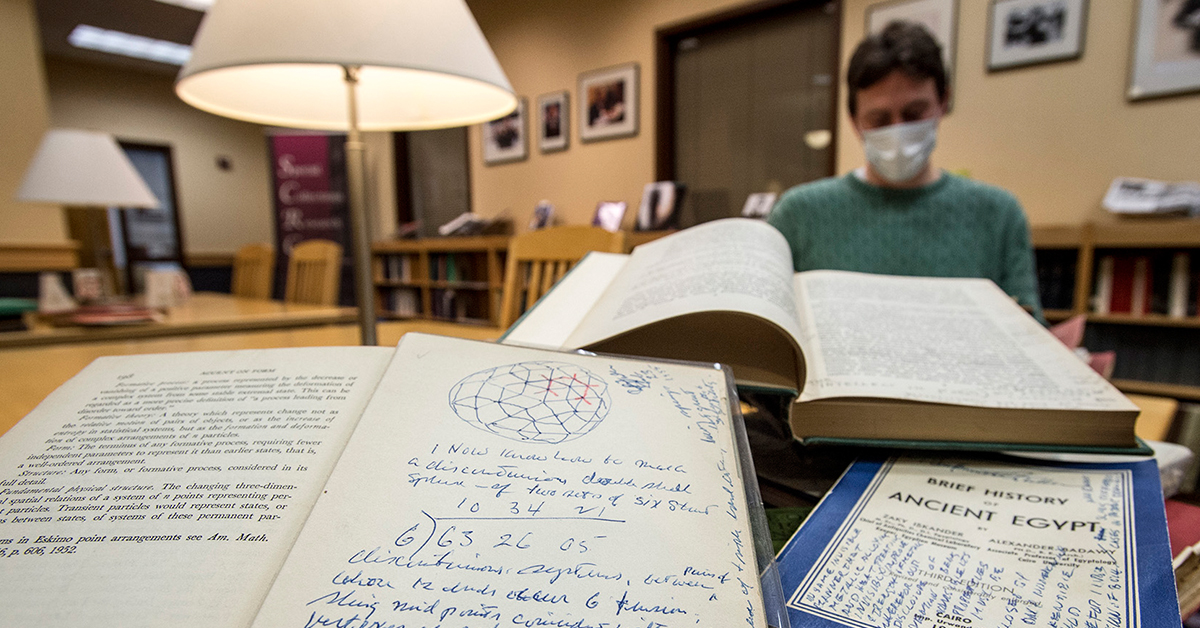 Helping to preserve a legacy – Matt Gorzalski, university archivist, with some of the more than 3,000 books from former SIU Carbondale professor and noted designer and futurist R. Buckminster Fuller. Once catalogued, some of the books will return to Fuller's dome home in Carbondale with the overflow part of the library's Special Collections Research Center. Fuller is shown in his library with some of the books, (Photo by Russell Bailey; photo of R. Buckminster Fuller provided by Morris Library)
February 18, 2021
Morris Library receives Buckminster Fuller's books for research, study
Researchers wanting to know about former SIU professor R. Buckminster Fuller will soon have an opportunity to gain added insight into the thoughts of the noted futurist, architect and designer.
Morris Library's Special Collections Research Center has Fuller's personal library of more than 3,000 volumes; part of a recent donation of artifacts and furniture to the R. Buckminster Fuller Dome Not-For-Profit. The organization recently acquired Fuller's personal library and original house furnishings from his estate, with the goal of reinstalling the furnishings and library as it was in the 1960s to the dome home at 407 S. Forest St. in Carbondale, where Fuller and his wife, Anne, lived, from 1960 to 1971.
As part of a memorandum of understanding with the not-for-profit organization, some volumes will go to Fuller's home with the remaining volumes to Morris Library, said Matthew Gorzalski, university archivist. The volumes provide a further glimpse into Fuller's life.
Fuller (1895-1983) was recruited to SIU by then President Delyte Morris and Harold Cohen, a professor in the design department, and joined the university in 1959.
Fuller's personal library is unique because it stayed intact and includes Fuller's notations and drawings within margins and spaces throughout many of the books, Gorzalski said. There are 118 boxes, and a plastic tote, that contain Fuller's books now in the library's rare book stacks that will be cataloged by Special Collections beginning in March.
The level of detail with Fuller's notations and writings is important for researchers, Gorzalski said.
"On one hand, it surprises me. On the other hand, knowing Buckminster Fuller it doesn't surprise me," he said. "The real value for the library is the books that are annotated for researchers. We will make a note of this in the cataloging record so people can learn more about it, what he thought, if it influenced his work."
The books contain not only Fuller's notations, but some signed by the book's author or by those who gave Fuller the book.
"You gain an insight into Buckminster Fuller's thinking," Gorzalski said. "You also get an insight into how other people's writing may have influenced him and how he used it in his own designs."
Gorzalski points to the dome restoration group as key to obtaining the books. Fuller's personal papers are at Stanford University.
"This will be a good resource," he said. "We don't have that much on Fuller as far as research materials go, and this adds to that."