February 04, 2021
SIU Alumni Association launches new smartphone app
CARBONDALE, Ill. – A new app developed by the SIU Alumni Association, available on both iOS and Android devices, aims to keep alumni informed and connected to their alma mater all from the comfort and convenience of their smartphones.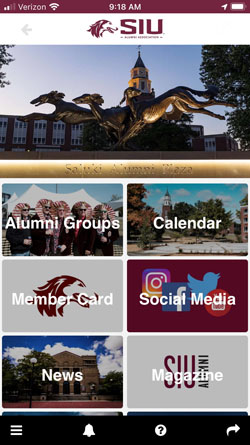 The free SIU Alumni Association app is now live and available for download for iOS and Android phones on both the App Store and Google Play. The app is an easy way to get news and updates about upcoming programs and activities, check calendars for upcoming events and experience easy access to features, like a digital version of the alumni magazine. SIU Alumni Association members can also access their digital membership cards via the app, once they sign in. 
Jeff Gleim, alumni association executive director, said the idea behind the app was to give alumni a dedicated outlet for staying in touch with the university. 
"We wanted to make it easy," he said. "What's easier than checking in on the phone you always have with you? The beauty of it is, alumni can decide what notifications they want to receive – when we announce an event, when we put new Saluki gear up for sale or maybe when there's just a cool, new story about SIU." 
Besides being a convenient way for alumni to stay updated, Gleim also hopes the app will be a useful, quick reference tool for those who want to help recruit new students into the Saluki family. 
"We want to provide our alumni with knowledge about what's happening on campus," Gleim said. "Their enthusiasm for SIU is already there, but having access to the kind of information the app offers should give them an extra edge to help students curious about the Saluki experience."