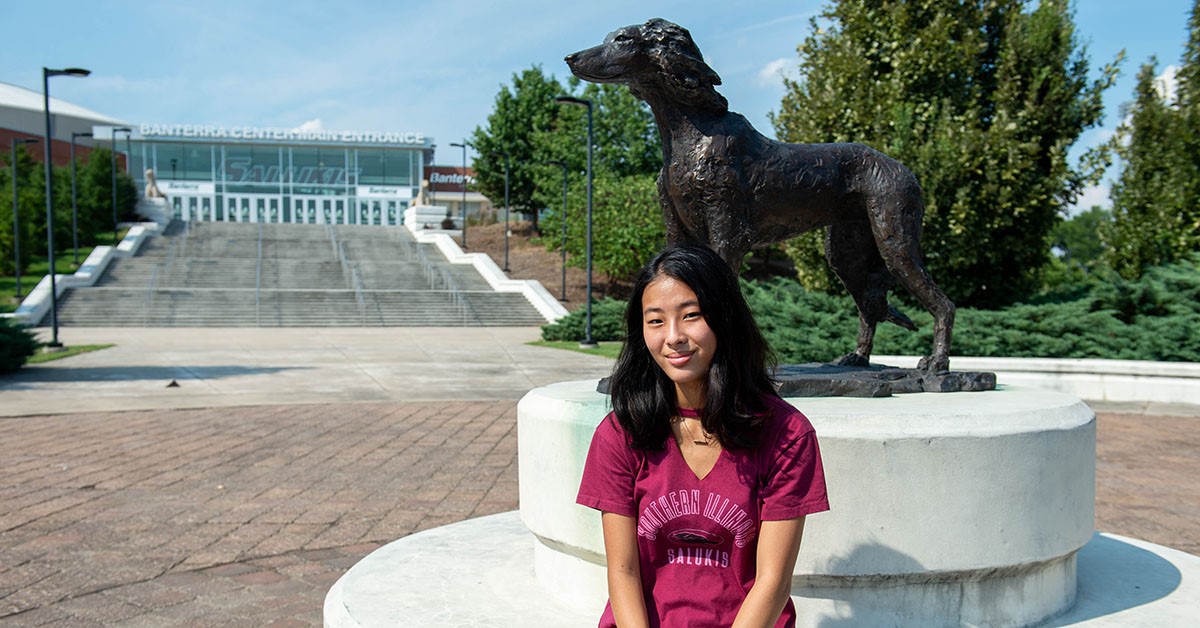 February 02, 2021
SIU committed to serving first-generation students
CARBONDALE, Ill. — Succeeding in college isn't a given, and it's even more difficult for first-generation students, those who are the first in their families to earn a bachelor's degree. Southern Illinois University Carbondale and its First Saluki Center are determined provide all of the tools and support first-generation students need to thrive — and those efforts have earned national recognition.
"Two of every five SIU students identify as first generation, and we're proud to serve them," said Lanel Love, assistant dean of students and director of the First Saluki Center. "Our goal is to inform students about critical information regarding their college education to help set them up for success."
Just for first-gens
SIU established the First Saluki Center in the fall of 2019 to address the unique concerns and needs of first-generation students. Launched by a seed grant from the SIU Foundation, it's essentially a one-stop shop to access services. Through the First Saluki Center, students will find:
First and Proud Living and Learning Community, an inclusive student residence environment at Neely Hall for first-generation students.
First Generation Connection, a campuswide collaboration to help first-generation students build social networks with peers, faculty and staff and help them feel connected to SIU.
Peer mentoring, through which juniors, seniors and graduate students who are also first-generation meet at least weekly with mentees to guide them and connect them with resources and assistance, encouragement and support.
First Gen Summit, a conference during which participants can network with peers on campus and from other universities, identify allies, discuss issues and create plans of action, strengthen advocacy skills and make presentations.
Student success workshops covering a wide range of topics including health and wellness, study strategies, financial literacy, career exploration, communication skills and more. The office partners with other campus units including the Career Development Center

,

Financial Aid Office and Counseling and Psychological Services.
Book and tuition scholarship assistance.
First generation graduation stoles that students can wear during commencement to mark their accomplishment.
Love said that as a result of a survey conducted of SIU first-generation students, the First Saluki Center is also in the process of creating a new tutoring program.
As a first-generation student herself, Love, a double alumna of SIU, knows well how important a support system is.
Recognized for its efforts
According to the U.S. Department of Education's Institution of Education Sciences, more than 80% of 10th-graders who would be first-generation college students expect to attend college, but only 20% will earn a bachelor's degree by the time they are 25.
SIU wants to do something to change that and has already earned national recognition from the Center for First-generation Student Success. In 2020, SIU was named a First-Gen Forward Campus. SIU was one of just two higher education institutions in Illinois selected for the initiative of the NASPA-Student Affairs Administrators in Higher Education and The Suder Foundation.
Now, SIU is being recognized in the nonprofit Strive for College's 2021 "I'm First! Guide to College," a comprehensive guidebook to help low-income, first-generation college students. The guide features profiles of SIU and 163 other universities across the country, along with articles and advice for students, parents and their mentors. SIU became a partner organization in 2020 after taking steps to demonstrate its commitment to first-generation students, showing it shares in the Strive for College mission to serve these students, Love said.
"SIU Carbondale is committed to offering programs and services that can help all of our students reach their full potential," said John Frost, director of admissions. "We are very proud to be profiled in the 2021 'I'm First! Guide to College' as this is the kind of information families and prospective students need to know when considering which college is right for them."
The guide is sold and distributed to high schools and organizations across the country that serve youths.
Wide range of services
SIU's outreach to all students, and especially first-generation students, begins before they get to campus and extends to numerous areas of campus life, officials said, and the "I'm First" profile notes this as well. SIU's campuswide, collaborative student support and outreach effort includes:
For more information
Find additional details about the First Saluki Center and the many ways it helps first-generation students, at salukicenter.siu.edu, email salukicenter@siu.edu or call 618-453-6870.