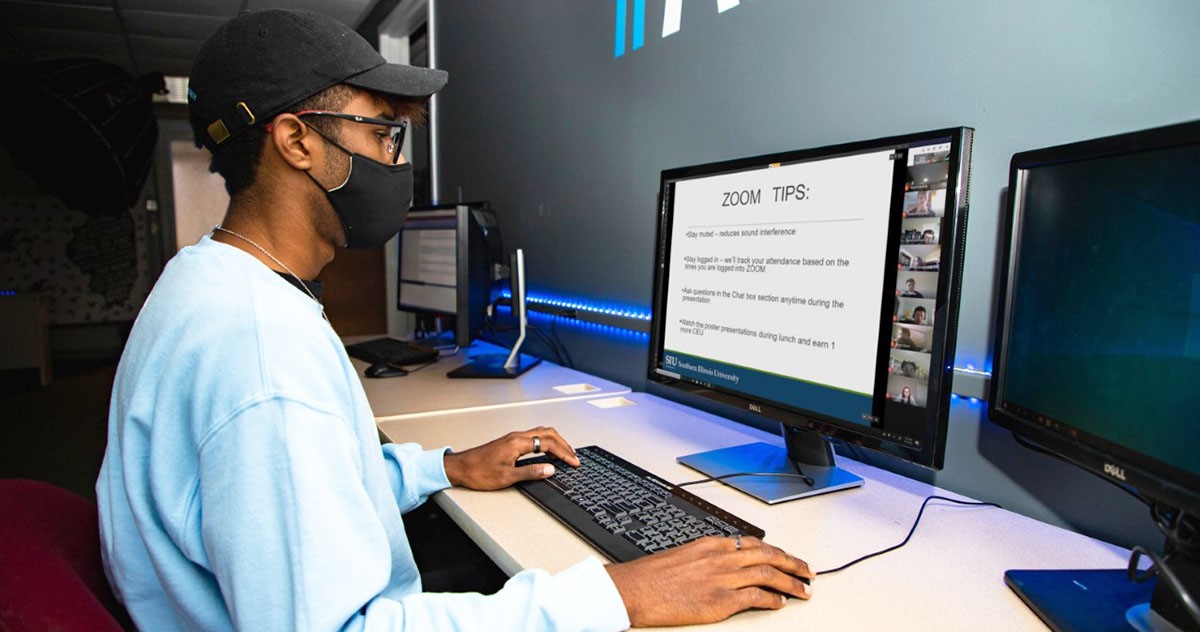 January 14, 2021
SIU's Conference and Scheduling Services offers virtual educational options and event support
CARBONDALE, Ill. — Want to expand your horizons or your knowledge? Experience something new? Or do you need help making a virtual event come to life? Southern Illinois University Carbondale's Conference and Scheduling Services is offering a wide variety of opportunities for virtual continuing education and professional and personal development along with workshops, programs and even support to enable people to host a virtual event.  
Learn something new
Advance your career, explore pathways to personal development or learn something for personal satisfaction through the hundreds of noncredit continuing education courses, all offered completely online. Taught by expert instructors, including acclaimed authors, the courses are interactive, convenient and diverse.
Check out the many options for career training, college readiness and in assorted subjects, including accounting, business, computer applications, science, medical, education, writing and design. Classes include medical coding and billing, bookkeeping, team management, grant writing, stock options and scores of other areas. 
Find all of the details, including the complete schedule and course catalogs, at continuinged.siu.edu. You can also sign up for the listserv to receive regular updates.
Low-cost and stress-free option
SIU offers another way to continue your lifelong learning journey, the Community Listeners Program. Any community member can participate in an online SIU course of their choice (subject to the teacher's approval) for one $50 fee. You will not take exams or receive grades or college credit, but otherwise, it is just the same experience. Visit the Community Listeners webpage to learn more.
Supporting Virtual Events
In addition, SIU's Conference and Scheduling Services and the Student Center can provide technical, creative and logistical support for a wide variety of virtual and hybrid events in commonly used formats such as Microsoft Teams and Zoom. The staff can help community members and the campus community produce high quality events by creating production schedules, providing support and training for presenters and facilitating live event support as well as designing and customizing presentations and much more. They can also assist with filming and location, and they can provide various equipment to assure a professional product and audiovisual integrity in a virtual or hybrid setting.
Email conferenceservices@siu.edu or call 618-536-7751 for pricing and more information about online event support.
Visit https://conferenceservices.siu.edu/ for more information about the myriad of services Conference and Scheduling Services offers.