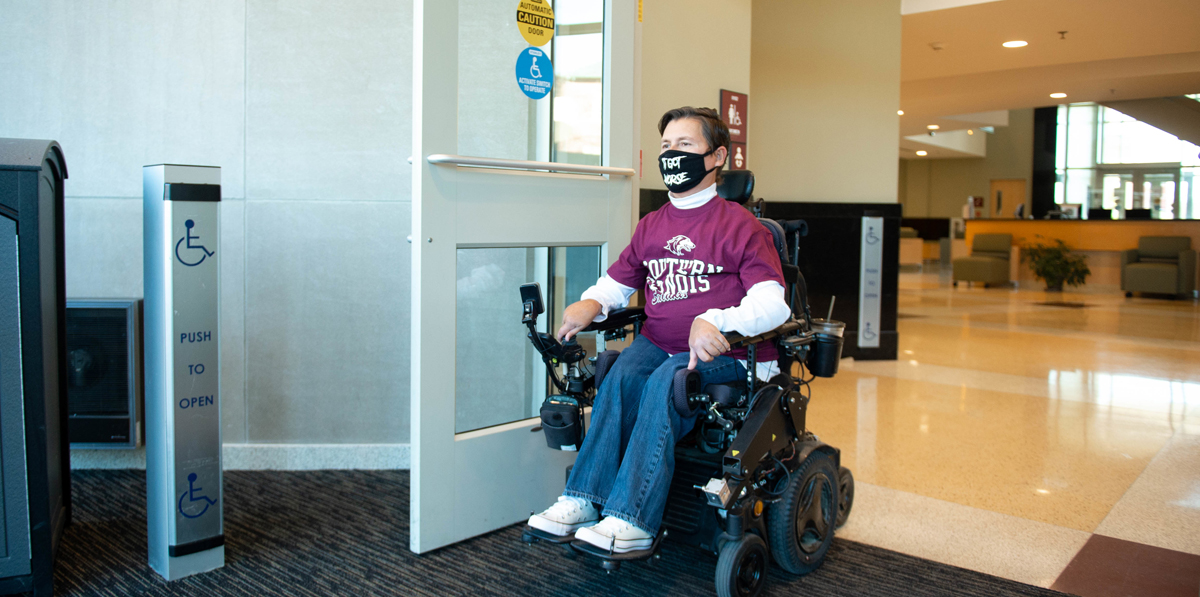 Garrie Wilson, a social work major from Mt. Vernon, exits the Student Services Building. He said he has found SIU to be a welcoming and accessible campus. (Photo by Yenitza Melgoza)
December 17, 2020
SIU earns national recognition as wheelchair friendly
CARBONDALE, Ill. — Inclusivity has been intrinsic to Southern Illinois University Carbondale since its earliest days, and that dedication to ensuring all Salukis feel welcome and appreciated has earned the university national recognition once again. The university was included among the Top 20 Wheelchair Friendly Colleges recently by New Mobility Magazine and the United Spinal Association.
"Their ranking method is more rigorous than that of many other lists of this type, so this is a real feather in our cap," Lisa Caringer, director of Disability Support Services, said. "SIU has long enjoyed a reputation for excellence in access for wheelchair users. We were an early leader in removing physical barriers and assisting disabled college students, who have been traditionally marginalized."
In the report, Jean Dobbs, project director for Top 20 Wheelchair Friendly Colleges, praised SIU's culture.
"The culture of inclusion can be extremely different at different institutions," she wrote. "We wanted to find those gems, those schools that really go above and beyond to say, 'Your wheelchair is welcome here, your service dog is welcome here, you are welcome here.'"
Comprehensive evaluation and ranking
In establishing the rankings, New Mobility asked 400 colleges and universities highly ranked by U.S. News and World Report to complete a comprehensive and specific survey regarding campus accessibility, services and more for students using wheelchairs. The terrain, building accessibility, integrated accessible housing options, personal assistance programs, adaptive sports and recreation, accessible on-campus transportation, adaptive computer labs, inclusive campus life organizations and other factors were assessed. 
Then evaluators sent reporters who use wheelchairs to campuses to experience the settings for themselves and to talk to students. When the COVID-19 pandemic hit, the survey results were confirmed with extensive phone interviews and online research in addition to personal experience.
"They really did their homework on this, and we're very proud to receive this recognition," Caringer said.
Featured profile
New Mobility featured SIU and the other honored universities with "Wheels on Campus" profiles and photos. Along with facts and details about the university, the profile includes memories of the author, Mike Ervin, who graduated from SIU in the 1970s.  
Current students Garrie Wilson, a social work major from Mt. Vernon, Illinois, and Mikkhail Komlatski, a graduate student from Russia, also talked about life as Salukis. Wilson told the publication that students, staff and faculty have been welcoming and helpful and that Disability Support Services has been most accommodating. Komlatski recalled his experiences at the Student Recreation Center, living in university housing and taking and teaching online classes during the pandemic, all with the access he needs.
Campuswide commitment
Caringer said the ranking is the result of a collaborative, campuswide effort and culture.
She noted that SIU has a wheelchair-friendly campus terrain, independently accessible buildings, and that staff of Plant and Service Operations exceed ADA Standards for Accessible Design whenever possible.
Examples include power-assist restroom doors in the Student Services Building and the library, the paratransit program offered by Saluki Express and the Access Inclusive Recreation.
"We go beyond what other campuses provide," Caringer said. "Virtually every part of our campus has adapted to or has some aspect that is inclusive for students with disabilities."
New center planned
"SIU is a campus that has shown others how inclusion of disabled students could be done," Caringer said. Moreover, she emphasized that while this honor is in recognition of the university's support of students who use wheelchairs, the office is dedicated to serving students with any type of disability, including mobility, sensory, learning, attention, autism, mental health and chronic health issues.
While SIU's programs have changed throughout the years, the commitment remains strong and "the spirit that engendered that work remains and is seen in our campus culture of access," Caringer said. "We plan to continue to improve our service delivery and offer more programs and services to students in the future. We continue to be a campus that says to disabled students, 'Welcome to SIU. We've been expecting you."
Already in the works as SIU moves forward with that commitment are plans to create a Disability Ally Center within the Multicultural Resource Center. Disability Support Services and the Office of the Associate Chancellor for Diversity are working together to establish the center, which will offer student-directed programming and peer support for disabled students using a social justice framework.
"The main goal of the work we do at DSS is to lead the campus in creating access and inclusion for disabled students, and we want to look to students for their leadership," Caringer said.