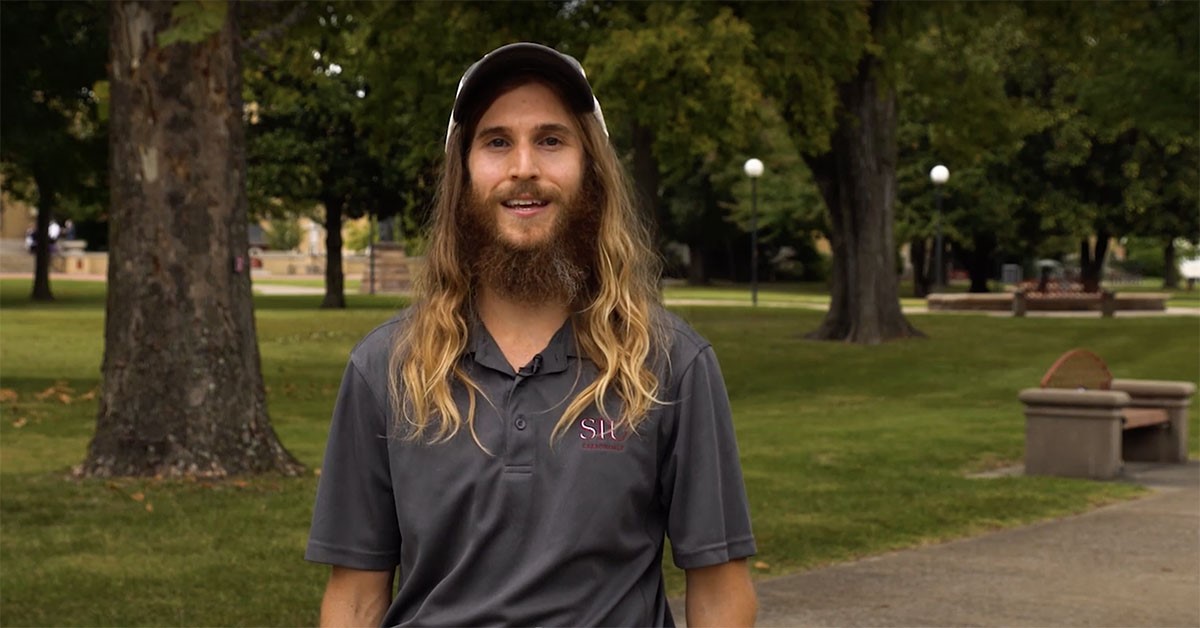 Raymond A. Bieri III, a master's student in forestry, human dimensions, is one of the guides for SIU's new Virtual Tree Tours, a free online overview of the beautiful tree-filled campus. SIU is seeking recognition for the sixth consecutive year as a Tree Campus Higher Education from the Arbor Day Foundation. 
Photos from video by Todd Duermyer
December 10, 2020
SIU creates virtual tree tours as it seeks to continue Tree Campus tradition
CARBONDALE, Ill. — Even if you're miles away from the beautiful campus, you can now check out Southern Illinois University Carbondale's eclectic variety of trees and learn more about them, courtesy of a free, new Virtual Tree Tour and a 360 Degree Virtual Tree Tour.
Tree Campus tradition
SIU has earned national recognition the past five consecutive years from the Arbor Day Foundation as a Tree Campus Higher Education (previously known as Tree Campus USA). Doing so requires that the university meet five sustainable campus forestry standards, including sponsoring service-learning projects.
In a typical year, about 150 or more of the region's grade school students enjoy a guided tree walk around SIU, where they can scan the QR tree coding identification system for more information, learn to identify various trees and participate in other nature activities, courtesy of the Tree Campus Advisory committee, Plant and Service Operations Grounds Department and the SIU Forestry Club.
The ongoing COVID-19 pandemic makes that impractical in 2020, so campus officials decided to reach out to community members in another way, with the virtual tree tour.
"Working to attain the Tree Campus Higher Education designation on an annual basis shows our continuing commitment to sustainability, education, community outreach and environmental stewardship – and the care and value we place on our trees," said Dave Tippy, superintendent of grounds. "Meeting and surpassing the criteria required to achieve the recognition annually reaffirms that commitment."
Far-reaching pledge
The university has more than 5,300 inventoried trees on the main campus alone, featuring over 160 different species. The SIU Arboretum has a diverse selection of species, and the university also offers six self-guided tree identification tours – available virtually or via individual walking tours. During these tours, people can learn specific details, including names, leaves, bark, fruit, photos and more.
In addition, there are thousands more un-inventoried trees in the wooded areas around Campus Lake, Thompson Woods and other auxiliary properties such as Touch of Nature Environmental Center and the farms.
SIU is the first university in the state to earn Level II Arboretum Accreditation from the ArbNet Arboretum Accreditation Program and is featured in the Morton Register of Arboreta, the only global initiative officially recognizing arboreta for development, capacity and professionalism.
Campuswide effort
SIU's dedication to sustainability and the Tree Campus program is a campuswide, collaborative effort, said Elizabeth Cheek, Plant and Service Operations administrative aide. Numerous campus units, employees, students and community members are involved and dedicate considerable time and effort. In addition, students gain practical experience.
Learn more about the Tree Campus initiative and other related activities at Tree Campus Higher Education or by contacting Tippy at 618-453-8179 or Cheek at 618-453-8185.