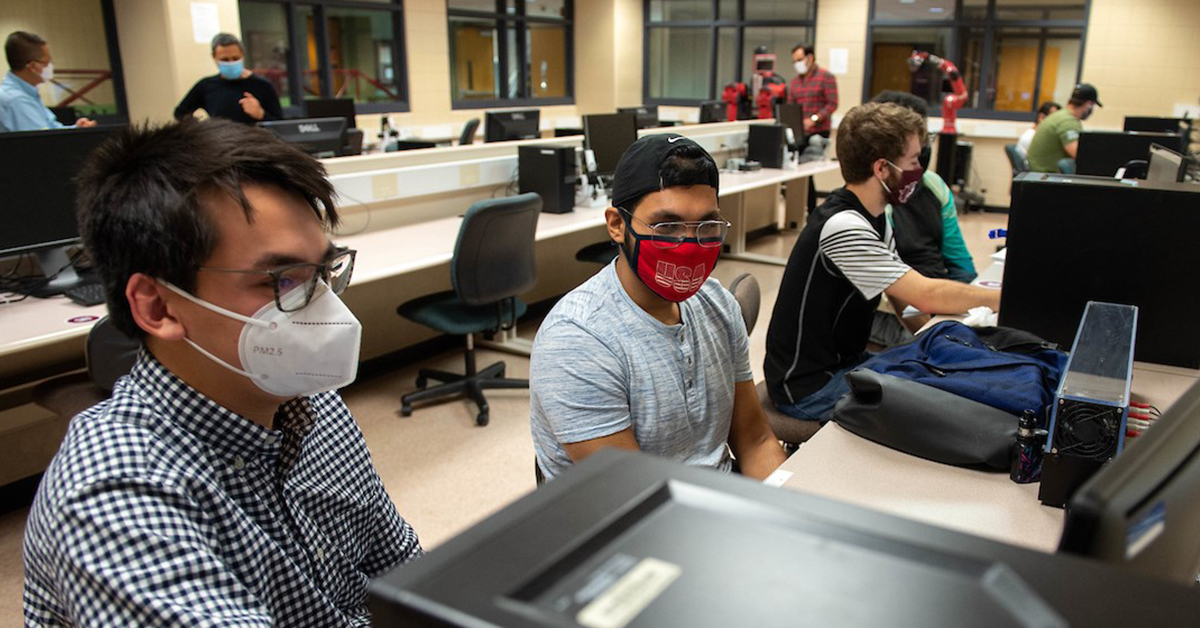 Students work in an engineering laboratory at Southern Illinois University Carbondale, where a new program will train a generation of engineers who will meld emerging technologies into the life-saving medical devices of the future. Launched this fall, SIU's Bachelor of Science degree program in biomedical engineering will help address the growing needs of an aging population and provide creative, high-tech careers for engineering students interested in health care. Photo by Yenitza Melgoza
December 04, 2020
New biomedical engineering bachelor's degree puts SIU students on cutting edge of health care
CARBONDALE, Ill. – A new program at Southern Illinois University Carbondale will train a generation of engineers who will meld emerging technologies into the life-saving medical devices of the future – and meet the growing demand for these innovators. Their work may seem like the stuff of science fiction. 
For example, doctors figure a woman's stroke might have been caused by a heart ailment that can produce blood clots. So they fit her with a Wi-Fi-enabled heart monitor that can not only provide ongoing information about her heart but also send an alert if it detects the specific activity that might cause clots to form. This new age device will give her medical team the ability to take early, preemptive actions to prevent another stroke.
Launched this fall, SIU's Bachelor of Science degree program in biomedical engineering will help address the growing needs of an aging population and provide creative, high-tech careers for engineering students interested in health care.
SIU's personalized, hands-on learning
The new program is part of the School of Electrical, Computer and Biomedical Engineering, in collaboration with the Department of Mechanical Engineering and Energy Processes within the College of Engineering. The school also will offer graduate studies in biomedical engineering.
"Students interested in the design and development of medical devices and instrumentation, who would like to work in hospitals, facilities for medical diagnosis and treatment or medical instrumentation industry, should consider this engineering degree," said Spyros Tragoudas, the school's director. "Our specialization in premedical engineering is an excellent option for students who plan to continue their studies in medical, osteopathic, dentistry, veterinarian or pharmacy schools after completing a marketable engineering degree."
SIU's biomedical engineering program emphasizes both personalized instruction in small classroom settings and hands-on design experiences using state-of-the-art facilities. Courses are taught by faculty members actively engaged in research in areas such as biomedical imaging for breast cancer detection, biomedical instrumentation for acoustics and hearing loss measurement, spinal cord stimulation, robotic assisted surgery, drug delivery, cancer mechanobiology (a field encompassing cell and developmental biology, bioengineering and biophysics) and bioinformatics.
Students can select courses in these exciting areas, intern in relevant industries, participate in valuable extracurricular activities and engage in cutting-edge research with the faculty and their graduate students. Funding opportunities include research grants from the National Science Foundation, the National Institutes of Health and several industries and private foundations.
Students enrolled in the premedical engineering specialization will take additional courses in physiology, biology, chemistry and biochemistry, with some of these courses taught by faculty from the SIU School of Medicine.
Large demand for engineers
Graduates of the program will have many possibilities for life after college.
Forbes recently ranked biomedical engineering as a top value among college majors, while U.S. News and World Report ranked it among its top eight engineering professions. According to the U.S. Department of Labor Statistics, Illinois has the second highest biomedical engineering employment opportunities in the country.