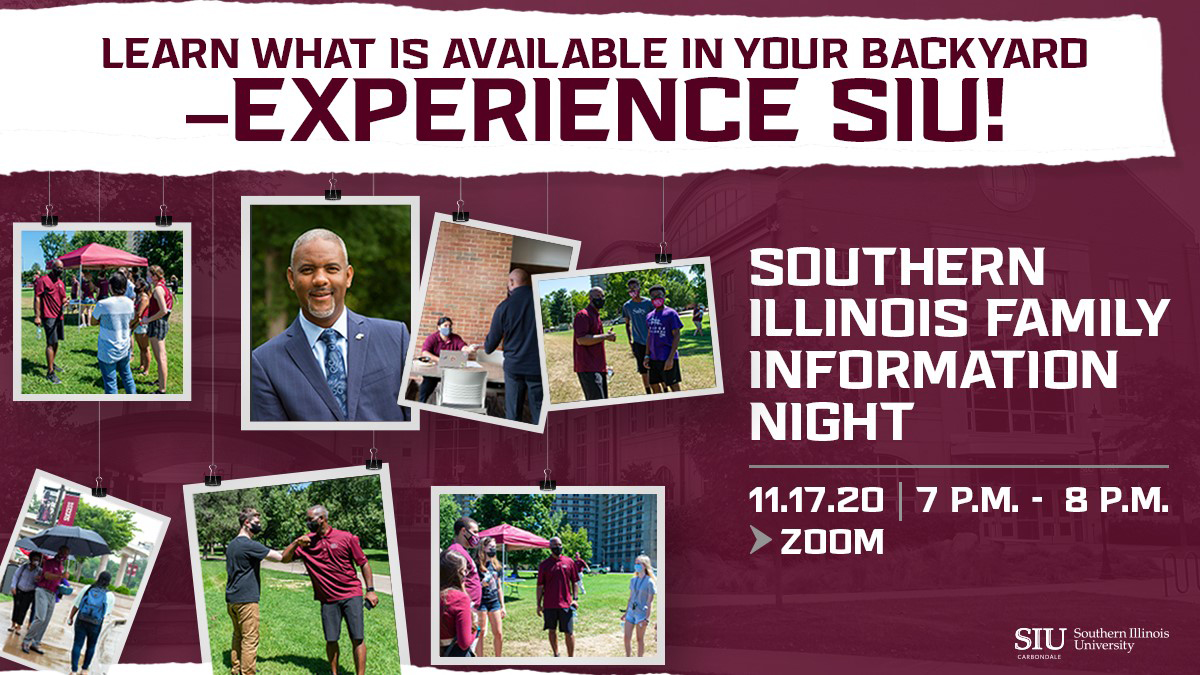 November 12, 2020
Get to know SIU through Southern Illinois Family Information Night
CARBONDALE, Ill. — Prospective students of Southern Illinois University Carbondale and their families are invited to Southern Illinois Family Information Night at 7 p.m. Nov. 17 via Zoom.
SIU Chancellor Austin A. Lane and other university officials will discuss how students will get a premier, hands-on education at SIU and may conduct research often reserved for graduate students as they have seen in SIU's "It's Our Turn" video.
Speakers will also discuss the Saluki Commitment and Saluki Transfer Commitment – SIU's pledge to close financial gaps and remove financial barriers to a college education – and they will address other options to pay for school, including financial aid and scholarships.
In addition, the presenters will address other common questions students and families have such as health and safety measures and life after college. The hourlong event is especially tailored for the virtual format, and it will provide ample time for questions and comments.
"Events like Southern Illinois Family Information Night are part of our commitment to our region," Lane said. "Our status as a national and global university is a point of pride, but we want to make sure that the students and families in our own backyard know they are wanted and welcome at SIU Carbondale.
"We want every qualified student in Southern Illinois to consider SIU as their academic home."
To register, visit https://myfuture.siu.edu/register/siu-fam. For more information, email admissions@siu.edu or call 618-536-4405. This outreach event is conducted in response to feedback from organizations, including the Boys and Girls Clubs of Southern Illinois, Carbondale Chamber of Commerce, local high schools and community colleges.