November 04, 2020
University Museum hosts SIU alum's political, editorial work in retrospective exhibition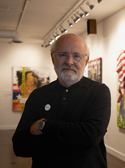 CARBONDALE, Ill. – A retrospective exhibition of political cartoons and paintings by Southern Illinois University Carbondale alumnus Tim Atseff will begin today, Nov. 4, in University Museum.
The exhibition represents Atseff's entire artistic career, which includes 46 years in newspapers in his hometown of Syracuse, New York, where he was an editorial cartoonist, a managing editor and a magazine editor.
As editorial cartoonist for the Herald-Journal, Atseff's work of more than 1,500 cartoons with local, national and international themes appeared in several publications, including The New York Times, Washington Post and Boston Globe. He has also designed and edited six tabletop books. The exhibition of paintings and editorial cartoons will be in University Museum through the end of February 2021.
"I'm thrilled to be able to come back to SIU after 50 years to share my work and what my experience at SIU had wrought," said Atseff, a 1970 graduate from the university's School of Art with a major in painting.
"As a retrospective show of my work, there are two related aspects of 'The Art of Darkness' show. My existential work, which has its roots at SIU, and my political art, which is a hybrid of my painterly and political cartooning backgrounds." 
First retrospective show
The 26-piece exhibition, in the museum's South Hall of Art, includes paintings Atseff created while at SIU, where he offered cartoons and illustrations to the Daily Egyptian, along with later political cartoons, abstract art and his interpretation of the Trump presidency.
Wes Stoerger, curator of exhibits, said Atseff was among the artists to respond to the museum's callout as it planned the fall 2020 season.
"His work was selected for the quality of the art and his credentials as an accomplished artist," Stoerger said. "We are grateful that Tim generously provided the art at no cost to the museum and hand delivered the artwork from his home in Syracuse."
As with all exhibitions, the artwork represents the viewpoints of its creator, not SIU. As a public university, SIU does not promote or oppose political candidates. SIU complies with the Illinois Governmental Ethics Act and State Officials and Employees Ethics Act.
SIU is also dedicated to the freedom of expression of ideas and opinions. It is a community that not only tolerates dissent; it welcomes responsible dissent and discourse on the issues of our time. Southern Illinois University has historically stood in this tradition. These principles are integral to a culture of discovery and innovation.
SIU is the third leg of a traveling show for the Trump series. It began in Washington, D.C., in 2019 at the Center for Contemporary Political Art, then moved to Syracuse at ArtRage Gallery earlier this year. Having the exhibit at University Museum "is a special way to close the circle for me," Atseff said.
Looking for adventure
Atseff said he came to Carbondale from Syracuse "looking for an adventure away from my hometown." The times, he recalls, were "tumultuous and heady."
"I knew nothing of SIU and even less of Carbondale and Southern Illinois. What I found was an environment that challenged me as a student and a person," he said. "I also found an art school that fostered independent thought and experimentation allowing me to find a natural fit among several disciplines – a place where I could use my creativity to find solutions to personal and academic challenges and growth."
As for what Atseff hopes his audience might take from the exhibit, he said "the power of art is in the response."
"Whatever someone takes away is not my business," he continued. "They should look at the work and see if they discover something that is evocative of their own experience or if its 'new reality' provokes them to think. If there is nothing, then they should move on. I don't see it to be my job to make them think like me. Just think."
Can be viewed in person and virtually
Admission to the museum is free, and it is open to the public. The museum, art galleries and both halls are open Tuesdays-Fridays from 10 a.m. to 4 p.m., and Saturdays 1-4 p.m. Public metered parking is available across from the Student Center and beside Woody Hall.
Each of the museum's halls has a maximum capacity of 25 people, and face masks are required at all times when visiting. There will be also a virtual exhibition on the museum's Facebook page.
For more information, contact Wes Stoerger at stoerger@siu.edu or visit museum.siu.edu.