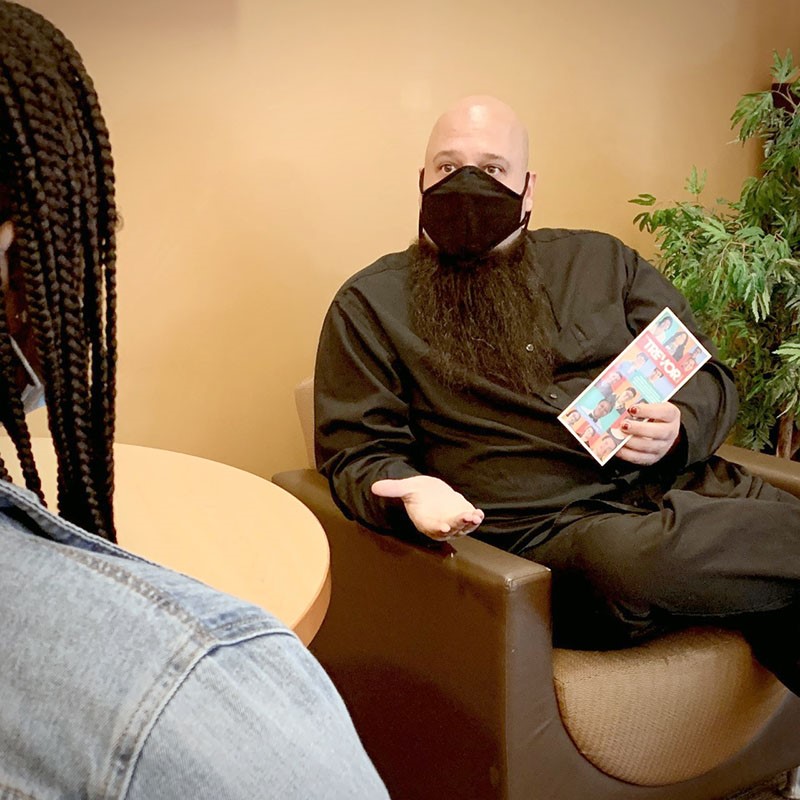 Paul Hagan, wellness coordinator and SIU's new LGBTQ+ patient advocate, meets with a student.  (Photo provided)
October 26, 2020
SIU's Student Health Services named a national LGBTQ Healthcare Equality Leader
CARBONDALE, Ill. — Southern Illinois University Carbondale's commitment to inclusivity and diversity has earned the university's Student Health Services national recognition as an LGBTQ Healthcare Equality Leader.  
SIU scored a perfect 100 on the Human Rights Campaign Foundation's Healthcare Equality Index to achieve the designation for the first time.
"This is a big accomplishment," Beth Morrison, director of wellness and assistant director of Student Health Services, said. "It was a comprehensive, 2 ½ year process to ensure that we were in compliance with all of the criteria as an LGBTQ Healthcare Equality Leader. We want to make sure that we are providing equitable and inclusive care to our LGBTQ students."
Numerous criteria
SIU is one of just 495 institutions across the country recognized for providing inclusive care to all students. SIU had to demonstrate that the university:
Provides equitable and inclusive patient care services and support for lesbian, gay, bisexual, transgender and queer patients and their families.
Has in place LGBTQ-inclusive nondiscrimination employment policies and protections for sexual orientation and gender identity.
Provides benefits and support for all employees and students, including the LGBTQ community.
Delivers free faculty and staff diversity and inclusivity training.
Affords inclusive employee policies and benefits.
Demonstrates engagement and public commitment to the LGBTQ community.
Vernon Cooper, director of the LGBTQ Center, praised the Wellness and Health Promotion Services staff at Student Health Services.
"They approached this as a self-evaluation and used it as a springboard to improvement," Cooper said. "This designation is an incredible achievement, but not a soul who worked on this project feels like there will never be new questions to be answered. I hope the LGBTQ students at SIU are proud of their university, but they should also know that even with these accolades, we always want to hear from them about ways we can better serve them."
New patient advocate
In addition to solidifying and clarifying SIU's LGBTQ policies, practices and training procedures, a process that took hundreds of hours, the university also designated Paul Hagan, wellness coordinator, as the new LGBTQ+ patient advocate, Morrison said. Hagan is working closely with students and employees to assure there is no bias or insensitivity with regard to LGBTQ students.
"I am refreshed to begin taking up this role to advocate for equity and excellence in our LGBTQ+ students' health care here at SIU," Hagan said. "I hope to serve as a conduit for these students' needs and unique experiences to continue to be recognized and addressed in the Student Health Center. I also want to serve as an in-house point of contact to assist in navigating some of the complexities of health care options and connecting students to the resources available to them at our beautiful campus."
For more details
To learn more about SIU's LGBTQ Health Care Equality Leader designation or the LGBTQ patient advocate visit, contact Beth Morrison, director of Wellness and Health Promotion Services, at 618-453-4489 or beth.morrison@siu.edu