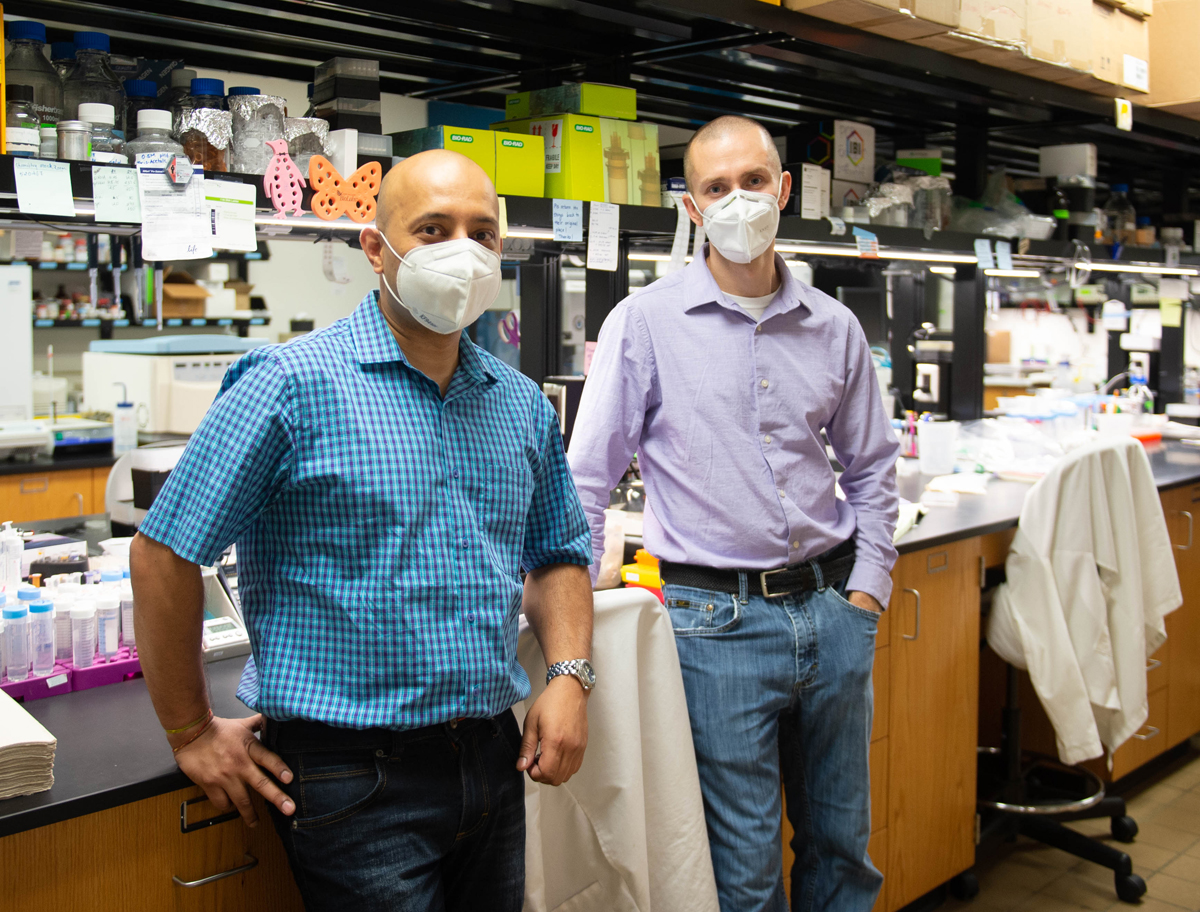 October 19, 2020
SIU researchers receive grant to study COVID-19 genome, track it through population
CARBONDALE, Ill. — Although "COVID-19" is probably 2020's most common term, many wrongly believe it refers to a specific "bug" that causes myriad symptoms ranging from fairly mild to deadly. 
Researchers know the term actually encompasses a constantly evolving and varying virus that changes as it moves through populations over time. Understanding those changes can tell scientists many things, from its origins to the way it spreads to what it might do next, and unlocking those secrets using genetics and tracking technology is the goal of two researchers at Southern Illinois University Carbondale. 
SIU leading the way 
Keith Gagnon, associate professor of chemistry and biochemistry in SIU's College of Agricultural, Life and Physical Sciences, and Koushik Sinha, assistant professor of computer science in the School of Computing, will work on a one-year, $500,000 project. The work is aimed at improving our understanding of the virus, with SIU receiving about $360,000 of the money. 
Their work is a project of the Chicago Coronavirus Assessment Network (Chicago CAN), an initiative supported by the Walder Foundation. 
Under the grant, the Illinois Department of Public Health will supply Gagnon's lab with COVID-19 samples from patients mostly located in the Chicago area. Gagnon's team will then sequence the virus genomes, and perform evolutionary and phylogenetic analyses on the genome sequences. 
Combining data with technology 
Gagnon said his lab will sequence the genome of SARS-CoV-2 viruses, which cause COVID-19, from positive patient samples. The study will sequence 5,000 virus genomes over the course of the project. 
"The genomic and analytic tools we will use should help us understand how the virus is moving and changing over time in the Chicago area by identifying variants of the virus," Gagnon said. "We expect to identify the original founder outbreaks of the virus, such as geographic location in the world, and predict when different variants were introduced into the Chicago area." 
The lab will sequence and analyze the genomes within two weeks of a positive case, Gagnon said. Combing that information with Google mobility data – as practiced by Sinha and his team – will reveal the demographics to understand how the virus is affecting certain populations, allowing authorities to make rapid decisions about public health policies. 
Bringing analytic tools to the fight 
Sinha's team will combine the mutation signatures of each virus, as well as where and when the sample was taken, with powerful analytical tools and map-view visualizations, rapidly sharing results with IDPH and other researchers and making them publicly available for viewing and downloading. 
"Mapping the diversity of mutations that the virus acquires will provide critical insight into better vaccine development," Gagnon said. "And our tools can be used to evaluate the success of future vaccines as they are deployed." 
Sinha said the goal is to create a "one-stop-shop" data and analytics infrastructure for storing, integrating, analyzing and visualizing multiple types of epidemiological data. His group will create a custom visualization and data-analytics platform called COVID-19 Data Map (CoVD-Map). The platform will be an offshoot of the platform that he began developing in spring during some of the early, uncertain months of the pandemic. 
Leveraging outside agencies 
The team's CoVD-Map will be integrated with the Chicago CAN Commons and designed to work with other public-health surveillance systems, such as Illinois's National Electronic Disease Surveillance System and the National Notifiable Diseases Surveillance System. 
"It will be unique in its ability to not only integrate diverse data sources through built-in analytics solutions but also enable researchers to plug in their own analytics tools and visualize their results using its visualization framework," Sinha said. 
For instance, one analytic tool will be genomic epidemiology predictions of virus movement and change. The platform also will also integrate with other tools to present results in an intuitive, unified and timely manner, Sinha said. 
Information enlightens approaches 
"The results, incorporating additional dimensions of data, will be accessible to government and health officials, researchers and the public," he said. "Health care and government officials can use the CoVD-Map to improve situational awareness and formulate responses while researchers can plug in their own prediction models. Individuals might use it to understand how the pandemic is impacting their areas and accordingly change their daily activity patterns." 
The advances the teams hope to make might eventually be applied to other theaters and populations. 
"We hope to expand this study to the broader state of Illinois to look at rural counties, as well, over time," said Gagnon, who also holds and appointment as an associate professor of biochemistry and molecular biology at the SIU School of Medicine.