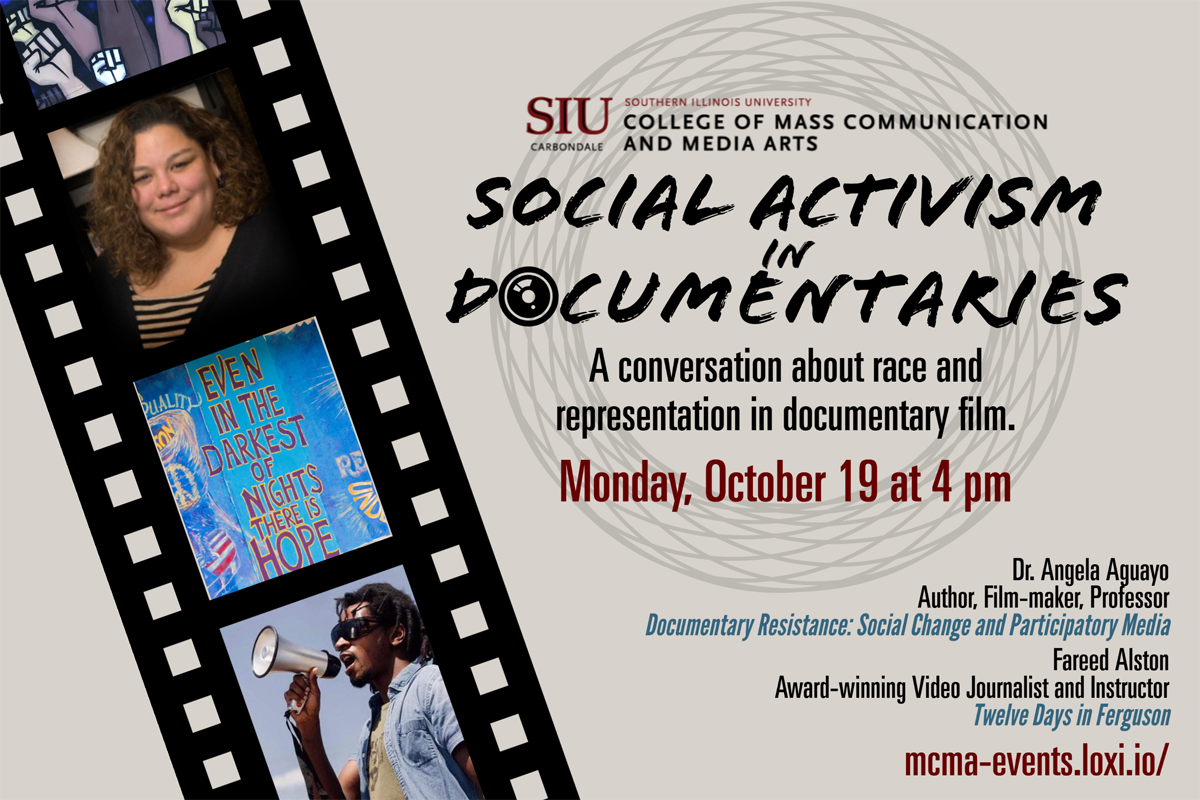 October 16, 2020
Discussion series to explore diversity and inclusion in the media
CARBONDALE, Ill. — An alumnus and a former faculty member in Southern Illinois University Carbondale's cinema and photography program will kick off a series of discussions that examine diversity and inclusion in the media.
The first conversation, "Social Activism in Documentaries," will feature Fareed Alston, who earned bachelor's degrees in cinema and Africana studies, and Angela Aguayo, a former associate professor in SIU's cinema and photography program. The virtual discussion about race and representation in documentary film is at 4 p.m. Monday, Oct. 19. Registration is not required for the public event, which will be available through the free Zoom link.
Reflecting society
H.D. Motyl, interim dean of the College of Mass Communication and Media Arts, said the college is launching the series during the university's Diversity Week, which runs Monday through Saturday, Oct. 19-24. Other conversations are planned for LGBTQ representation in the media.
"We are very fortunate that our college's mission statement goes beyond learning how to make films or simply write stories," Rita Medina, the college's coordinator for recruitment and retention, said. "It encourages our faculty, our students and our community to look at how we use media to tell stories — to tell important stories — in order to reflect on what's happening in society and the format in our culture."
The program featuring Alston and Aguayo is a natural combination, Motyl said. While Alston was a student, he worked with Aguayo as lead editor on one of her films. Aguayo, now at the University of Illinois Urbana-Champaign, wrote her 2019 book, "Documentary Resistance: Social Change and Participatory Media" while at SIU, where she taught for 12 years.
Relevant to current events
Motyl believes that the conversation between the documentary filmmakers will be enlightening.
"The topic is important to what's happening in the U.S. right now, especially on how we're receiving information from the front lines of social activism," he said.
Shortly after earning his degrees, Alston, who is from East St. Louis, Illinois, was in the Metro East when the August 2014 shooting of Michael Brown in Ferguson, Missouri, occurred. Alston spent weeks filming and photographing the subsequent protests from a variety of viewpoints, including protestors, police and the media for his 2018 documentary, "12 Days in Ferguson."