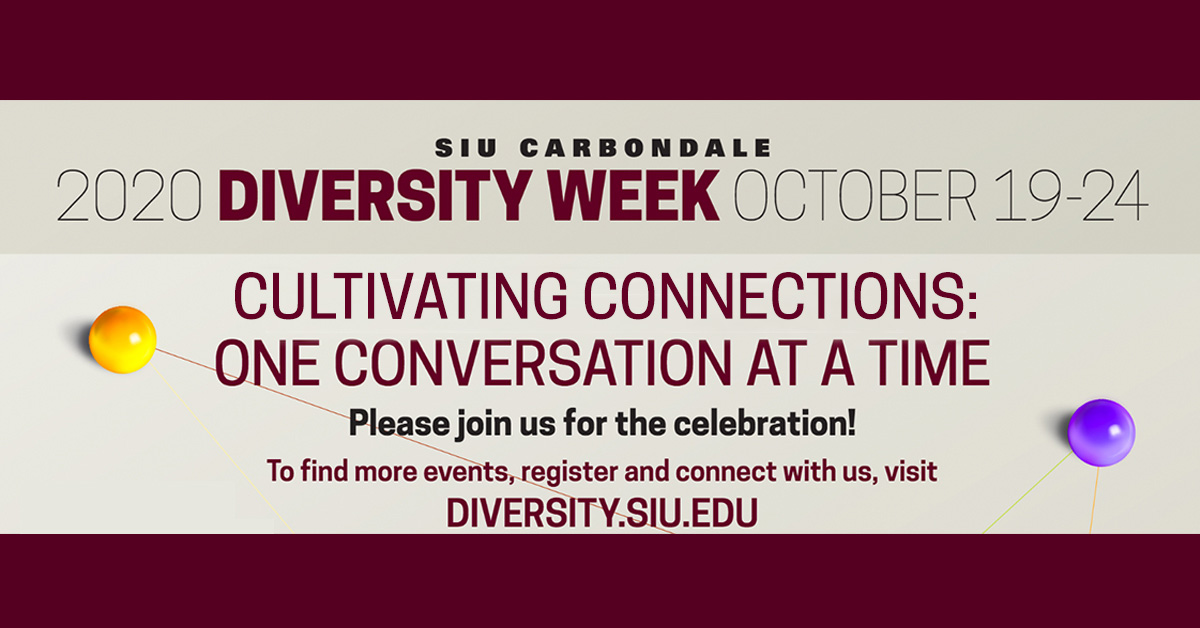 October 15, 2020
SIU celebrating Diversity Week with many events Oct. 19-24
CARBONDALE, Ill. — "Cultivating Connections: One Conversation at a Time" is both the theme and the goal of Southern Illinois University Carbondale's 2020 Diversity Week celebration, set for Oct. 19-24.
Through guest speakers, discussions, special presentations, training sessions and various other virtual and small group events, the Chancellor's Task Force on Diversity and Inclusion seeks to recognize and enhance SIU's diversity, inclusion and equity, organizers say.
The Diversity Week, originally planned in April, was delayed due to the pandemic, but the task force, campus departments and units, student organizations and community partners continued inclusive diversity conversations and planning for a celebration to benefit the campus, the community and the SIU System, and it's happening now, according to Todd Bryson, associate chancellor for diversity.
"As a university and a community, it's important that we come together," Bryson said. "The only way we can do that is to challenge ourselves and learn what we don't know. We hope that by participating in these events, everyone can learn more about people, cultures, ethnicities and races that they may not be completely familiar with. Diversity Week is also a great opportunity to highlight members of our diverse Saluki family – an inclusive community dedicated to learning and growth."
Highlighted below is a small sampling of events. Find the complete schedule, links to virtual events, and additional information on SIU's Diversity website. There, you can sign up to receive a daily email Oct. 19-24 with the schedule of that day's events and links to all Zoom connections.
Keynote to focus on fighting systemic racism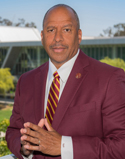 Thomas A. Parham, president of California State University, Dominguez Hills, will present the keynote address, "Where Do We Go from Here? A Call to Action" at 5 p.m. Monday, Oct. 19, via Zoom on the SIU YouTube channel. Parham will challenge his listeners to think about and act to combat systemic racism. The presentation will include time for discussion, and Parham will field questions from listeners.
Previously vice chancellor for student affairs at the University of California, Irvine, Parham is a licensed psychologist with more than 35 years of experience as a scholar and in practice. He has extensively researched identity development, African psychology and multicultural counseling. He's also an alumnus of SIU, where he earned his doctorate in counseling psychology.
He is a past president of the National Association of Black Psychologists and the Association for Multicultural Counseling and Development. He has received numerous awards, including the city of Los Angeles' Hall of Fame award for Outstanding Achievement in Education, the American Psychological Association's Division 45 Lifetime Achievement Award and inclusion in the Los Angeles Business Journal's "LA 500: LA's Most Influential in 2018."  
Speakers will discuss ableism and social media disinformation
Amanda Kraus, assistant vice president for campus life at the University of Arizona and executive director of the Disability Resource Center, one of the largest in the nation, will speak about "Everyday Ableism: Unpacking Disability Stereotypes and Microaggressions" during a Zoom presentation at noon Tuesday.
Her workshop will highlight the many ways disabled people are the targets of bias and microaggressions due to pervasive stereotypes and the dynamics of power and privilege.
She is also president of the board of directors for the Association on Higher Education and Disability and has extensive experience regarding disability access and services. Kraus earned her master's degree and doctorate in higher education at the University of Arizona and is an avid wheelchair tennis player.
Nora Benavidez, director of PEN America's U.S. Free Expression Programs, will present "Communicating Across Difference in the Digital Age: Solutions to Social Media Disinformation" at 2 p.m. Wednesday through Zoom. The session will highlight the dangers of disinformation and the spreading of false information to influence people or hide the truth. She will offer tools to guard against online disinformation and false content and build improved social media literacy skills.
The last half-hour of the two-hour presentation is earmarked for question-and-answer time.
A lawyer, Benavidez guides the national advocacy agenda on First Amendment and free expression issues for her organization and manages PEN America's media literacy and disinformation defense program. She previously worked in private practice and at the ACLU of Georgia as a civil and human rights litigator.
Focusing on students
While the campus community and general public are welcome and encouraged to join in celebrating Diversity Week, students are the focus of a couple of the events. Chancellor Austin A. Lane will have a "Listening and Learning Session" with students on Wednesday from 5 to 6:30 p.m. featuring a special performance by the Fatal Fusion Dance Team. This is the chance for students to express what they like about their university and what can be improved upon. Up to 50 will be able to attend in the Student Center Ballroom D, and the event will be open to all students through Zoom.
Students can also participate in "Leading from the Sidelines: Women in Leadership" at 6 p.m. on Thursday by Zoom. SIU Athletic Director Liz Jarnigan and Kerri Blaylock, softball coach, will share their leadership philosophies.