August 25, 2020
Feyisayo Arowolo wins inaugural SIU George Floyd Equity and Justice Scholarship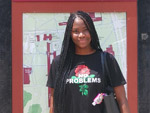 CARBONDALE, Ill. — Feyisayo Arowolo, of Chicago, is the inaugural winner of the George Floyd Equity and Justice Scholarship at Southern Illinois University Carbondale.
Arowolo, 18, is a freshman business major and is undecided on her specialization. She was selected as the winner of the $1,000 scholarship from dozens of applicants on the basis of her essay about what she learned from the issues or national response associated with the death of George Floyd. Floyd died in May 2020 at the age of 46 while in the custody of Minneapolis police officers, sparking national protests against racial inequity and injustice.
Funded by donations to the SIU Foundation, the new scholarship will be awarded annually to an SIU freshman.
In addition, SIU will each year present the George Floyd Equity and Justice Award. The $500 award will go to a student or faculty or staff member who promotes diversity on campus.
Office of Associate Chancellor for Diversity coordinates presentation of both honors. For more information about the office and its work to promote inclusive excellence, visit the website, email diversity@siu.edu or call 618/453-1186.