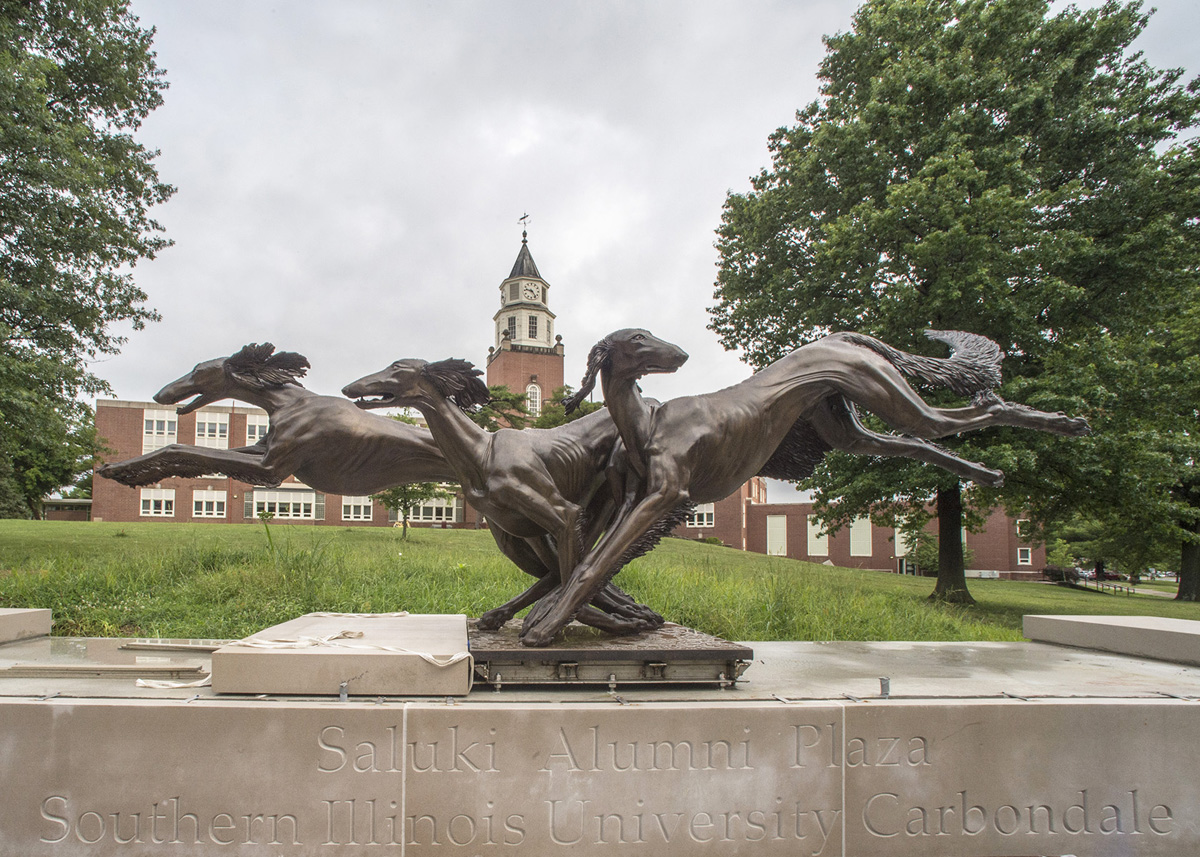 June 30, 2020
Centerpiece statue now in place at Saluki Alumni Plaza
CARBONDALE, Ill. — The centerpiece sculpture of a private fundraising project initiated by the SIU Alumni Association is now in place on the Southern Illinois University Carbondale campus. 
Saluki Alumni Plaza, located on the lawn between Pulliam and Woody halls. is nearing completion with the recent installation of a statue of three of the iconic dogs that serve as the university's mascot. The sculpture was created by SIU alumnus John Medwedeff of Medwedeff Forge & Design in Murphysboro, Illinois. The three Salukis, fashioned in a running formation, represent alumni, as well as current and future SIU students. 
Initiated by the SIU Alumni Association National Board of Directors in 2018, the last year-and-a-half involved fundraising to create a new landmark space recognizing the university's recent 150th anniversary celebration. 
The sculpture was installed in late June. The Alumni Association will host a formal dedication ceremony at a date to be determined due to present restrictions placed on public gatherings due to the COVID-19 pandemic. While the sculpture is in place, crews continue to finish the patio space around the statues. The project is due to be complete before the start of SIU's fall semester in mid-August. 
"Saluki Alumni Plaza is a beautiful addition to the SIU campus, and we at the Association are proud to have the centerpiece sculpture in place," Jeff Gleim, Association executive director, said. "We're excited to offer this plaza for the enjoyment of the campus community for generations to come."