May 05, 2020
Simon Institute awards 2020 scholarships honoring former directors
CARBONDALE, Ill. – Southern Illinois University Carbondale's Paul Simon Public Policy Institute has selected two outstanding SIU students to receive scholarships honoring two former directors of the Institute.
Dwight Cox, a junior studying political science and an Alexander Lane Intern, received the Mike Lawrence Scholarship. Jorden Thomas, a graduate student studying public administration and the Celia M. Howard Fellow, received the David Yepsen Director's Award. They will each receive a $1,000 scholarship.
Mike Lawrence Scholarship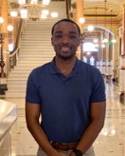 Cox, who is from Belleville, Illinois, became involved with the Institute after being selected as the spring 2020 Alexander Lane Intern. He has been serving on the Illinois House Democratic Staff during this spring's legislative session.
"Dwight Cox is exactly the kind of student that Mike Lawrence had in mind when he established this generous scholarship," said Institute Director John Shaw. "Dwight is an excellent student with a serious interest in political science and criminal justice. He is a very impressive young man — bright, serious, modest, determined, and kind-hearted. He is a very deserving recipient of this important scholarship."
This scholarship honors Mike Lawrence, former Institute director from 2004-2008. Lawrence became the Institute's second director following the death of U.S. Sen. Paul Simon. A veteran journalist, political analyst, and former press secretary for former Illinois Gov. Jim Edgar, Lawrence joined the Institute in 1997 as associate director.
Recipients are outstanding students who are involved in Institute internships, fellowships, and other volunteer opportunities, and who have demonstrated positive leadership qualities.
David Yepsen Director's Award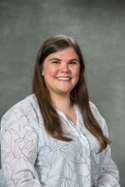 Thomas, who is from Griffin, Georgia, is completing her fellowship research on the implementation of a plastic bag tax in Illinois. She will graduate from SIU Carbondale in May.
"Jorden Thomas exemplifies the qualities of leadership and service that this award celebrates," said Institute Director John Shaw. "Jorden is energetic, kind, and constructive. She is deeply interested in Paul Simon's work and legacy. She is one of those rare people whose first instinct is to say, 'How can I help?' I believe she is going to have a great career in public policy."
This scholarship honors the Institute's third director, David Yepsen, who retired in 2016.  Yepsen originated this scholarship to give back to the students who help the Institute thrive. Yepsen joined the Institute in 2009 after a 34-year career as a political writer, editor, and columnist for the Des Moines Register.
Contribution Information
Additional information on the Mike Lawrence Scholarship and David Yepsen Director's Award is available by visiting www.paulsimoninstitute.org. Contact Associate Director Victoria Gajc at victoriag@foundation.siu.edu or 708/287-0938 for further questions about supporting the Institute.