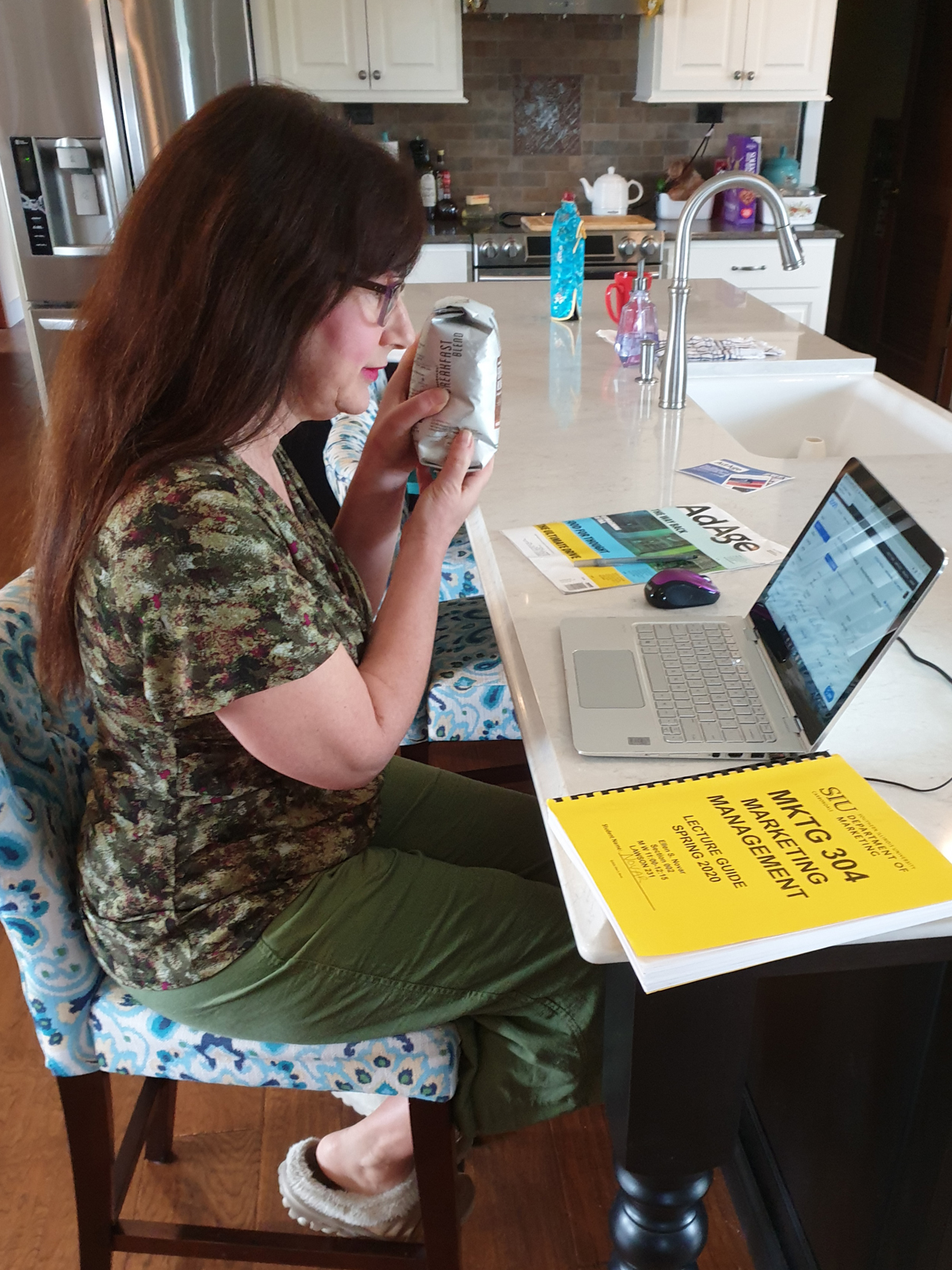 Ellen Novar, a lecturer in marketing, holds a bag of coffee beans during one of her online Zoom classes as she discusses with students a planning tool that organizations use in their strategic and marketing planning processes and how one national coffee chain is utilizing the tool to explore new markets. (Photo provided)
April 14, 2020
Faculty and students step up to the challenge of a quick change to online education
CARBONDALE, Ill. — Like teachers across the country, Ellen Novar had to adapt to online teaching quickly because of the COVID-19 pandemic and measures enacted nationwide to stop the spread of the virus.
While it hasn't been easy, Novar said Southern Illinois University Carbondale, where she is a marketing lecturer, provides access to the technology tools and the expertise faculty and students need to succeed.
"I'm very pleased with how well it's working out," Novar said, adding that while she looks forward to when she can meet with students, the switch to all online instruction has "forever changed how I teach class."
Ellen Novar: Students need 'a sense of normalcy'
Novar was already using the TopHat online platform, displaying PowerPoints in class as her lecture appeared on the projector and students' devices and for proctored in-class exams. She used it to integrate live quizzes into her lectures to hold students' interest and allow her to assess their understanding. She continues to use it for post-lecture quizzes.
One benefit is that online learning can be synchronous or asynchronous, Novar said. Students can watch her online presentations live, asking questions if they desire.
It's important to have a set time for the class because "you feel like there's a sense of normalcy, and one of the things students really need right now is a sense of normalcy."
Students can also watch the lecture later on D2L, an online teaching and learning program. They have 48 hours after a live class to log on and take a quiz via TopHat.
As classes were transitioning to the completely online/alternative format, Novar hosted optional, interactive orientation meetings via Zoom. Many students participated, and Novar said their input helps her better meet their needs.
For instance, a student requested consistent delivery of weekly informational emails. Now she emails her classes every Sunday afternoon.
Novar's Zoom sessions open early, giving her a chance to chat with students and answer questions. Students can also post chat questions during live lectures, which she or her teaching assistant answer or post anonymously on a discussion page, enabling even the shyest student to get involved.
Zoom also allows "breakout rooms" where students can meet virtually in small groups. Novar said last week she completed eight group meetings with her small business marketing class students via Zoom, during which she shared documents from her screen.
"It is fantastic and easier to schedule since not everyone has to be in the same (physical) room," she said.
Novar said having an online class option will be beneficial in the future as well because she can still have class, during inclement weather or if she must be out of the area.
"With this technology, you won't ever fall behind again," she said.
Novar strives to maintain a feeling of normalcy in her online classes. When teaching a virtual marketing class about the SWOT (Strengths, Weaknesses, Opportunities and Threats) planning tool that organizations use in for strategic and marketing planning, she held a bag of beans from a popular coffee franchise as she discussed how the company utilizes SWOT to explore new market opportunities.
Online learning doesn't mean easy cheating either. Novar's quizzes are carefully crafted and timed; students have a short time to answer each question so there simply isn't time to look up answers.
The change to all-online has been going well, but hasn't necessarily been easy for anyone, Novar said.
"You really have to be on your A-game," she laughs. She takes frequent short breaks during online presentations bit but recently forgot to hit the 'record' button when class resumed so she had to repeat the second half of her lecture for online viewing.
The students are Novar's top priority. One student in the Netherlands studies online as his father battles the virus in the hospital and his mother is sick at home. Another student has been called up for active duty in the National Guard.
"I'm giving my students every chance I can to participate and learn," Novar said. "I know this is a very challenging time and I want my students to know, "I'm here for you"
Nicole Laskowski: Students are adapting
Nicole Laskowski said faculty members have been "absolutely amazing."
A junior agribusiness economics major with triple minors in marketing, agricultural systems and education, and event management, Laskowski is from Marissa and has lived at SIU for three years. Experienced with online classes, she signed up for upper-level courses this semester on campus so she could easily ask professors questions during and after class.
While the move to online instruction was worrisome and stressful, Laskowski said faculty members, including Novar, have been very helpful in numerous ways including:
Emailing often to check on their students.
Asking if students need help or support.
Notifying students of deadlines and sending guidelines for online learning.
Reaching out in multiple ways, even providing personal telephone numbers to make it easier for students to contact them.
Being flexible and adaptive, taking into account what's happening in the world and in their students' lives.
Making use of available technology to deliver course content effectively, stay connected with students and keep them connected with one another.
Laskowski especially misses face-to-face interaction with her classmates and professors. But in this time of uncertainty, she is grateful for compassionate faculty and for the way SIU has been proactive in keeping students informed even as things rapidly change.
She offers a few tips for fellow students:
Set up a designated homework area.
Stay on a normal schedule as much as possible.
Call or text family, friends and fellow classmates to stay connected and check on one another.
Remember it's okay to step away from the computer and take a break when you need to.
Realize that the transition is difficult for faculty too and be respectful of them.
"Remember that Salukis take care of Salukis and we are all in this together."
Dwight Sanders: Taking difficulties into account
Dwight Sanders, professor of agribusiness economics, is doing everything he can to help his students, including keeping in mind the difficulties online learning may present for some.
A few of the things he's doing for his online classes include:
Not setting hard deadlines on the classwork because some students live in areas with poor internet service or there are access issues. He sends frequent emails reminding them of target completion dates.
Emailing worksheets with sample questions to students and then providing answers the following day to help them study.
Being accessible by phone and email.
Administering exams through D2L and giving students two attempts to take regular hourly exams with the highest score counting. After the first attempt, they get the correct answers and can contact Sanders for explanation.
"The idea is for it to serve as a learning tool," Sanders said, noting that for the final exam, there won't be multiple tries.
Identify all possible useful online resources and avoid "reinventing the wheel."
"If there is already a good YouTube video explaining a particular topic, then I share that with the class via email," Sanders said. This allows him to instead use his time to help students in other ways.
Checking on his students frequently and emailing individually anyone fails to log into class for a few days to make sure they are okay. "When you aren't seeing students face-to-face, I think it's important to let them know that you are thinking about each of them individually," Sanders said.
William Rowley: New to online teaching
William Rowley, an associate professor in cinema and photography, had no prior experience teaching online or with Zoom video conferencing, which he is using for two classes, including "Writing the Short Film." The Center for Teaching Excellence provided access so he could have meetings longer than the 40 minutes allowed in Zoom's free version.
A pattern of introductory lectures and in-class critiques was established prior to spring break, Rowley said. Student writers created short scripts on deadline for face-to-face critiques. "We sat in a circle and did a live read-through so writers could hear the rhythm of events in their scripts."
Zoom and a Microsoft OneDrive cloud storage account have made it possible to continue that pattern.
"In Zoom, I can put a script on-screen so that readers can do the read-through and the rest of us follow along," Rowley said. "In the discipline of screenwriting, it's very important to us to 'see' the page. The screenplay page is an apparatus for cinematic storytelling. Novelists write across the page. Screenwriters write down the page in implied shots."
Having in-class meetings prior to the online transition was important, Rowley said.
"We had a strong sense of community in this class coming into our use of Zoom and OneDrive," he said. "I'm uncertain if we would be able to establish that if the entire course ever has to be taught online. After our face-to-face class meetings, this group of writers usually visited with one another, slowly leaving the classroom. Now, I mute the sound on my computer, go back to my own work, and let the meeting run until they've all left."
Rowley noted that he is "immensely grateful" for the help he received from Mark Stoffel, an instructor and digital media systems specialist in the College of Mass Communication and Media Arts.
"I told Mark what I most wanted to preserve in my classes, and he was the one who recognized how the Zoom app and OneDrive could be utilized."
Jane Pivovarnik: Change easier than expected
The transition was easier than anticipated for Jane Pivovarnik, assistant professor of theater, with her typically hands-on "Beginning Stagecraft-Costumes" class. Comprised predominately of theater majors, this semester's smaller-than-usual class of five enabled Pivovarnik to develop relationships early so she could better anticipate their needs.
Pivovarnik, a two-degree SIU alumna, had never taught online and taken just one online class over a decade ago. After "bracing myself" for a transition to an online delivery format, she researched how colleagues were handling the same situation and notes that "working in theater prepares a person to creatively problem-solve."
A major course objective for her students is working on theater department productions, and several events were originally planned during the last half of the semester. But then instruction moved online.
"Fortunately the biggest production costume-wise, "Musical of Musicals (the Musical!)" has already been mounted this semester so students have gotten the experience of seeing their work on the stage, "she said. "As heartbreaking as it is to no longer be working on productions, it frees up the class to explore other aspects of costume stagecraft."
Pivovarnik said teachers constantly re-evaluate their instruction, seeking ways to teach concepts more effectively and help students succeed. She was already contemplating "working in more background information about the how and why of the costume design and production process" when the transition happened, and now she has time to do so.
"I am so grateful that I am able to use this as an opportunity to develop new presentations and projects," she said. "It's forced me to get better acquainted with digital modes of teaching and I look forward to incorporating them into future classes."
Grace Nowak: A different direction
Grace Nowak, a junior in musical theater, said Pivovarnik's class transition has been one of the smoother ones, as it has evolved from a hands-on class for learning sewing and costuming skills to more of an informational course on costuming and its origins.
Pivovarnik "has well thought through how to put a technical class into an online setting," Nowak said.
The online format is not without its difficulties though, and Nowak believes her major is one of the hardest to transition. She is concerned the cancelled events could impact her future career, and she notes that much of her study involves working with others and having constant communication with professors and directors.
"I've never taken an online class because I enjoy and learn better from in-person instruction," she said. "I'm now having to do things like tape myself without the appropriate space to do so and sing through a Zoom call where the sound eventually cuts out. I'm learning more every day how to adjust to this change and trying to learn as much as I can."
Tim Marlo: Online experience expands
Teaching online classes is not new for Tim Marlo, clinical assistant professor of finance, but teaching all classes online is. He's found university and College of Business and Analytics staff very helpful in showing him the ropes for developing effective online content.
One thing he quickly learned is that the traditional residential classroom format with a 50-75 minute lecture is not effective virtually. So, he delivers his online lectures in shorter segments.
"I recognize that the most effective technique to be successful for my students is to keep them engaged," Marlo said. "I developed an amateur recording studio in my living room to record multiple lectures using resources available to all faculty at SIU."
Among the tools he utilizes are:
Echo 360 to record.
An iPad which he uses to write notes during presentations rather than presenting PowerPoint slides, which he finds keeps his students more engaged.
Having a live weekly question and answer session using Bongo virtual classroom, enabling him to check on his students and make sure they are staying on track.
Connecting by Skype individually with students who need more assistance, sharing his screen to go over problems with them.
Emailing frequently to keep students updated and check on them.
"I understand that this transition is not only hard on faculty, but also on the students. I let my students know that I am here for them during this remote learning experience," Marlo said. "I reach out to the students often and I am here for them to learn. By keeping the virtual doors open, I want to make sure that any student gets the same opportunity they would if we were still teaching residentially."