April 06, 2020
Three SIU students win prestigious NSF Graduate Research Fellowship awards
CARBONDALE, Ill. -- The National Science Foundation has awarded three students at Southern Illinois University Carbondale a highly competitive research grant aimed at nurturing the country's scientific and engineering leaders of tomorrow.
Amanda Leppert Gomes, Haley Hostetter and Allison McMinn have been named as winners of the prestigious Graduate Research Fellowship Award. The program recognizes and supports outstanding graduate students in NSF-supported science, technology, engineering, and mathematics disciplines who are pursuing research-based master's and doctoral degrees at accredited United States institutions.
Having one student bring in such an award in one year would be very special, said Gary Kinsel, vice chancellor for research at SIU. But three SIU students winning the award is highly unusual and speaks volumes about the research opportunities for undergraduates at SIU.
"It is absolutely fantastic that we had three students receive these prestigious fellowships," Kinsel said. "The success of these students in this highly competitive program clearly shows how valuable the opportunities for undergraduate students to participate in faculty mentored research can be for their future career goals. As a nationally ranked research institution, SIU is proud to provide such opportunities and even prouder that three of our students are using these research experiences as a springboard for future success."
Fellowship singles out future leaders
The GRFP is the oldest graduate fellowship of its kind. It maintains a long history of supporting high-achieving students who show great promise for future academic and professional careers. Winning the award often marks students as future leaders in their fields and prepares them for significant success in teaching and research.
Fellows receive a three-year annual stipend of $34,000 along with a $12,000 education allowance for tuition, fees and other professional development. They are free to conduct research of their choice at any accredited U.S. institution of graduate education.
The fellowship is highly competitive, with more than 13,000 applications from students at the nation's top universities this cycle. Of those applications, the NSF awarded fewer than 2,100 fellowships this time around, university officials said.
University Honors Program, faculty play important role
Leppert, Hostetter and McMinn have outstanding records of achievement as undergraduates and are members of the University Honors Program at SIU.
Jyotsna Kapur, director of the honors program, said officials this year created a special class, UHON 11-The Honors Colloquium, which is dedicated specifically to helping students who are applying for major scholarships and other research opportunities. Elizabeth Donoghue, assistant director of the honors program, worked closely with all three students on their applications this year, Kapur said.
"The honors program works with the student as a whole," Kapur said. "Their civic engagement and co-curricular experiences are, for us, inseparable from the academic paths the students take. This gives Elizabeth a unique perspective on the student's overall promise."
Amanda Leppert Gomes

A senior in anthropology, Leppert has participated in several research projects, including some with Roberto Barrios, professor of anthropology, which looked at social impacts of a green energy mega project on the local people in Oaxaco, Mexico. Barrios allowed her to conduct original research, which in turn helped her conceptualize and conduct a study based on a research question, create relationships with individuals at the field site, and analyze the data from interviews
"This allowed me to strengthen my passion in the work and realize a career-path which I believe will have a meaningful impact," she said.
Leppert said SIU's support of low-income, first-generation students through scholarship programs made it possible for her to commit all her energy to becoming a top scholar. She cited support from the Provost Scholars program, the McNair Scholars Program, the University Honors Program and the Research-Enriched Academic Challenge (REACH) grant program, as well as support from Barrios' and the anthropology degree program, in making difference in her career as an undergraduate at SIU.
Leppert, of Marseilles, said she will use the NSF award to pursue a graduate degree in medical anthropology, which she hopes to use to further explore the impact of the green mega-development in Mexico, looking particularly at the way those with type II diabetes make new claims for care in front of new actors.
Eventually, Leppert said she would like to earn her doctorate and become an activist-scholar conducting research on pressing social questions in the hopes of influencing policy and making a meaningful impact.
Haley Hostetter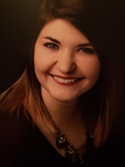 A senior in civil engineering, Hostetter last summer completed a Research Experience for Undergraduates (REU) program during which she studied at the University of California-Berkeley's Simulation and Computational Modeling Center – also known as "the SimCenter." The research project focused on geotechnical earthquake engineering, which later became the center of her NSF fellowship application.
"I applied as a prospective master's student wanting to complete a degree in structural/earthquake engineering," Hostetter said. "The research project I proposed is for an earthquake evacuation study in various structures for people with disabilities."
Hostetter said her experience with the SIU's Saluki Service Dawgs registered student organization opened her eyes and fired a passion for helping make the world more accessible for the disabled community.
"Through the Saluki Service Dawgs, I learned how inaccessible the world is for people in wheelchairs, with service dogs, with oxygen tanks, and so much more," Hostetter said. "I want to help make buildings safer for the community in the event of a natural disaster."
Hostetter, of Jasper, Indiana, said SIU prepared her to compete for the NSF fellowship in several ways. "Countless" supporters helped her through the application process, with two professors writing letters of recommendation.
"The civil engineering program has been instrumental in providing me with not only the technical background I needed to compete on the same level as students from Harvard, Yale, UC-Berkeley and others, but also in allowing me to pursue my own interests and choose courses that match those interests," Hostetter said.
She also cited the many engineering-related registered student organizations she has joined, including Tau Beta Pi (engineering honor society), the American Society of Civil Engineers, where she held several officer positions, and Saluki Service Dawgs.
Hostetter said she will use the NSF fellowship to pursue her master's degree in structural engineering at Clemson University. The fellowship will allow her to focus on her classes without needing a second job or assistantship.
"The professor I am working for researches fire as a structural hazard, and I am hoping to participate in a joint project with a transportation professor on a fire evacuation study for those with disabilities in various types of structures," she said. "Once I finish my master's degree, I will be looking at obtaining my professional engineering license and my structural engineering license while working for a structural engineering firm."
Allison McMinn
A senior in electrical engineering, McMinn has participated in research aimed at improving early detection of breast cancer. Working with Ying Chen, associate professor of electrical and computer engineering, the project was key in helping her obtain the NSF fellowship, McMinn said.
"The undergraduate research opportunities at SIU are directly responsible for me being able to win this award," McMinn said. "I am fortunate to have had the opportunity to participate in research for all four years of my undergraduate education. This gave me important research-based experience that helped me to stand out from other candidates."
In her fellowship application, McMinn outlined a research project building on her work with Chen. The proposal would focus on using a specific algebraic reconstruction technique to improve an imaging technology known as tomosynthesis in the treatment of kidney disease.
McMinn, of Chatham, also took advantage of various SIU undergraduate research opportunities such as the McNair Scholars Program and REACH grant. Each helped her sharpen her focus in different ways, she said.
"(McNair) helped me identify my research interests and encouraged me to reach out to faculty to find a mentor at SIU," McMinn said. (REACH) gave me experience writing up professional proposals like the one I had to submit for this award."
McMinn also worked as a math and science tutor at SIU's Center for Learning Support Services and as president of both the Society of Women Engineers and Biomedical Engineering Society of SIU. She said she will use the NSF fellowship to pursue a doctorate in electrical engineering.
"My career goal is to become a professor and role model for future students while continuing to perform exceptional research that will benefit society," she said.
McMinn's older sister, Madison McMinn, was awarded the same NSF fellowship last year and currently is pursuing her doctorate in chemistry at Northeastern University in Boston. The special bond between sisters is something she treasures.
"I was really fortunate to get to go to SIU with Madison for three years," Allison McMinn said. "It is crazy to think that my family now has two NSF Graduate Research Fellows."