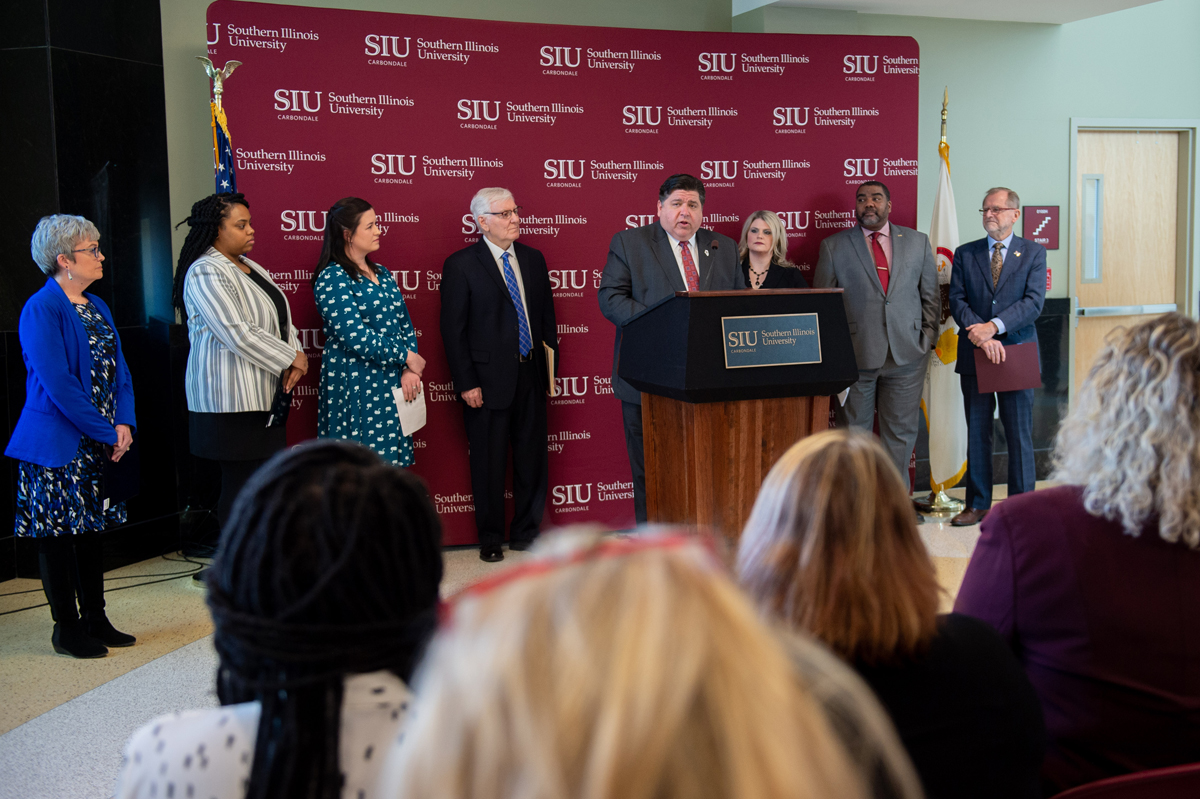 SIU-DCFS partnership – Gov. JB Pritzker discusses plans on SIU Carbondale becoming a university partner for the Illinois Department of Children and Family Services' third simulation training center. (Photo by Yenitza Melgoza)
February 27, 2020
SIU to partner with DCFS for simulation training center
Illinois Gov. JB Pritzker joined child welfare and university leaders today (Feb. 27) to announce that SIU Carbondale will be the university partner for the Illinois Department of Children and Family Services' third simulation training center statewide. 
"I'm proud to announce the partnership with SIU Carbondale to spearhead a new Southern Illinois simulation lab. This brings best-in-the-nation training to the southern region of our state, and it furthers our ability to better serve the children and families of Southern Illinois," Pritzker said while in the Student Services Building. "These labs aren't just an investment in child welfare – they're also an investment in education and job training. And they are investments that will make a real difference to students in every region of Illinois and in our DCFS frontline workers." 
Chancellor John M. Dunn noted that SIU was founded to educate people in the region and beyond to serve as teachers and create opportunities for young people. The School of Medicine will be in a lead role educating health care providers and training social workers and other child advocates to protect young people who may be in harm's way, Dunn said. 
"SIU is proud of its commitment to the region through its teaching, research and service mission," Dunn added. "This initiative, in collaboration with the Department of Children and Family Services and the University of Illinois at Springfield, will have a meaningful and positive impact on how we care for our most vulnerable residents, our children. The university is pleased to bring all of its resources to bear on this project, including involvement from the schools of medicine, law and social work, among many other outstanding academic programs that will have a direct tie-in to this work." 
Discussions are underway for an SIU site location and opening timetable. 
First launched in 2015 in Springfield, simulation labs offer caseworkers an opportunity to get hands-on training in real-world environments so they can better protect Illinois' most vulnerable children. In addition to the Springfield center, DCFS opened a second location in Chicago in April 2019, which Pritzker toured with Marc Smith, acting DCFS director, on his first day on the job. 
Overseen by the Child Protection Training Academy (CPTA) at the University of Illinois at Springfield, each simulation center has a public university partner to provide cutting-edge academic research and a pipeline of talent to the state's child welfare system – UIS at Springfield, University of Illinois at Urbana-Champaign in Cook County and SIU. A fourth simulation center will be coming to northern Illinois. 
Abi Cowser-Barnett, a graduate student SIU's social work program, and Jerricha Griffin, who is earning a law degree and master's degree in social work from SIU, also spoke at the announcement. Each spoke from personal experience about how important a hands-on training facility will be for the children and families they serve. 
Dunn also took time to note Gov. Pritzker's commitment to Illinois public higher education through increased state funding. He noted the efforts to enact a major capital program that reinvests in the university's campus through projects including renovations to the Communications Building. 
Pritzker noted his administration has begun to rebuild DCFS with an emphasis on enhanced training and education for caseworkers on the ground. Over the past year, all caseworkers have been retrained –about 3,000 in total – and additional trainings are required for both DCFS staff and private agency partners each year. 
To meet the increased demand for training, Gov. Pritzker secured a 7.9 percent increase in funding for DCFS in FY20 and proposed a $147 million increase in FY21, a 20 percent  increase over FY19 funding levels. Those investments allow the department to open two new simulation labs in northern and Southern Illinois.