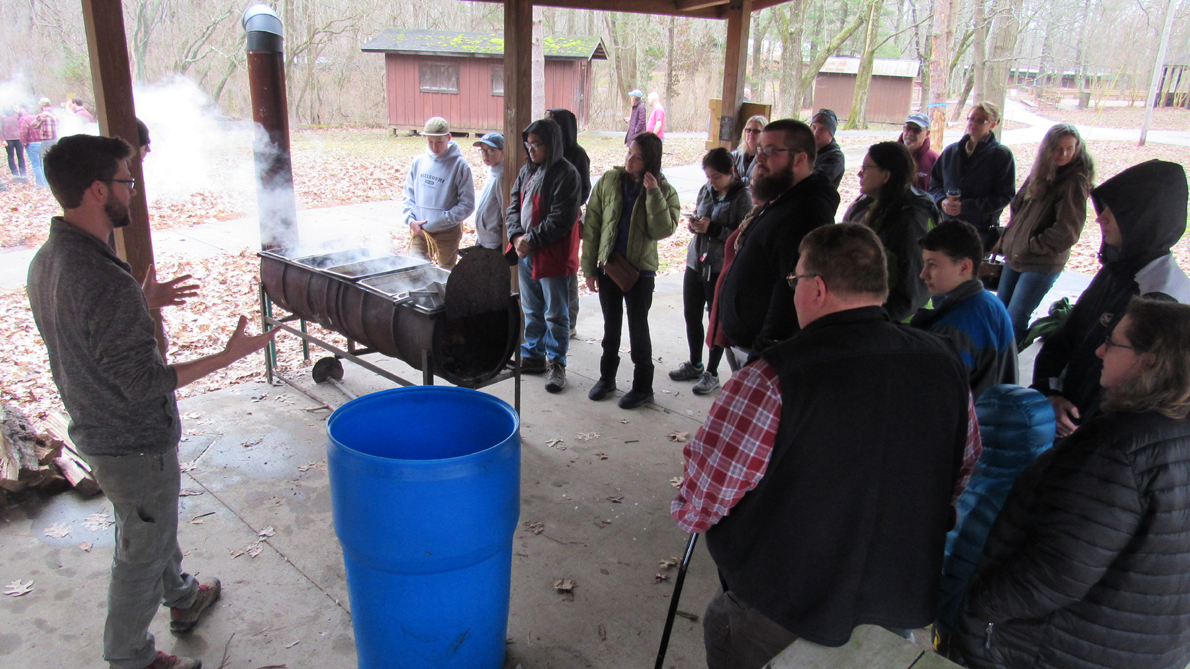 Maple Syrup Festival fun: Participants in SIU's Maple Syrup Festival will enjoy numerous activities, including demonstrations of how maple trees are tapped and the sap is boiled down to create tasty syrup.  (Photo provided)
February 04, 2020
Plan now to attend SIU's 2020 Maple Syrup Festival
CARBONDALE, Ill. — Maple syrup really does come from trees and discovering how that happens and tasting fresh maple syrup is the magic of  Southern Illinois University Carbondale's annual Maple Syrup Festival and Pancake Breakfast, set for Feb. 22-23, at Touch of Nature Environmental Center.
This year's festival hours have expanded from 9 a.m. to 4 p.m. The two-day event features activities for all ages, vendors, music, demonstrations, and of course, the popular breakfast with pancakes and homemade maple syrup.
While there is a cost for the breakfast, the festival is free.
Start the day with local fare
The day begins with the feature event, the breakfast of homemade pancakes topped with maple syrup harvested at Touch of Nature served with local sausage from Lick Creek Pork & Beef. Serving is from 9 a.m. to 1 p.m. each day and tickets are available now.
Purchase tickets online in advance. The price is $12 for ages 13 and older or $6 for ages 6-12. At the door, tickets are $15 and $8, respectively. Children ages six and younger eat free.
Touch of Nature members can take advantage of VIP seating. Visit  ton.siu.edu/support-us/membership.php for details about becoming a member.
Fun for all ages
An assortment of interactive demonstrations and nature events are planned throughout the day at the Maple Syrup Festival.
There will be live 'tapping" demonstrations at 10 a.m., noon and 2 p.m. at the Lion's Pavilion, where the art of extracting the maple sap from trees and boiling it to produce the tasty syrup will be on display.
You won't want to miss the lumberjack games, as SIU forestry students demonstrate their prowess at traditional lumberjack events. The SIU chapter of the Society of American Foresters will be leading tree identification hikes as well and there will be ongoing children's activities of all kinds taking place at Morris Lodge courtesy of Graduate Student Assistants Supporting Science.
You can view the short film "Maple Syrup Farmer" at 11 a.m. and 1 p.m. in the River Radio Retreat and learn about "Leave No Trace" techniques. Weather permitting, you'll be able to try your hand at Touch of Nature's portable climbing wall from 10 a.m. to 4 p.m.
Music, vendors and more
Musical entertainment is also on tap for the 2020 Maple Syrups Festival. Live performances will feature the sounds of Danny Brown, Jeremy T. McConaughey, Jermaine Bollinger, Kali Lynn, Bill Passalacqua and Greg Klyma.
Numerous regional artisans and vendors will demonstrate how they create or harvest their special wares and visitors can purchase items as well. Festival-goers will find alpaca yarn and goats milk products, silk embroidery, wood and pottery, nature jewelry, jellies and jams, rope-making, natural soaps and lotions, mushroom cultivation, beekeeping, hide tanning and primitive living skills.
Lunch and drinks will also be available from 1 to 4 p.m.
For extra information
Find the complete, up-to-date schedule and additional information, as well as advance ticket registration, at https://ton.siu.edu/events/maple-syrup-festival.php. Or, call 618/453-1121 or email tonec@siu.edu for more details.