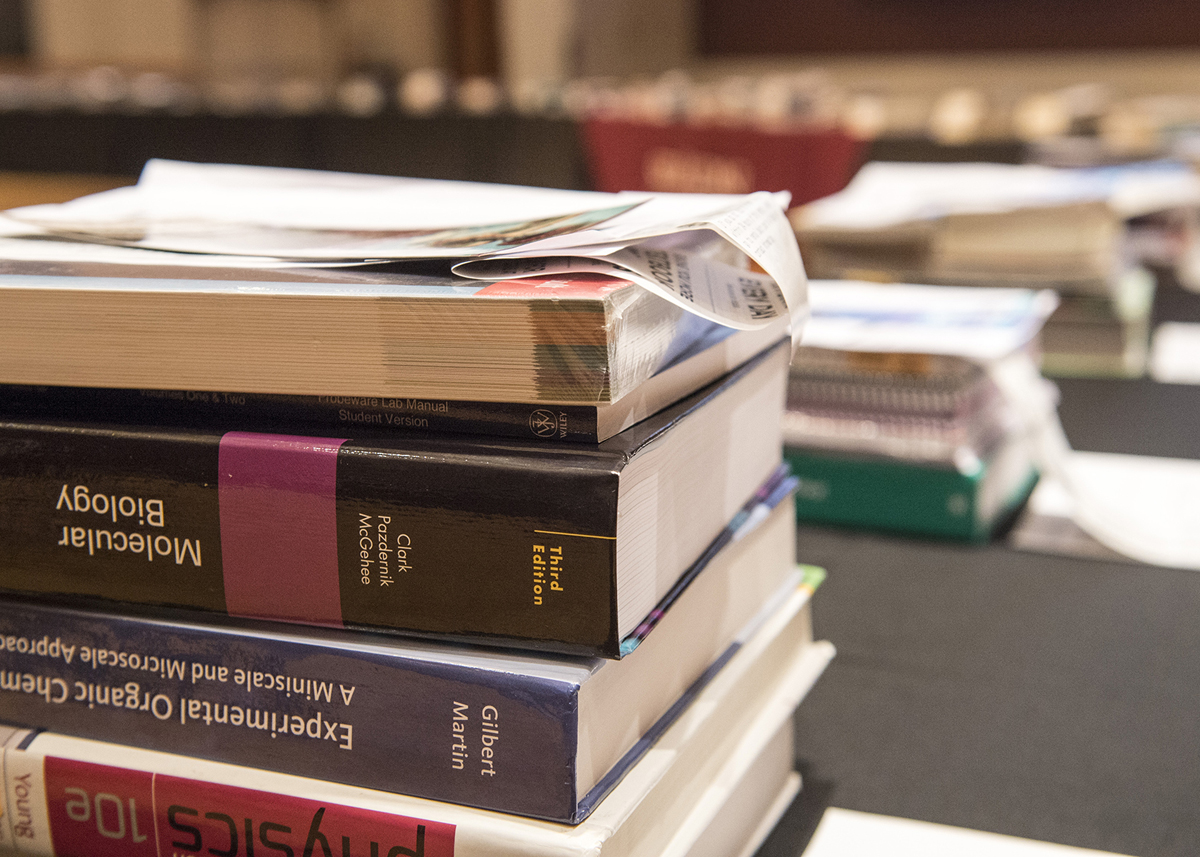 January 07, 2020
Alumni Association to award textbooks to 36 students
CARBONDALE, Ill. — Three dozen students will be gifted textbooks during the SIU Alumni Association's annual Textbook Award ceremony next week. 
The awards presentation begins at 5 p.m., Monday, Jan. 13, in the Student Center ballrooms. The students, as well as representatives of their respective colleges, will be present for the ceremonies. A reception will follow. 
"It's a proud tradition that Salukis help Salukis, and these awards often make a huge difference in a student's ability to continue their education at SIU," Rick Wysocki, president of the SIU Alumni Association, said. "We're proud of the fact this program has not only continued for more than a decade but flourished to help students year-round."
---
Media Advisory 
Reporters, photographers and camera crews are welcome to attend the 2020 Textbook Award ceremony beginning at 5 p.m., Jan. 13, in the Student Center ballrooms. The ceremony is scheduled from 5 to 6:30 p.m. The student recipients of this year's awards will be introduced. Students, university and SIU Alumni Association officials will be available for interviews. For more information, contact Caleb Hale, director of communications, SIU Alumni Association, at 618/453-2408.
---
Started in 2008 with funds the Association's national board of directors allocated to provide an extended form of financial aid to students, the Textbook Awards program has helped hundreds of current Salukis continue their education at SIU. The Association has committed roughly $30,000 toward these awards for this fiscal year. 
The awards go to students who demonstrate a financial need and have a GPA of at least 3.0. The scholarships are just one way the Association helps support students at SIU Carbondale.  
Jeff Gleim, executive director of the Association, says the credit for the success of the program belongs to the members, who support the organization through their annual dues. 
"Members make a difference and this why people choose to support the Association through membership," Gleim says. "This support can have a direct impact on a student's life. The Textbook Award is just one example of how it's done, but it's something members are excited to support year after year. As an Association, we're excited to facilitate this opportunity." 
A list of students who received the Textbook Awards, along with their major are: 
ILLINOIS 
Antioch: Mallory Andre, radio, television, and digital media.
Beardstown: Eeron Valdivia, biological sciences
Campbell Hill: Eleanor Kuhlman, physiology.
Carbondale: Lauren Bruski, radiologic sciences.
Carbondale: Rachel Ewing, social work.
Carbondale: Jacqueline Juarez, criminology and criminal justice.
Carbondale: Mackenzie Piazza, finance.
Carbondale: Jayci Reyling, accounting.
Carbondale: Evonna Waters, accounting.
Chatham: Mary Camacho, computer engineering
Chester: Kamryn Wingerter, mortuary science and funeral service.
Coulterville: Nicole Laskowski, agribusiness economics.
Dieterich: Jenna Hayes, paralegal studies.
Downs: Chelsey Hickman, animal science.
Du Quoin: Brogan Smith, accounting.
Fairview Heights: Deidre Powell, law.
Godfrey: Hannah Macias, pre-nursing.
Herrin: Tate Johnson, exploratory student.
Herrin: Martha Sprague, mathematics.
Homewood: Jalen Thompson, computer engineering.
Lansing: Arnold Ukagwu, biological sciences.
Marion: Madalynn McFadden, journalism.
McLeansboro: Shelby Lynch, dental hygiene
Millstadt: Mikaela Staub, exploratory student.
Murphysboro: Sydney Cook, architectural studies.
New Lenox: Christopher Kay, automotive technology.
Pinckneyville: Lynlee Lindner, radiologic sciences.
Shumway: Emma Lagerhausen, crop, soil and environmental management.
Tremont: Summer Stahl, physics.
Westville: Layla Woodard, microbiology.
Williamsville: Riley Sanders, physiology. 
MISSOURI 
Louis: Zachary Verzino, zoology
Peters: David Hernandez, zoology. 
NORTH CAROLINA 
Cornelius: George Wight, communication studies. 
TENNESSEE
Clarksville: Mackenzie Rosario, cinema and photography.
TEXAS 
College Station: Brooke DiGiacomo, languages, cultures and international studies.