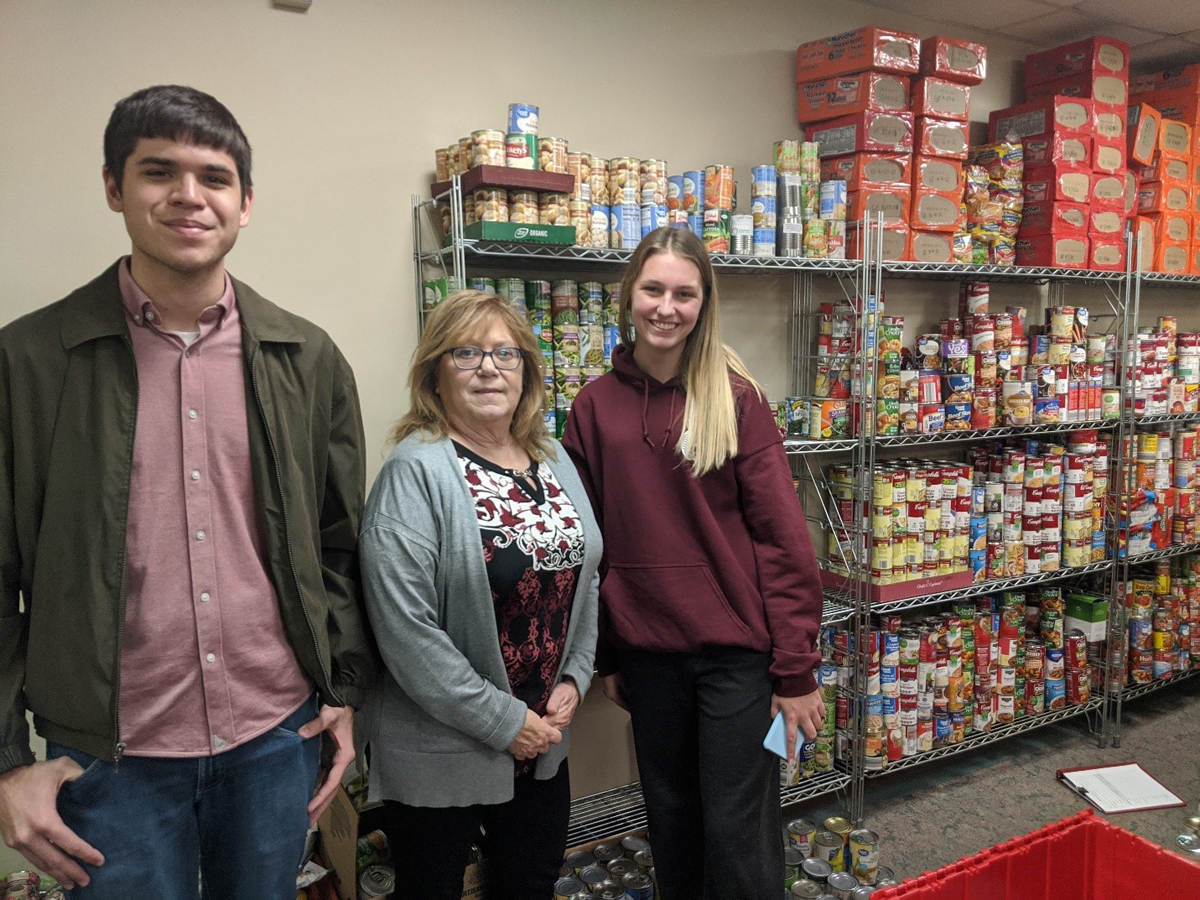 Stocking the shelves – The Saluki Food Pantry gained more than 3,000 items recently through a food drive. Working with the pantry are, from left: Marshall Brown, a senior in political science; Trudy Ruffino, housing administrator, University Housing, and Shelby Olson, a sophomore in elementary education. (Photo provided)
November 21, 2019
Friendly competition helps stock Saluki Food Pantry
Numerous departments and groups across campus held a Thanks Giving Back Food Drive competition this fall to help stock the Saluki Food Pantry shelves. 
Generous donors combined to 3,009 food items and $357 to enable the pantry to provide food to students in need. Campus-wide, Plant and Service Operations topped the collection effort bringing in 495 items and claim the coveted "Golden Can Award." Sure, it's a repurposed soccer trophy topped by a gold spray-painted can, but it's quite sought-after nonetheless. 
Groups and organizations who contributed to the drive were: 
Plant and Service Operations.
Furry Society.
Agronomy Society.
Ag Council.
As a part of Thanks Giving Back, the Student Services Building held its own contest within the contest Oct. 22 through Nov. 14, resulting in more than 730 items being collected from 47 staff members who participated. 
Departments participating in this sub-contest were: Dean of Students, New Student Programs, Student Support Services, University Housing Culinary and Nutritional Services, University Housing Facilities, University Housing Residence Life, University Housing Operations and Vice Chancellor of Student Affairs. 
Since opening its doors in August 2016, the Saluki Food Pantry has served more than 3,000 students and their families who have experienced food needs or insecurities. The pantry's goal is to assist students in times of need to help them stay in school and meet their educational goals. 
It is located on the lower level of the Student Center and is open from 10 a.m. to 2 p.m. on Tuesdays and Wednesdays. 
For more information about the pantry or the Thanks Giving Back Food Drive, visit the website at https://studentcenter.siu.edu/services/saluki-food-pantry.php or email foodpantry@siu.edu.