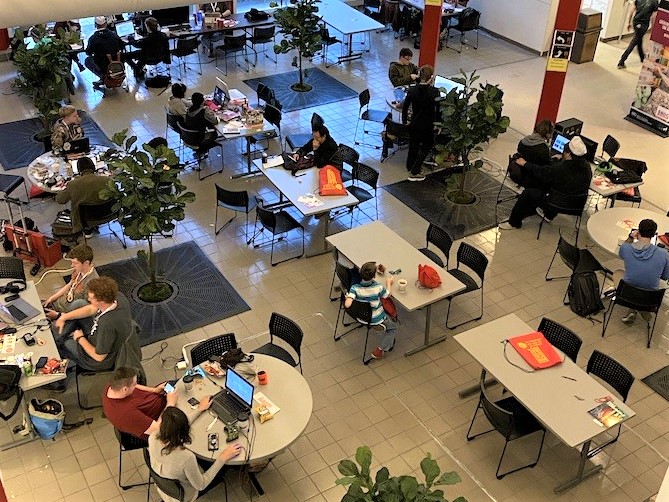 Participants in the seventh annual HackSI work on their projects during the two-day hackathon, the biggest even yet at SIU.  (Photo provided)
November 15, 2019
Creative thinking is abundant as HackSI 2019 draws largest crowd in history
CARBONDALE, Ill. — Creativity and innovative thinking were in abundant supply when hundreds of technology enthusiasts converged at Southern Illinois University Carbondale for the seventh annual HackSI event, Nov. 2-3. The "hackathon" has grown by leaps and bounds since it began just a few years ago and at the end of the two-day brainstorming session, several teams and individuals walked away with bragging rights and prizes.
Fun for all ages
Adam Harrell, 7, and his dad Justin, of Carbondale, were attending their first HackSI. The youngster from Thomas Elementary School was fascinated as he explored the many stations and checked out all of the activities and creative ideas offered. He was particularly captivated by the Lego Mindstorms projects, built with the popular building blocks and operated by a software program.
Soon father and son had created a Segway, based on the inverted pendulum concept, complete with light sensor control. Initially a bit finicky, after some tweaking it was running smoothly in time for the hack demos.
The Marion husband and wife duo of Chad and Sasha Milburn, better known as team "Everything Breaks," presented a variety of products featuring LED lights, programmed to create mood lighting. Sasha, who works from home and has her own Etsy store, decided to attend her first HackSI because her husband is interested in information technology and works in the field. Through experimentation that day, she was excited to discover cool ways to incorporate LED lights into the existing product line she makes and sells.
The final countdown
Hundreds of people attended the event throughout the weekend. It all culminated in 2 ½ hours of presentations by 22 participants. The diverse presentations included:
A Lego man-eating alligator.
Fight games.
A phone-powered Bluetooth Boombox.
Wireless robot controller.
A quick hack for file transfers.
Lego vehicles that could perform doughnuts and shoot cans.
Drones that executed complicated operational sequences including mid-air flips.
Background generators for phones and computer screens.
A Lego piano.
A car ramp programmed to auto-start.
All kinds of tools were provided for the crowd, including Arduinos, Raspberry Pis, 3D printers, drones, robots and laser cutters.
As the clock ticked down to show time, during which hackers would have to display their innovation and give a short explanation or "elevator pitch," things got really intense.  In the drone room, three young men from Marion High School worked frantically to make sure their flying machine was properly programmed to perform mid-air flips. Will Blankenship, an event organizer, helped Jacob Ellis Duncan, 16, and Oswald Aviles and Gavin Turner, both 15.
The best entries
The best hack recognition went to:
Best Game Design – Dungeon Hackers. They won Steam codes to purchase the games engine they used to create their game.
Most Innovative – Magnetic Personality. They won new Raspberry Pi 4 computers.
Most Well-rounded Hack – Team Bill. The prize was an Amazon Echo Dot.
Team Bill was comprised of Bill Xu, age 12, and his Dad Dashun. Young Bill, a Unity Point student, was having a great time at HackSI, admiring all of the intelligence surrounding him.
Biggest event yet
The 2019 HackSI was a big success, with the most activities and the largest attendance since it was founded in 2013, organizers said. Conceived by Dave Glass of the non-profit HackSI organization, the event was co-sponsored by SIU's Office of Innovation and Economic Development and the non-profit HackSI organization. With assorted technology and equipment, it also featured the Drone Room and Nintendo Labo.
This year, the Game Jam made its inaugural appearance, courtesy of the university's new SIUeSports League, giving participants the chance to create their very own new video games.  
SIU promotes innovation
HackSI is among the many ways SIU's Office of Innovation and Economic Development connects with innovators and entrepreneurs throughout the region and helps them. To learn more about the office and the numerous services and programs it offers to individuals and businesses, visit www.econdev.siu.edu, call 618/536-4451 or email lindberg@siu.edu.