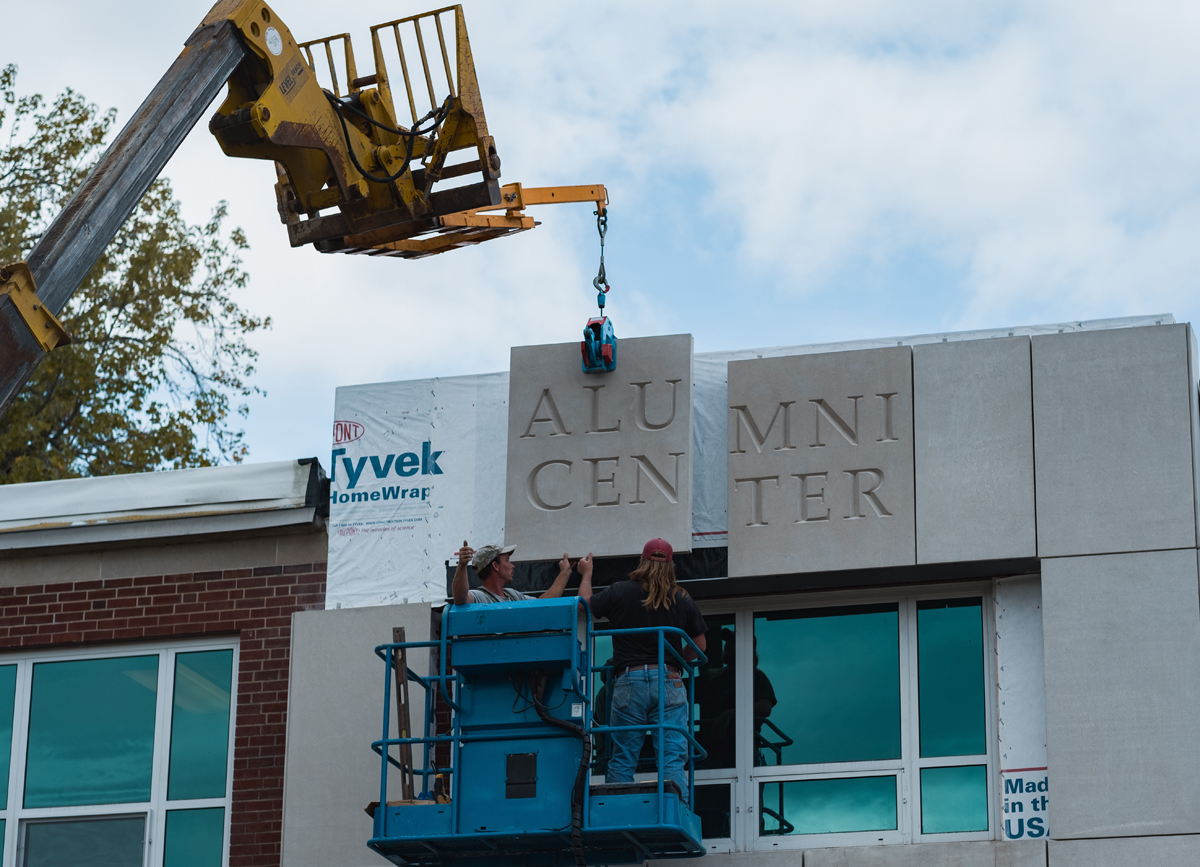 Putting on finishing touches – Workers are putting the finishing touches on the SIU Alumni Association Alumni Center exterior. The Alumni Center is now located in venerable Woody Hall on the SIU Carbondale campus.
October 02, 2019
Plaza groundbreaking, Alumni Center grand opening headline SIU Alumni Association Homecoming plans
CARBONDALE, Ill. – The SIU Alumni Association later this month will break ground on Saluki Alumni Plaza, a new campus landmark, and officially open the newly completed Alumni Center as part of its 2019 Southern Illinois University Carbondale Homecoming festivities. 
A groundbreaking ceremony for Saluki Alumni Plaza is set for 11 a.m. Oct. 17 at the plaza site, located on the lawn between Woody and Pulliam halls. Association officials will be joined by Chancellor John M. Dunn and other dignitaries to mark the beginning of construction. The plaza is a privately-funded venture, spearheaded by the Association's national board of directors with donations from hundreds of alumni all over the country. 
Once completed, the plaza -- which features a centerpiece sculpture of three Saluki dogs representing past, present, and future students designed by alumnus John Medwedeff of Medwedeff Forge & Design – will serve as a community space for visiting alumni, students, and the campus community. The project is slated for completion next March. 
Donations of any amount are invited for Saluki Alumni Plaza. More information is available at siuf.org/saluki-plaza. All donors will be recognized on a virtual wall.
---
Media Advisory
Reporters, photographers, camera crews and the public are invited to attend the Saluki Alumni Plaza groundbreaking ceremony at 11 a.m. Oct. 17 at the plaza site, located on the lawn between Woody and Pulliam halls on the SIU Carbondale campus. For more information, contact Caleb Hale, Alumni Services assistant director, 618/453-2408.
---
Alumni Center grand opening is Oct. 19 
In addition to the Saluki Alumni Plaza groundbreaking, the Association will host a grand opening of the Alumni Center from 6 to 8 p.m. Oct. 19. The Alumni Center, located in a renovated portion of the C-Wing of Woody Hall, is the new home for alumni visiting campus. It features a business center and library open to the public, as well as offices for Association staff members. The patio space in the center of the Woody Hall complex, a gift from the Class of 1967, will also be available for hosting outdoor events. 
Tours of the Alumni Center will be given during the open house. Attendees will also enjoy live music, giveaways, food, and drinks during the event. 
"This is truly one of the most exciting Homecomings for the SIU Alumni Association in recent memory," Kathy Dillard, interim executive director for organization, said. "We're beyond thrilled to finally give alumni a home on campus with the Alumni Center. We can't wait for people to see it. Not only that, but we're eager to begin to see Saluki Alumni Plaza take shape. This space is a testament to the dedication and love alumni feel for this university." 
The Association is also offering a unique way for alumni to support legacy scholarships through the sale of pencil sketches of various campus buildings drawn by 1981 alumnus William Lyons. Copies of the sketches will be available for purchase at the grand opening, however, they are also available online at siualumni.com. 
Several alumni reunions, events set for Homecoming weekend 
Along with these two headlining events, the Association will host a variety of other reunions and activities for Homecoming. These include: 
Class of 1969 – 50-year reunion and Half Century Club induction banquet and ceremony.
Alumni Band Reunion, which features former Marching Salukis playing along with current band members during football game halftime show.
Saluki Veterans Alumni Group social and tailgate events.
Carbondale in the '80s and '90s Tailgate, highlighting members of the Facebook group that raised more than $50,000 to create the B.E.E.R. (Balancing Education, Experience, and Reality) Scholarship during this past year's annual SIU Day of Giving. 
The association will also take part in the SIU Block Party Oct. 17 as well as the Homecoming Parade on Oct. 19. More information regarding SIU Homecoming events is online at homecoming.siu.edu. 
For more information about these events and others, visit siualumni.com/events.