September 10, 2019
Buy a special 150th anniversary ID for homecoming, festivities kick off Oct. 17
CARBONDALE, Ill. — As Southern Illinois University celebrates its 150th anniversary, plans are underway for a big homecoming celebration Oct. 14-19. Plan to arrive on campus early to make the most of the exciting weekend.
"One Team, Saluki Dream: Celebrating 150 Years Strong" is the theme of this year's homecoming and everyone is welcome to join in the fun. Plan ahead to get your commemorative ID, attend the giant block party and enjoy the modern-day version of an old-fashioned pep rally.
Get discounts with a commemorative ID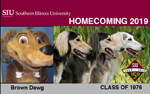 For the first time ever, the university is offering commemorative ID cards, just like all Salukis receive when they enroll and come to campus. But, these IDs are special in more ways than one.
Alumni and community members can purchase the IDs in honor of SIU's 150th birthday and then show the cards at businesses around the region during homecoming weekend, Oct. 18-20, to get special discounts.
The personalized ID can include your own photo – either a current picture or a retro photo from your college days.
SIU graduates can also have their graduation year on the card; otherwise the cards will include the "Go Dawgs!" cheer. The IDs come with a 150th lanyard and clear plastic case, making it easy to wear around your neck all weekend long. Show it at the numerous participating businesses to claim your discounts.
The list of participating businesses continues to grow. If your Carbondale-area business would like to participate by offering a homecoming weekend discount to commemorative ID holders, email homecoming@siu.edu.
You can order your ID online. For more details, visit the Commemorative IDs page, featured under the "Additional Info" tab on homecoming.siu.edu.
After purchasing the card, email whatever photo you would like used to homecoming@siu.edu. You can purchase the commemorative IDs online through 11:59 a.m. on Oct. 13. Online orders can be picked up at the following times and locations:
Oct. 17, 5-8 p.m. at the 150 Block Party, Lincoln Drive in front of Pulliam Hall.
Oct. 18, 11 a.m.-1 p.m. at the Homecoming Pep Rally, Faner Plaza or 1-4:30 p.m. at the Student Center Administrative Office, located inside the main entrance.
Oct. 19, 9-10 a.m. at the main entrance of the Student Center.
You can also buy the cards in person at the SIU Student Center ID office between the hours of 8 a.m. and 4:30 p.m. Oct. 14-18 only.
The cost is $20 per card with $5 of the price going toward the Balancing Education, Experience and Reality (BEER) Scholarship, a scholarship endowment recently created by a grassroots effort of the Carbondale '80s and '90s Facebook Group.
Join the Block Party
Alumni and community members are also invited to come to campus early for homecoming festivities and join in the free 150 Block Party, set for 5-8 p.m. on Oct. 17 on Lincoln Drive in front of Pulliam Hall.
DJ Juan G will provide music and there will be a wide variety of games and activities, including a photo booth, rides and much more. Numerous food trucks will be on site selling refreshments of all kinds. Current SIU students can claim free food with a valid SIU ID card.
The SIU Alumni Association will offer special goodies for members.
There's no cost to attend and Sunset Concert rules are in place. To assure a safe experience for all, only single serve containers are allowed and underage drinking, solicitation, pets and smoking are prohibited.
The Student Programming Council and SIU Alumni Association are sponsoring the 150 Block Party.
Display your spirit
Show your Saluki spirit at the Homecoming Pep Rally, 11 a.m. to 1 p.m. on Oct. 18 at Faner Plaza. This is your chance to meet the SIU homecoming court, the football team, Grey Dawg and Brown Dawg.
Members of the SIU Alumni Association National Board of Directors will also be introduced. 
There will be free pizza and other giveaways and one and all are invited to join in the celebration.
More to come
Numerous other special activities are planned during Homecoming Week 2019. Details will be coming soon. Keep an eye on www.homecoming.siu.edu for the complete schedule.