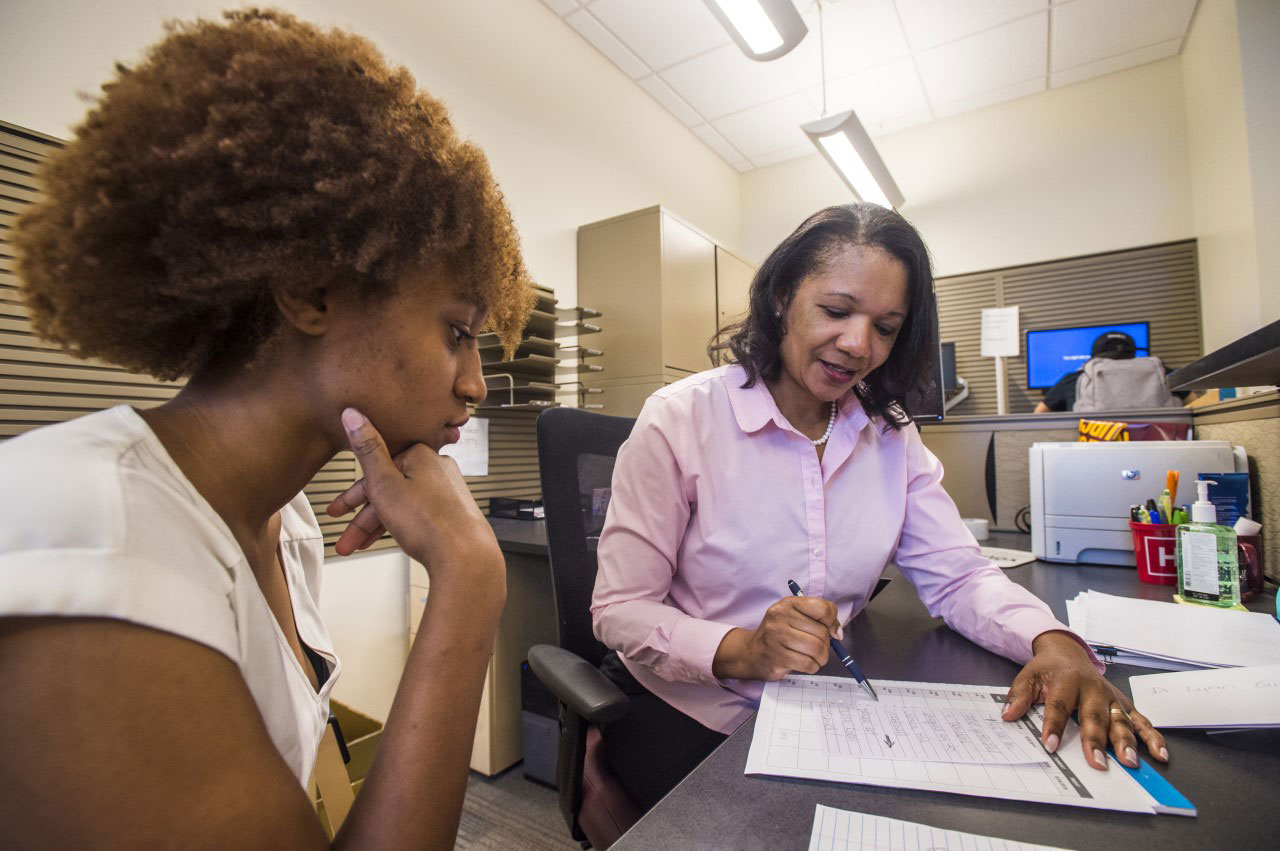 First Saluki Center — Lanel Love, right, will oversee SIU Carbondale's new First Saluki Center for first-generation students. Here she is shown in her former role as assistant director of the Student Multicultural Resource Center helping Laura King, a May health, nutrition and dietetics graduate.  (Photo by Russell Bailey)
July 16, 2019
First Saluki Center will support SIU's first-generation students
CARBONDALE, Ill. — As the first person in her family to attend college, Andrea Hammond didn't know how to get her college career started. Supportive, loving family members weren't sure how to help because none of them had experienced college themselves. Hammond quickly found herself overwhelmed as she navigated the complexities of admissions applications, financial aid and more.
Hammond is not alone. Nearly one-third of undergraduate students in the United States are first-generation, meaning they have no parent with a bachelor's degree, according to EAB, a national organization focusing on education and student success.
"Even though my family wanted to help me, they couldn't relate," Hammond remembered. "They didn't understand what was involved in enrolling and applying for financial aid and how overwhelming bigger classes and everything were. I couldn't seem to convey my struggles to them."
Hammond found help at SIU
Hammond initially enrolled at a community college, but by her sophomore year, the Lansing, Illinois, native decided to transfer to Southern Illinois University Carbondale. This fall she'll begin her senior year as a psychology/pre-physician assistant major, and she plans to go on to earn a graduate degree in physical therapy.
At SIU, where 40 percent of students identify as first generation, Hammond found plenty of help and support throughout the campus. Still, she said, there was no single place or person she could turn to that fully understood her needs.
SIU is addressing this gap with a new First Saluki Center, designed to make the college transition even easier for first-generation students. The center, launched by a seed grant from the SIU Foundation, is essentially a one-stop shop enabling the university's first-generation students to easily access the help, resources, mentorship and peer support they need to succeed.
"Having everything in one place will be so convenient and helpful," Hammond said.
Smoothing the path to graduation
SIU Chancellor John M. Dunn said that formalizing support for first-generation students will make a positive difference in their retention and graduation rates.
According to the National Center for Education Statistics, about 27 percent of first-generation college students in the United States come from households with an annual income of $20,000 or less. Only half graduate within six years, compared to 64 percent of other students.
"First-generation students are just as intelligent and motivated as any other students but tend to lack the knowledge, resources and support network they need to navigate the college system," Dunn said. "Our job is to help knock down the academic, social and financial barriers they face so they can succeed and graduate."
Lori Stettler, vice chancellor for student affairs, added that the center will make the university's services for first-generation students more visible for students as well as their families.
"Creating this center delivers the support in a way that's tangible, easily accessible and demonstrates that our first-generation students are incredibly important to SIU," she said.
Leadership with first-generation experience
Hammond singles out Lanel Love, who at the time was assistant director of SIU's Student Multicultural Resource Center, among the many people who have assisted her at SIU.
Love's mentorship to Hammond and countless other students made her a natural choice to lead the center, according to Jennifer Jones-Hall, the university's dean of students. Love began her new role as assistant dean of students, establishing and directing the First Saluki Center, on July 1, and plans are to have everything operational when the fall semester begins.
"Dr. Love is well-versed in the unique needs of first-year students, academic coaching, curriculum design, operations management, budget administration, project management, cultural training and other facets of the university," Jones-Hall said.
Love herself was a first-generation student and is a double alumnus of SIU, earning bachelor's and master's degrees and then working on campus for more than a dozen years.
The center and its mission are near and dear to Love's heart.
 "Because I am a first-generation student, this center means a lot to me," Love said. "Since my parents and siblings didn't obtain a four-year college degree, they weren't able to help me transition to college. It was difficult, starting with financial aid."
She recognizes that even once classes start, life doesn't automatically get simple for new students, particularly those who are first-generation.
"I remember being far away from home and not having any friends at first," she said. "The center will be a great way for first-generation students to meet peers, find resources and scholarships, and get involved on the SIU campus and in the community."
Centralized support
SIU's goal for the center is to be there every step of the way for first-generation students and their parents.
Support begins even before students even arrive on campus, helping them understand the "jargon" of higher education and offering assistance with the college application process. The center will connect students with campus and community resources and services. Workshops, events and academic support initiatives will also be offered.
In addition, a peer mentoring program will connect new first-generation students with their peers who are in at least their third year on campus.
"Prior to arriving on campus, students will know where to find allies, advocates, resources and support services customized for first-generation students," Stettler said.
The First Saluki Center is a collaborative, campus-wide effort that includes academic units and more than 20 units dedicated to supporting students, including admissions and financial aid, housing, academic advising, the career development center, and offices that support veterans, international students, non-traditional students and students with disabilities, Stettler said.
For additional information
To learn more about the First Saluki Center, email Love at llove2@siu.edu or call 618/453-6882.