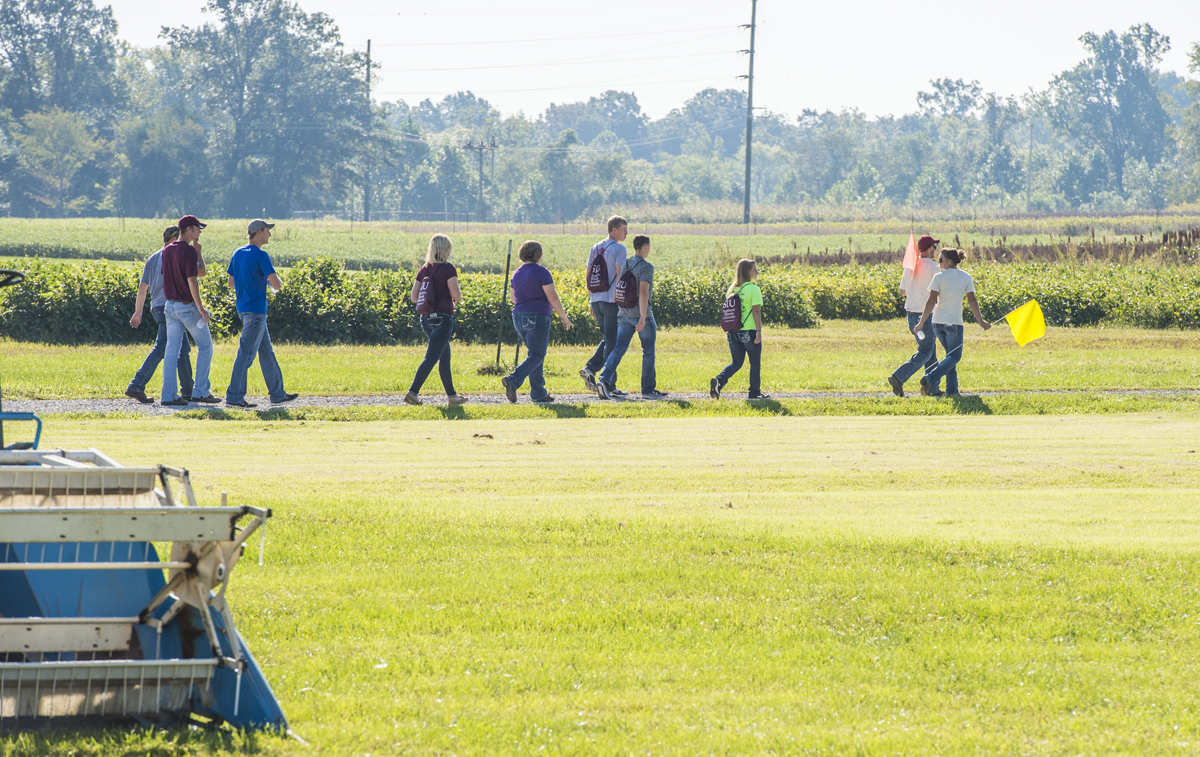 July 03, 2019
Hemp production, soybean disease and weather trends on tap for the annual Belleville Field Day
CARBONDALE, Ill. — Industrial hemp production, tillage systems and a variety of other relevant agricultural topics are lining up for the 53rd annual Belleville Field Day.
Set for July 11 and sponsored by the Southern Illinois University Carbondale College of Agricultural Sciences, the event is free and open to the public. The field day will begin at 8:30 a.m., and will conclude with lunch at noon and continue through rain or shine.
Keeping in touch with research and new policies
A popular event for local farmers, researchers and agricultural industry professionals, the field day offers a valuable exploration into current topics. As a key organizer for the event, Jason Bond, professor of plant, soil and agricultural systems at SIU, hopes farmers and producers learn about both new threats and potential opportunities.
"The Belleville Field Day has always been an event to share information with producers in our region," Bond said. "But it also gives us an opportunity to engage with farmers and learn what they are dealing with individually."
Some of the highlights of the day include former state climatologist Jim Angel coming to speak on current and future weather patterns, along with other guests giving economic perspectives pertaining to both policy and financial issues.
---
Media Advisory
Reporters, photographers and news crews are welcome to cover the event, and may find interview possibilities from speakers and visitors regarding the region's agriculture industry. The Belleville Research Center is part of the SIU College of Agricultural Sciences, and is located on Illinois 161, south of Scott Air Force Base's Mascoutah Gate. For more information, contact Dane Hunter 618/566-4761.
---
Presentations include hemp production, soybean profitability and more
Program topics and presenters include:
On the Spot: Management of Leaf Spot Diseases of Soybean, with Carl Bradley, professor of plant pathology at the University of Kentucky Research and Education Center.
Industrial Hemp Production, with Karla Gage, assistant professor of plant biology and plant, soil and agricultural systems at SIU.
Soil, Environment and Economic Benefits of No-till Compared to Other Tillage Systems in Southern Illinois, with Amir Sadeghpour, assistant professor of plant, soil and agricultural systems at SIU.
Looking Toward the Future of Corn and Soybean Profitability, with Gary Schnitkey, professor of agricultural and consumer economics at the University of Illinois.
Weather Trends and the 2019 Growing Season, with Jim Angel, former state climatologist for Illinois.
Recent Developments in Environmental Policy and How They Impact Illinois Farmers, with Lauren Lurkins, director of natural and environmental resources at Illinois Farm Bureau.
Organizers have applied for 2.0 continuing education units for the field day. The SIU Belleville Research Center is on Illinois 161, south of the Scott Air Force Base-Mascoutah Gate. For more information, contact Dane Hunter at 618/566-4761.