July 01, 2019
SIU's Justin McDaniel researches ways to improve the health of military personnel and veterans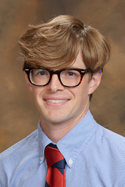 CARBONDALE, Ill. — Many of Justin T. McDaniel's family members and friends are veterans so it's not surprising that the Southern Illinois University Carbondale assistant professor of public health and recreation professions would be interested in data collected by the Centers for Disease Control and Prevention relative to military families and their health. 
As he and his colleagues analyzed CDC survey responses, something quickly became apparent. While childhood asthma is less common in military families than in non-military families, the breathing affliction is much more prevalent among military families within African-American households, McDaniel said.
Thousands of families report information
Each year the CDC releases data collected through the Behavioral Risk Factor Surveillance System's extensive telephone surveys. More than 400,000 adults are interviewed in all 50 states, the District of Columbia and three U.S. territories to collect comprehensive data about health-related risk behaviors, chronic health conditions and usage of preventative services.
What the numbers say
McDaniel and his colleagues analyzed the 2016 data, which was the most current available at the time they began their study. What they found is that in 2016 about 8.2 percent of the children in non-military families currently had asthma as compared to 6.2 percent of military children. Similarly, about 9.7 percent of military families reported having a child that had at some point had asthma while 12.9 percent of the non-military families did.
But, when race and location were factored in, things changed dramatically, according to McDaniel.
"The African-American children of military families living in urban areas are approximately twice as likely to have asthma as Caucasian children of non-military families," he said.
Variety of factors can affect risk
Asthma is a common chronic airway disease and is more common in children than in adults. It is the leading cause of hospital admission for children. Previous studies have found that a number of factors increase the likelihood of asthma. For instance, the risk is higher among families in which one or more parents smoke and for those living in areas where seasonal weather changes and environmental pollutants are a factor.
Several questions addressed in study
The study McDaniel's group conducted addressed five questions:
Do various factors such as race, sex and ethnicity influence the prevalence of asthma?
Does the income of parents, health insurance coverage and other such things play a role in asthma occurrence?
Do parental behaviors such as smoking affect asthma prevalence?
Does family history of asthma account for occurrences?
Does where the family lives within the country and whether the locale is urban or metropolitan account for the likelihood of asthma?
Taking all factors into account
Previous studies have found all of those factors play a part to one extent or another in asthma prevalence, and this research again bore that out, McDaniel said. But, the most significant finding from all of the data analysis is that "African-American military children of military families were 2.1 times more likely to have asthma than white children of non-military families," McDaniel said.
He said that statistically, African-Americans typically face a higher risk for asthma. Meanwhile, smoking is more prevalent in military families than in the general population.
McDaniel believes that those two factors combine to increase asthma rates for African-American military children because they more often are exposed to second-hand smoke, which can trigger an asthma attack.
"The upshot of our research is a recommendation that there should be more public health programs and better access to programs that help people manage asthma, especially for children in African-American military families," he added.
Study was published
McDaniel and his research colleagues published their extensive data analysis in the journal "Chronic Illness." Others involved in the research were:
Robert J. McDermott, interim chair of public health and recreation professions at SIU.
Mary P. Martinasek, assistant dean of natural and health sciences and associate professor of public health, health sciences and human performances at the University of Tampa.
Robin M. White, associate professor of nursing at the University of Tampa.
The article is "Prevalence of childhood asthma in US military and non-military families: Comparisons by rural-urban residence and geographic region."
Work will continue
McDaniel said he and his colleagues plan to continue analyzing the annual Behavioral Risk Factor Surveillance System data reports, tracking to see if the trend continues and if they can find any other correlations to account for the differences.
Second study examines obesity among veterans
In addition, McDaniel and other colleagues have also been analyzing another set of data pertaining to veterans and their health. They reviewed survey data collected by Team Red, White & Blue, a military veteran service organization created to improve veteran well-being.
McDaniel's team focused primarily on reviewing Body Mass Index (BMI), obesity and exercise frequency among veterans and determining if these factors vary by region within the country. It's the first national study regarding these issues and veterans.
McDaniel noted that obesity is a public health problem in the United States, putting people at risk for numerous health issues. Due to the training and activities active-duty military personnel are involved in, they typically have lower obesity rates than the general population but afterward, as veterans, their risks increase.
"While they are involved in military service, their BMI is typically low. But, after they get out, they are often less physically active and may be dealing with depression, PTSD and other issues and they may end up neglecting their physical health," McDaniel said.
Looking for geographical differences
Within the general population, obesity rates vary somewhat according to where people live within the United States. Those residing in the south and the Midwest typically have higher rates. What the researchers set out to do is to determine what the obesity trends are for military veterans residing in various parts of the country.
Although their data sample was somewhat small and information came via self-reporting on surveys, it seems to indicate that the rates of high BMI and obesity among veterans parallel rates among non-veterans, with higher rates found in the southern and Midwestern regions, McDaniel said. Their study also found that veterans living in the Mid-Atlantic area are more likely to exercise frequently than their peers living elsewhere are.
"This research shows where services are most needed and this enables organizations like the non-profit Team Red, White & Blue and other service providers to see where they should intervene and dedicate more resources and programming to help veterans," McDaniel said.
Work published in prestigious journal
Those studying this issue with McDaniel included:
Katherine Hendricks-Thomas, assistant professor of public health at Charleston Southern University.
Caroline Angel, R.N. and research director for Team Red, White & Blue.
Michael S. Erwin, a retired U.S. Army captain who founded Team RWB and currently serves on its board of directors.
Louis P. Nemec, U.S. Army officer and former national athlete director for Team RWB.
Brandon B. Young, chief advancement officer at Tennyson Center for Children in Littleton, Colorado, and former director of development for Team RWB.
Nicholas J. Armstrong, senior director for research and evaluation at the Institute for Veterans and Military Families at Syracuse University.
Blayne P. Smith, former executive director of Team RWB.
John M. Pinter, West Point graduate, veteran and executive director of Team RWB.
Their work, "Regional differences in BMI, obesity, and exercise frequency in a large veteran service organization: A secondary analysis of new veteran member surveys from Team Red, White & Blue," was published in a recent issue of "Preventive Medicine Reports."
More research planned
McDaniel isn't finished yet. He sees a number of other issues he'd like to study relative to veterans and their health.  He is looking at CDC data to evaluate mental health and depression rates among veterans and see if there are correlations with disease rates. By determining if there are geographically high areas of prevalence it could help determine if and where mental health services should be increased.