June 27, 2019
Stephen Shih is appointed SIU Carbondale Graduate School director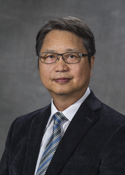 Southern Illinois University Carbondale announces the appointment of Stephen C. Shih as associate dean and director of the Graduate School.
Shih is a professor in Information Systems Technologies and is scheduled to begin July 1. The appointment is pending approval by the SIU Board of Trustees at the July 18 meeting at the SIU School of Medicine in Springfield.
He will oversee all of the Graduate School's day-to-day operations, including admissions, fellowships, assistantships and support for student success. He also will work directly with students to provide assistance and support as they pursue their graduate degrees.
"Professor Shih's area of research expertise is health informatics, intelligent information systems design, e-Supply Chain Management and e-Business," said Meera Komarraju, provost and vice chancellor for academic affairs. "He is widely published, has prior industry experience, and has received a teaching award as well as instructional grants. I look forward to his contributions in enhancing our domestic, international and online presence at the graduate level."
Graduate School is 'central' to university's academic mission
The Graduate School plays a key role in maintaining and furthering the university's classification as a Carnegie Doctoral-High Research Activity (R2), and keeping SIU Carbondale "a vibrant university at the forefront of graduate education," Shih said. 
"My aim is to expand the already significant opportunities for our graduate students to acquire research and analytical skills, prepare for careers inside and outside the academy, and change the world," he said. 
Has several goals for the Graduate School 
The goals for the Graduate School will be supported by its "tighter integration" into a wider university community, he said. 
In collaborating with graduate programs, the Office of Vice Chancellor for Research, the Center for International Education, Extended Campus and other partnering units, Shih said he is "eager to move graduate education forward" and cultivate an environment that "leads to a collaborative, interdisciplinary, innovative and inclusive scholarly community." 
Shih said that his goals are: 
Enhance SIU Carbondale's status as a globally recognized research-intensive university for graduate education that cultivates the best learning experiences for graduate students.
Develop strategic recruitment plans to recruit a diverse student body from all demographic groups and all corners of the world, including minority and underrepresented students, international students, working professionals, active duty military and military veterans.
Make special efforts and strategies to identify talented undergraduate students from minority and underrepresented groups and prepare them for pursuing graduate education.
In partnership with academic graduate programs and faculty, identify and launch new in-demand on-campus and online graduate degree and certificate programs with potential to grow in today's economy and job market.
Establish strategic and implementation plans for innovative use of information technology to optimize marketing, recruitment, and enrollment for the graduate programs.
To invigorate efforts to promote student research and boost interdisciplinary collaborations with academic programs from across campus. 
More than 18 years of service to SIU 
Shih joined the School of Information Systems and Applied Technologies faculty at SIU Carbondale as an assistant professor in 2001 and was promoted to professor in 2010. 
He is the coordinator in applied data analytics within ISAT and has experience as the school's associate director and interim director. 
"Prior to coming to SIU, Shih was an assistant professor at Auburn University at Montgomery from 1994 to 1998 and an assistant professor at St. Cloud State University from 1991 to 1993."
He also has industrial experience as a systems analyst and data scientist and project manager with United Technologies and a systems architect with Lucent Technologies.  
Shih earned his doctorate in 1992 from Pennsylvania State University in Industrial and Management Systems Engineering. He earned his master's degree in Industrial and Manufacturing Systems Engineering from the University of Missouri-Columbia in 1987 and his Bachelor of Science degree in Industrial Engineering and Enterprise Information from Tunghai University in Taichung, Taiwan in 1981.