May 24, 2019
SIU's College of Business recognizes those who are successful in business and life
CARBONDALE, Ill. — Two special presentations took place recently as Southern Illinois University Carbondale's College of Business presented awards to recognize notable alumni and business leaders.
The 2019 Emerging Saluki Leader Award (ESLA) winners were named and the Gary N. Parrish Business Excellence Award winners were recognized.
Young leaders honored
The Emerging Saluki Leader Award program was created in 2015 by the college's advisory board to recognize alumni who have graduated from SIU within the last 20 years for their outstanding work within business, academic or government organizations and non-profit groups as well as their community service.
This year, the college honored five College of Business alumni as 2019 Emerging Saluki Leaders: Caroline Ebelhar Ellis, Nicki Milovanovic, Jennifer Polk, Meredith Rhoads Thomas and Lily Sugathan.
Business leaders recognized
The second annual Gary N. Parrish Lecture and Award Ceremony is named in honor of the late successful businessman and COB supporter who was a 1989 College of Business Hall of Fame inductee.
The ceremony featured a guest lecture and the recognition of four Parrish award winners: Stephanie Bishop, Patsy Jensen, Clara J. Kridle and Gary Shafer. Award winners are business leaders who have worked tirelessly to have a positive impact on the region's economic development. Each is a generous visionary who helps make the region a better place to live.
ESLA winners
Ellis earned management degree
 Caroline Ebelhar Ellis, of Longmont, Colorado, is the senior human relations business partner at the Airframe Systems division of Woodward, handling all HR functions for the unit, which creates the commercial aircraft mechanism that allows planes to stop on the runway.
She moved to Colorado after graduating from SIU with her bachelor's degree in management in 2012, despite knowing no one and not having a job. But, she quickly found the HR position she loves. She recently earned the Senior Professional in Human Resources certification.
Ellis is active in the Society of Human Resources, participates with various boards and workshops to prepare workers, and helps with the Employers Council, a regional human resources group that provides training and development.
In her free time, she enjoys hiking in the Rocky Mountains with husband Matt. They'll hike the Italian Alps this fall and her goal is to hike all over the world; she's already completed walks in Australia, New Zealand, Germany, Austria and Switzerland.
Milovanovic is marketing alumna
Nicki Milovanovic, of Chicago, is the senior area business manager for Sanofi Genzyme, currently promoting a biologic medication for rheumatoid arthritis.
She focuses on building business relationships and educating healthcare professionals regarding the ways her company can help patients. She has launched multiple products within pharmaceutical sales and was previously successful as district sales trainer for Bristol-Myers Squibb, earning the Winning Culture Ambassador honor and drawing other praises for her work.
Milovanovic completed her bachelor's degree in marketing at SIU in 2010. She has promoted and helped with the Arthritis Foundation Walks and Jingle Bell Runs and assisted with the American Diabetes Association's Walk to Stop Diabetes. She gives of her time to the Glass Slipper Project, providing free formal dresses and accessories to underprivileged teens.
A newlywed, she and husband Kyle enjoy traveling and trying new cuisines.
Polk is finance degree recipient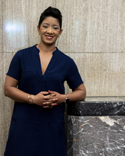 Jennifer Polk, of Aurora, is the research vice president, leading research planning and development for Gartner Inc. marketing practice. She specializes in advising marketers regarding digital commerce, multichannel marketing and personalization and her work helps assure a team collaboration involving more than 100 researchers and advisers.
She completed her bachelor's degree in finance at SIU in 2003 and then earned her master's degree in strategic management from the University of Chicago's Booth School of Business in 2008. As a young associate, then banker, at J.P. Morgan Chase, she generated millions of dollars in revenue. She was also leader in organizational change, brand management and digital marketing for a major retailer before going on to lead client services for a global digital marketing agency, helping numerous well-known brands with their marketing and business goals.
Polk is active in her church and in the Glen Ellyn Area Alumnae Chapter of Delta Sigma Theta Sorority Inc. She and husband/fellow SIU alumnus, Michael, are the parents of daughters Erykah, Mikaylah and Mayah and when she finds time, Polk also enjoys cooking, reading, painting and wine tasting.
Sugathan earned two SIU degrees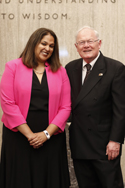 Lily Sugathan, of St. Charles, Missouri, is a supervisor for Thousand CPA Services LLC, helping clients with all types of accounting needs as well as reviewing and training staff.  She is a double alumna of SIU, completing her bachelor's in accounting degree with a marketing minor in 1999 and her MBA in 2008.
Sugathan is part of an extensive Saluki family legacy. Her father taught mining engineering for many years at SIU and all family members in her generation are SIU graduates.
She met her husband, Rooji, a fellow alumnus, at the university as well. Polk remains involved with the university, serving as a student mentor and chair of the Management External Advisory Board, of which her husband is also a member. Both are also supporters of the college's Etiquette Dinner.
Sugathan is active in her community and serves as treasurer of the St. Louis Artists' Guild. She has also served as treasurer on the board of St. Martha's Hall, a domestic violence victims' shelter, and volunteered her accounting skills to aid local non-profits, including 14 years assisting Volunteer Lawyers and Accountants for the Arts.
Her hobbies include gardening, sharing recipes, dance and food photography.
Thomas is double alumna
Meredith Rhoads Thomas, of Tallahassee, Florida, is an assistant professor of marketing at Florida State University College of Business. She is a dual alumna of SIU, earning her bachelor's degree in marketing in 2005 and her MBA in 2006. She also holds a 2018 doctorate from the University of Wisconsin-Madison.
In addition to teaching, she's involved in her research, which largely focuses on consumer behavior, urban and community sociology and the psychology of money. She has earned a number of teaching and academic awards and been published in prestigious journals.
Thomas is active in her community and professional organizations within her field. She has served leadership roles in the Rotary Club and the Boys and Girls Club Board of Directors and is active in her church. She has been a reviewer for various professional conferences and an advisory board member for a doctoral program.
She and husband, Mark, have two children: Harrison and Everett. She enjoys spending time with her family, trying new craft beers/breweries, yoga, reading, traveling and exploring parks.
Special guest introductions
The honorees were introduced by 2018-2019 College of Business students:
John Heakin, a 19-year member of the Dean's Advisory Board and the first chair of the Marketing Advisory Board, established in 2004, was the host for the evening.
Nominations are accepted year-round for the ESLA award and recipients are selected by the college's external advisory boards. For more information about the Emerging Saluki Leader Award, or to nominate any SIU College of Business graduate for the recognition, visit business.siu.edu/about/saluki-leader.
Parrish Award winners
Niki Allen, vice president and program manager for Boeing's Second Century HR Transformation, was the special guest speaker for the Parrish Lecture Series. She is responsible for leading global implementation of the new human resources technology planforms for the company and she spoke about her digital and technological work.
The 2019 Gary N. Parrish Business Excellence Awards were then presented to: Stephanie Bishop, Patsy Jensen, Gary Shafer and to Kevin Kridle on behalf of his late wife, Clara J. Kridle.
Bishop owns numerous restaurants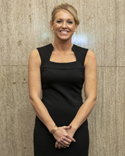 Stephanie Bishop is the owner and operated of four McDonald's restaurant franchises, a second-generation franchisee for an organization with 14 restaurants.
She began her career as a crew member, working in each role to learn the business from the bottom up before being approved as an operator at the age of 30. Her focus is on internal and external customers and keeping the business operating smoothly and financially well. She recently enacted a major remodel for three of her four locations and her strong work ethic was noted.
She and husband Shane have two sons, Blue and Roman, and she enjoys spending time with her family, which includes parents Mary and John Moreland, traveling and running – including marathons.
Jensen oversees numerous health center sites
Patsy Jensen is the executive director for Shawnee Health Services and Development Corporation, overseeing the operations of 11 community health centers that provide medical, dental, behavioral health and social services in Southern Illinois and southwest Indiana. She directs nearly 500 employees who care for more than 32,000 residents. The company's operational budget exceeds $28 million and she works with staff and the company's board of directors to develop and implement the company's strategic plan.
She's a Saluki alumna, with a bachelor's degree in food and nutrition from SIU, and she's co-authored training and planning publications.
She's very involved in professional organizations and the community as well. She's a founding member and past president of the Illinois Council of Case Coordination Units, a 12-year member of the Unity Point School District board, has served on a variety of positions within the Illinois Primary Health Care Association and on numerous other health-related committees, boards and councils throughout the region.
She and husband Bruce Magnuson are the parents of five children and six grandchildren and when she has free time, she enjoys woodworking and reading.
Shafer is active in the transportation industry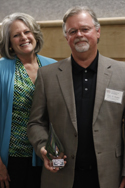 Gary Shafer is the airport manager and fixed-based operator manager of the Southern Illinois Airport Authority and is responsible for attracting more than $40 million in state and federal grants to the airport. He spearheaded the expansion of the airport from 65 to 1,200 acres, complete with a new runway system and 18 new buildings while also fostering the growth of five new businesses and preparing for future expansion.
In addition, he is an instructor for SIU's aviation program, where he's taught more than 1,000 students, including some who have already achieved considerable industry success.
He authored three reports for the FAA'S Transportation Research Board and is a licensed pilot. He's active in a number of professional organizations and also serves as board member for the Jackson Growth Alliance and the Illinois Air Transportation Association. He is also involved in community organizations, serving with the Murphysboro and Carbondale chambers of commerce, the Greater Egypt Regional Development Corporation and the American Red Cross.
Special posthumous recognition for Kridle
Clara J. Kridle earned her bachelor's degree in accounting at SIU and that was the springboard to a successful career with PricewaterhouseCoopers, where she became a principal in 1997.
She was a mentor and coach within the company, contributing in many ways, and was also involved in a variety of charitable organizations within the Naperville community.
She and husband Kevin met at SIU, where he obtained a journalism degree, and they later reconnected when working in Chicago and married, becoming the parents of Kristen and Nickolas. Kristen is also a Saluki, earning a marketing degree at SIU and now working as an assurance associate for PwC in Oregon. Nickolas recently graduated from Indiana University and is employed in the Texas corporate office of Ford Motor Company.
Clara passed away two years ago and in her honor, PwC and Kevin Kridle chose to establish the Clara J. Kridle Memorial Scholarship at SIU. Created with a $150,000 memorial scholarship endowment from PwC, the scholarship will be awarded annually to a junior or senior Illinois business student with a 3.5 or higher GPA who has a history of community service or involvement in an initiative that demonstrates his or her social responsibility.
The goal is to help other Salukis follow in the footsteps of Clara Kridle, achieving business and personal success and having a positive impact on all those they come into contact with.
Special recognition was given that evening to Kevin Kridle and Joe Albian, a principal at PwC, for establishment of the scholarship.