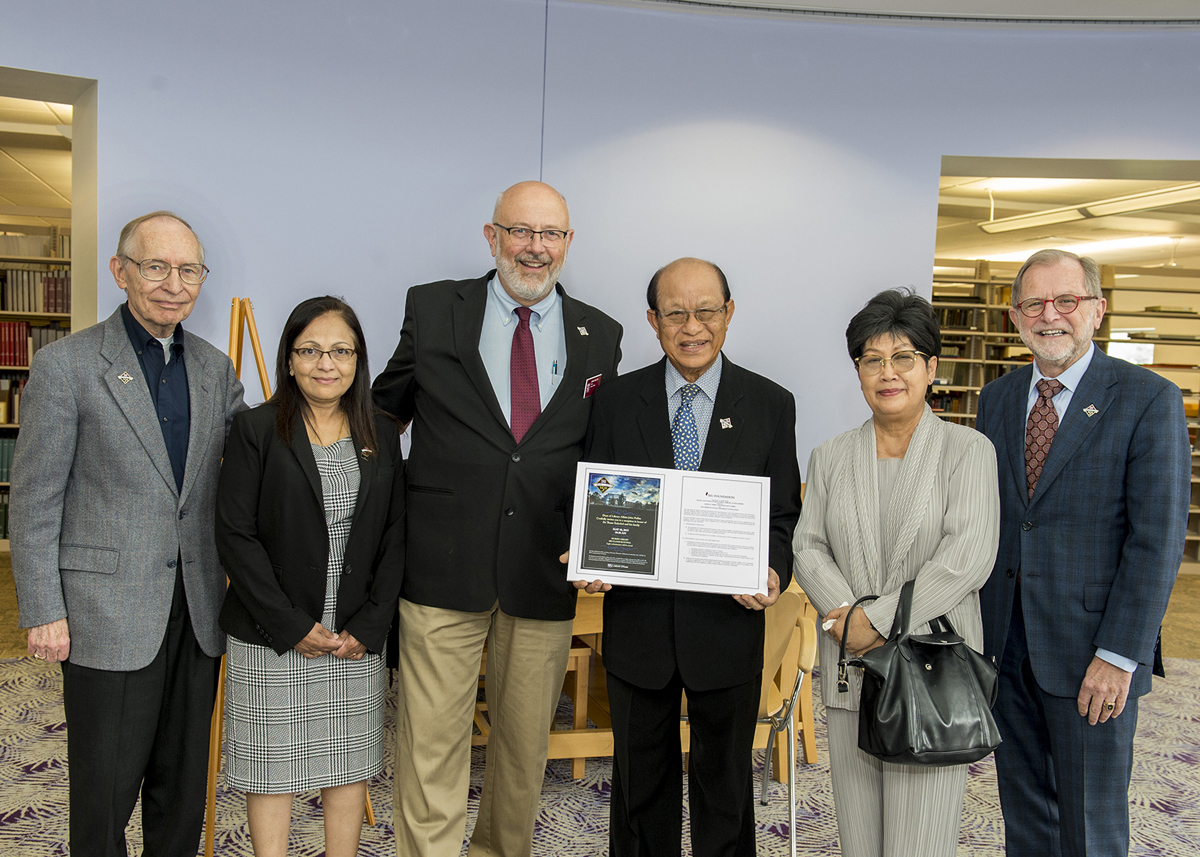 Thanu Kulachol at the welcoming reception on May 10. Pictured left to right: John Jackson, Provost Meera Komarraju, Dean John Pollitz, Thanu Kulachol, Nongyao Kulachol and Chancellor John Dunn (Photo by Russell Bailey).
May 17, 2019
New scholarship gives students further opportunities in international studies
CARBONDALE, Ill. — When president emeritus of Bangkok University Thanu Kulachol walked on the Southern Illinois University Campus as a student in the 1970s, it was just the beginning of an international relationship between the two universities. Now, a new endowed scholarship continues Kulachol's mission forward.
The Thanu and Nongyao Kulachol Library Scholarship gives current SIU students an extra dose of support in their study of Asian Cultures. The funding recognizes the Kulachol's remarkable contribution to education worldwide and encourages students to follow a similar path of leadership and excellence.
Recognizing Thanu and Nongyao Kulachol
In honor of his life of service to global education, Kulachol received an honorary doctorate of education leadership from SIU at the May 2019 commencement ceremony. Prior to the event, a special reception unveiled the endowed scholarship to the Kulachol family and campus community.
"I feel so proud and very honored to be recognized by this great university," Kulachol said.
The scholarship was a collaborative effort between the SIU Foundation and Library Affairs, along with donors Jared and Maryann Dorn. The long friendship between the Kulachol and Dorn family dates back to the 1970s, when both Thanu and Jared were studying at SIU.
John Pollitz, Dean of Library Affairs, sees the scholarship as an excellent way to support current students as they grow and develop with international aspirations.
"The scholarship offers us the ability to encourage students to expand their ways of thinking, which is what libraries are all about," Pollitz said. "It is particularly important so they can expand their thinking internationally."
For Chancellor John M. Dunn, Kulachol is highly deserving of the honor and represents what it means to be a Saluki.
"Not only as former president of Bangkok University, but in his many other activities related to business successes, he really demonstrates the very best of the pride that we have in being an international university," Dunn said.
Strengthening international partnerships
As president of Bangkok University for 19 years, Thanu Kulachol built international partnerships with over 43 universities, including SIU. The relationship started while he was still on campus and continued with a renewal in 2007.
"The relationship between SIU and BU extends back to when Thanu was a doctoral student in the 1970s," Dorn said. "The founders of BU, Surat and Pongtip Osathanugrah, visited SIU at that time with their sons, who attended SIU while Thanu was a doctoral student. Thanu fostered the original cooperation agreement between the two universities at that time."
One goal of this scholarship is to rekindle those partnerships and continue SIU's strong tradition of international connections.
"I think to be a truly great university, it's important to be an international university," Chancellor Dunn said. "We don't serve young people well if we don't allow them to have those interactions, connections and relationships."
Both the honorary doctorate and endowed scholarship were in the works for many years, involving collaboration with the SIU Foundation. Director of development for Library Affairs, Kevin Clark, worked with the donors to put the project into action.
"We are very excited about this opportunity," Clark said. "We hope it opens doors for future engagement with Thailand and the 116 SIU alumni who live there. We look forward to future initiatives with Bangkok University."
Scholarship focuses on Asian Cultures
In recognition of Thanu's unique contributions to Thailand, serving on the Thai Senate and on the Commission for Higher Education, the endowed scholarship supports students with interests in Asian Cultures.
"The Thanu and Nongyao Scholarship is intended to foster learning for students with scholarly interests in the cultures and peoples of Asia, with a preference for Thailand," Dorn said. "It is hoped that the interest in the area, and especially in Thailand, its rich cultures and its peoples, will develop further here at SIU and spread out."
The scholarship is available for sophomore, junior or senior students who maintain a 3.0 GPA and complete an essay discussing why they deserve the award. The goal of the funding is to encourage students on their journey toward international studies.
"Anytime we can be involved with helping students think broader, especially internationally, is a good thing," Pollitz said.
To find out more about the SIU Foundation and giving back, go to www.siuf.org.