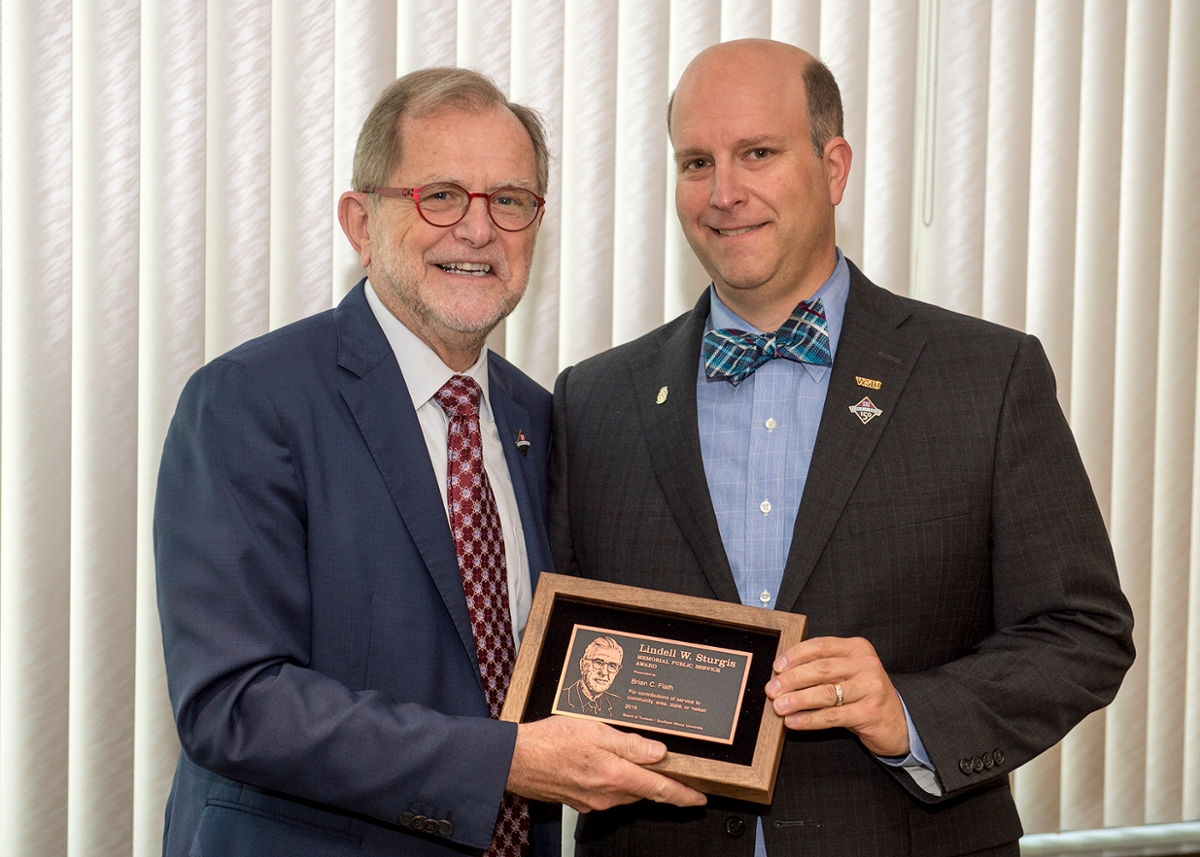 May 16, 2019
A lifestyle of giving back earns Brian Flath the 2019 Sturgis Award
CARBONDALE, Ill. — For Brian Flath, community service is more than an obligation; it is a way of life. His passion for giving back and contributing his time and resources are what earned him the 2019 Lindell W. Sturgis Memorial Public Service Award.
From mentoring at-risk school children to raising money for high school bands, child advocacy centers, Veterans Honor Flight and much more, Flath's focus centers on improving the lives of those around him.
Always giving back
When Flath, assistant director of corporate support at WSIU, first came to Southern Illinois University Carbondale as a journalism student in 1995, it was just the beginning of his connection to the local community. He started his career working as an advertising consultant at the Southern Illinoisan and then joined the WSIU team in 2015.
Very quickly into his professional career, Flath realized how much he could do beyond just his time in the office. This led him to joining the Carterville Area Rotary Club, serving as both president and board member, the Carterville Knights of Columbus, serving as past grand knight, and giving back at his church, Holy Spirit Catholic Church in Carterville.
"I think it is so valuable to give of yourself beyond just the time you are at work," Flath said. "If you don't have time and talent to give outside of the workplace, you could miss out on a significant part of what life is."
Flath is adamant about not joining a group just to be a member. His goal is to continually contribute and support the goals and missions of the community he is a part of.
Supporting local schools and programs
Beyond his work in the community, Flath is especially devoted to ensuring local children have the tools and skills they need to succeed in their futures. This led him to volunteer as a little league baseball and basketball coach, along with coordinating fundraisers and events for the Carterville High School Band.
In all his work, one of Flath's favorite commitments is to the young 3rd-grader he mentors every year from Tri-C Elementary School. The program connects at-risk students with a local supporter who offers them a little extra care, attention and guidance. After working with a different student over the last four years, Flath sees the experience as a valuable time to encourage and strengthen those who might be struggling.
"Working with these kids has been a very rewarding experience every year," Flath said. "I go and play games and talk, and just give them the opportunity to have another adult in their life who cares about them."
Greg Petrowich, executive director of WSIU, sees Flath's work as a commitment to the community he loves, and is continually amazed by Flath's energy and dedication.
"Brian is a true giver with a heart for his community and for children," wrote Petrowich in a nomination letter. "Brian is involved in countless organizations and gives so much of himself to every organization of which he is a part."
Award ceremony recognizes Flath's work
In recognition of his years of service to the community, Flath earned the 2019 Lindell W. Sturgis Memorial Public Service Award on May 16. Presented by the Board of Trustees, the award honors the late Lindell W. Sturgis of Metropolis, Illinois, and recognizes SIU Carbondale employees for their service outside of their job.
Sturgis was a member of the University's Board of Trustees from 1949 to 1951, and from 1953 until he retired in 1971. He passed away in 1972, with his family creating the award to commemorate his years of service.
Looking back on the many distinguished honorees in the past, this award is a high honor for Flath.
"I love representing SIU in the community," Flath said. "And receiving this award is very humbling."